Mixologist Molly: (is back!!!) Watermelon Mojito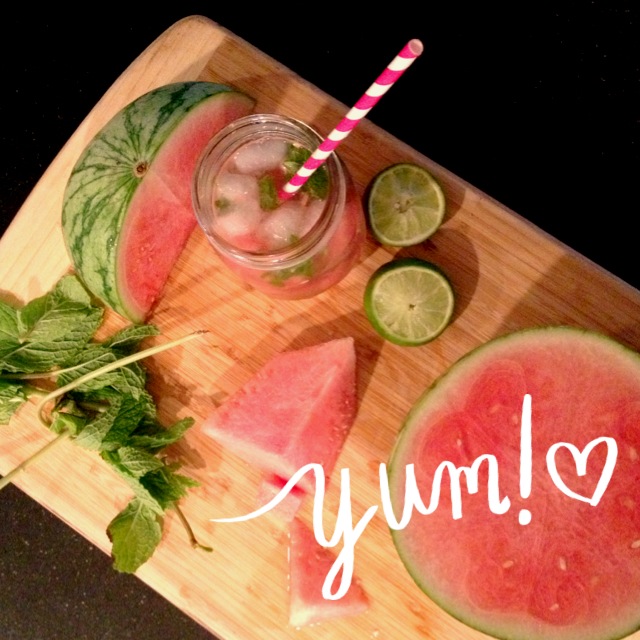 Molly has been missing. The past year has been one of the hardest and most trying times of her life. She got married, her father-in-law passed away shortly after her nuptials and she bought a house with her new hubby. If that wasn't enough, they decided to completely gut the house and remodel it.
We have shared tears of laughter, joy and sorrow together this past year and she really is the sister I never had. Our friendship is going on to its TWENTY THIRD year and I can't imagine my life without her. I'm so happy to have her as a part of Mommy Bistro but more importantly as my friend and auntie to my babies.
Enjoy my friends!!
I don't really have a recipe for this…it is more of a method.
Ingredients
White rum
Club soda or 7-up
Fresh mint
Fresh watermelon, cut small
Limes
Sugar
A muddler (I used the back of a wooden spoon)
A sturdy glass (I used a mason jar)
Directions
Place a handful of watermelon into a food processor, immersion blender or regular blender. Blend for 10-15 seconds. Add rum to to a sturdy glass and then add 4-5 mint leaves. Add juice of 1/2 lime. Add a spoonful of sugar here. Using your muddler, or back of a wooden spoon, mush all that yumminess together. Add ice. Then add watermelon pulp and club soda (or 7-up) to taste, stir. I then add another small squeeze of lime and a dab more sugar if needed.
You can replace the watermelon with any fruit. I used watermelon because its summer and I LOVE it. Raspberries, pineapple and even ginger sound amaze-balls to me!!! Enjoy!
Comments