The Great Caperless Piccata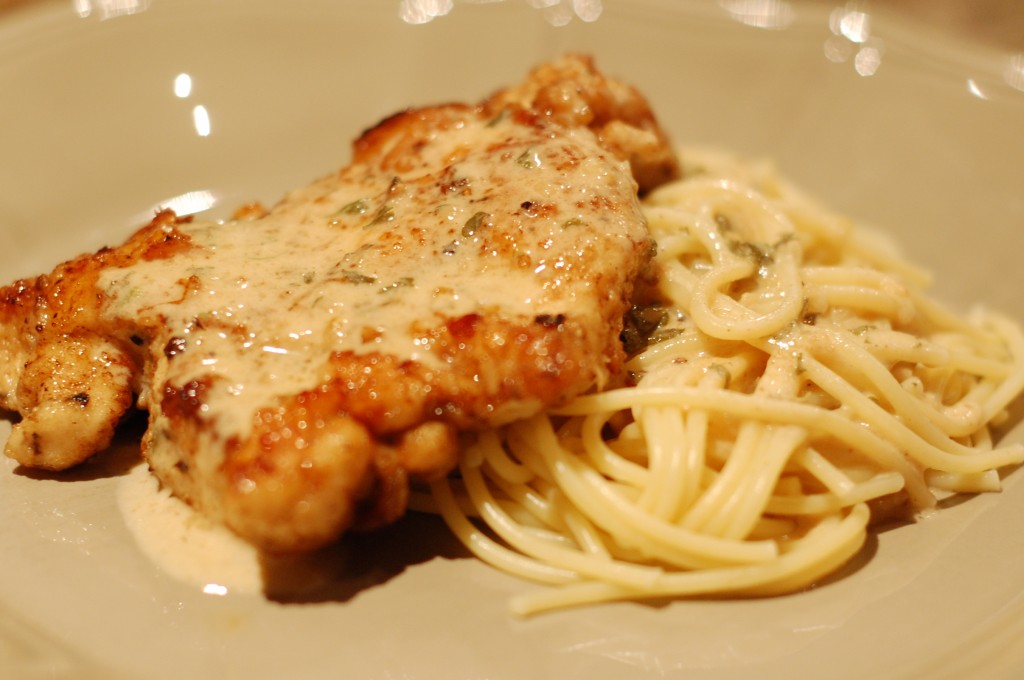 I love salt. So, why don't I like capers? I have no idea. But I love a lemon, wine, garlic sauce so I still do love the Piccata. I'll tell you what – if YOU want to add capers, be my guest. But this recipe will be without those salty little morsels.
Hubby's Note: I want to bathe in a lemon/wine/garlic/butter sauce. Seriously. Add onions or shallots in to the mix, and I honestly don't think there's any better combination of flavors. I've suggested to my wife that there are many uses for such a sauce. She keeps telling me that those uses are best kept to the kitchen. I'll leave that fight for another day, because YES, this dish rocks. Fry the chicken a little bit and add this sauce, and it's GAME ON! Well, at the dinner table anyway.
Ingredients
4 Boneless, Skinless Chicken Breasts
Kosher Salt To Taste
Freshly Ground Black Pepper, To Taste
6 Tablespoons Flour
1/2 cup Butter
2 Tablespoons Olive Oil
1 cup White Wine
3/4 cup Chicken stock
2 whole Lemons
1 clove garlic, minced
3/4 Cup Heavy Cream
Chopped Fresh Parsley
1 pound Spaghetti or Fettucine
Directions
One large pot of salted water boiling for the pasta.
Pound the chicken breasts until 1/2 inch thick. Sprinkle with salt and pepper on both sides, then dredge in flour.
Heat 2 tablespoons butter and 2 tablespoons of oil in a large skillet over medium-high heat. Fry two of the chicken breasts at one time until golden brown on both sides, about 4 minutes on each side. Remove to a plate, then add the rest of the butter and olive oil. Fry the other two breasts until golden brown. Please don't burn your chicken! Remove the chicken, and turn the heat to medium to medium-low. Pour in the wine and chicken broth, and squeeze in the juice of two lemons. Make sure you don't get any seeds in the sauce. If you do, remove them immediately. Whisk the sauce, scraping the bottom of the pan. Add pasta to pot and cook until al dente. Allow this yummy sauce to cook and bubble and thicken until reduced by about half. Add in your garlic clove. Reduce heat to low and pour in cream. Whisk together and allow to cook for a couple of minutes until it has a gravy like consistency. Taste and adjust seasonings or other ingredients. Sprinkle in some chopped parsley and stir.
Place a medium-sized mound of pasta on a plate. Place a cooked chicken breast beside it, then spoon sauce over the chicken and the pasta. Sprinkle a little minced parsley over the top.
Comments