Grandma Josie's Chile (Salsa)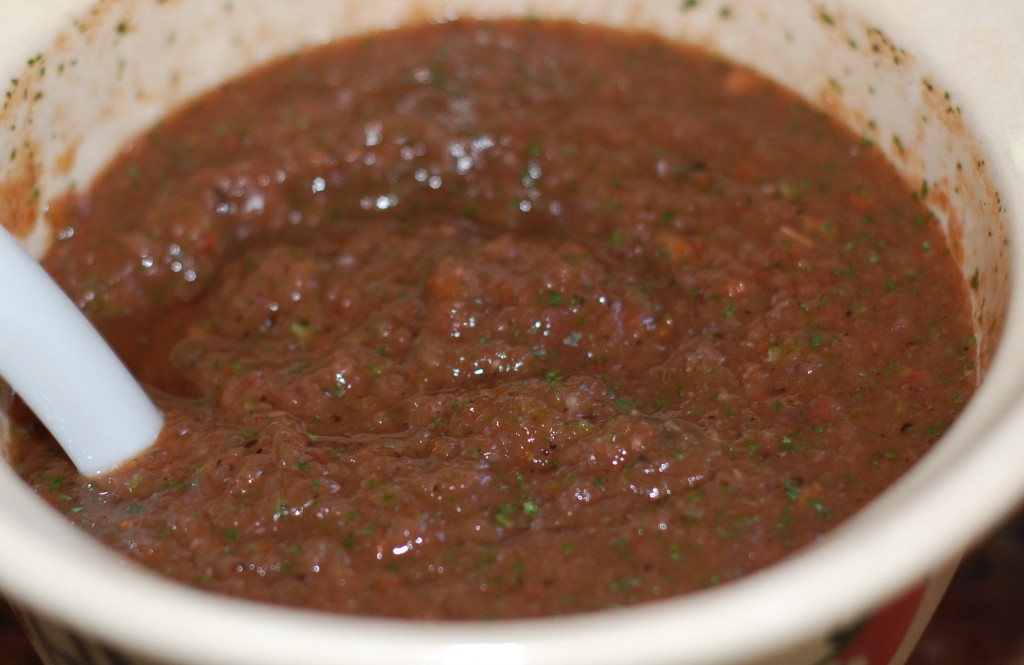 Ofrasina (Josie) Avila-Preciado was born in 1930 in Michoacan, Mexico. She was one of fourteen children. As a baby, she was smuggled into the United States under her aunt's dress. She put her roots down here in California, got married, and started a family of her own. Her son Steve is my best friend Jessica's father. Grandma Josie was one of the most selfless ladies to have ever lived. She loved her children and worked everyday to provide everything for them. One of those things she provided, was of course food. And Josie loved to cook. She would cook all day for her family and passed many of her recipes on to them.
She had a heart of gold and if she liked you, you were blessed. If she didn't like you, well let's just say I'd advise you change your name and move to Canada. Grandma Josie passed away in 2002 but her life continues to always be celebrated. The stories about Josie still make her family laugh, cry and relive her life all over again. It is my great honor to post the recipe (with her family's blessing of course) for Josie's amazing "salsa." Please make this as soon as you possibly can. It has become a favorite in my family as well but it will always carry Josie's name on it.
Hubby's Note: My wife has been known to put this salsa out when I have the guys over to watch a game or for poker night. Any one of my friends that has had it once, will inivitably ask for it the next time they are over. It's so fresh tasting. It's the perfect mix of spicy and sweet and fresh. The only thing that improves it is a dollop of Guac on the chip right along side it. Thankfully, I'm always asked to be the taste tester while it's being made. Does it need more of this? Of that? No honey, it needs more tortilla chips in my hands to eat it with.
Ingredients
2 jalapenos
4 tomatoes
1 onion
2 cloves garlic
1 cup cilantro
salt and pepper to taste
Directions
In your oven, place a rack as close to the top broiler elements as you can. Turn the oven to broil (the highest setting) and let it warm up for 4-5 minutes. Meanwhile, halve all of the tomatoes and onion vertically. Lay all of the halved tomatoes and onion cut side down along with the jalapeno peppers on a baking sheet that can withstand high heat and will not be ruined if juices burn to it. Place the pan of vegetables on the top rack and let them sear until their skins are black and smoking. Remove from oven and set aside to cool. When the tomatoes, onion and jalapeno peppers are cool enough to handle, peel the skin off and peel any burnt skin off of the peppers. Put the jalapenos, garlic, 1 teaspoon of table salt in a blender or food processor. Puree. Then add the tomatoes, onions and cilantro. Puree again until smooth. Season with salt and pepper to taste. Serve with white corn tortilla chips!
Comments