Brown Sugar Mustard Glazed Salmon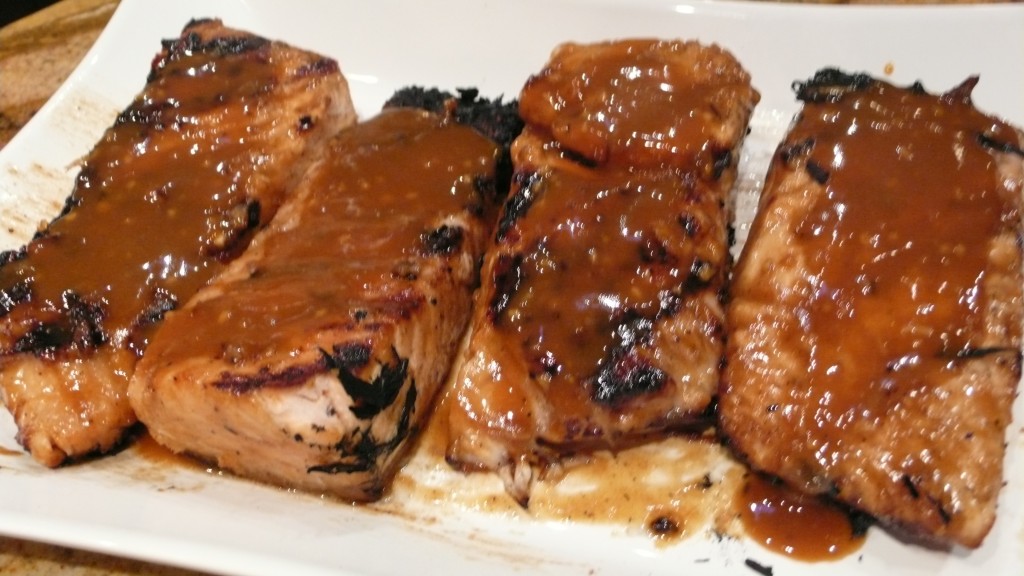 We recently spent some time in Oregon with really amazing friends. It was a much needed Mommy and Daddy getaway. As well as a much needed catching up with friends and enjoying time together getaway. After a weekend of relaxing, touring the cities and wine tasting; I insisted on making our friends dinner. Not to mention their kitchen is made of the things I dream about. I found a few empty drawers and actually contemplated trying to fit myself inside of them to just live in this kitchen. I know that sounds weird, right? Trust me. This kitchen makes my heart swoon and my knees buckle.
The Pacific Northwest is known for their amazingly fresh killer seafood so I chose to make a Brown Sugar Mustard Glazed Salmon. Our tour guides led us to this fantastic local store that I would call a cross between Whole Foods and Bristol Farms. But here's the kicker – it only sells local items from Oregon. How freaking cool is that? It of course had other staples that you could find at any high end grocery store. But if there was a local Oregonian product – that would be the first one on the shelves.
Alongside this salmon, I made cilantro corn and my mango salad. Since it was a side dish, I just left out the chicken and pumped up the avocado and mango. It turned out quite delish, so here we go!
Hubby's Note: This salmon needs to be grilled. My wife prepares it and I grill it. I recommend two things to help this process. First, I recommend Grill Grates. Go to Amazon.com to find them. I found them courtesy of Craig Goldwyn at Amazingribs.com. Second, any time you're grilling you MUST have a timer and a thermometer. Fish is one of the rare cases, where i don't use a thermometer. I only use a timer. Specifically the Weber Grilling app, "On The Grill". I love this app. Use it all the time. It's got a timer as well as temperatures to look for. Both the USDA and the Chef's temps. For a 1 inch filet of Salmon, i went ten minutes, flipping once. It was perfect. So healthy, and so good.
Ingredients
3 tablespoons brown sugar
3 tablespoons honey
2 tablespoons butter
1/4 cup Dijon mustard
2 tablespoons soy sauce
2 tablespoons olive oil
1 tablespoon minced ginger
Salt and freshly ground black pepper
4 salmon fillets, 6 ounces each
Directions
Mix the brown sugar, honey and butter in a small saute pan over medium-high heat. Remove from heat and whisk in the mustard, soy sauce, olive oil and ginger. Let cool.
Place salmon in a marinading dish or tupperware and add the cooled marinade, gently flipping to coat (don't ruin that salmon!)
Preheat your grill to medium. Place the salmon on the grill. Baste the salmon fillets with the marinade (ya feel me?). Grill for 7 to 9 minutes, turning once after 5 to 6 minutes. Serve immediately with your choice of Mommy Bistro side dishes!
Comments