Brown Sugar French Toast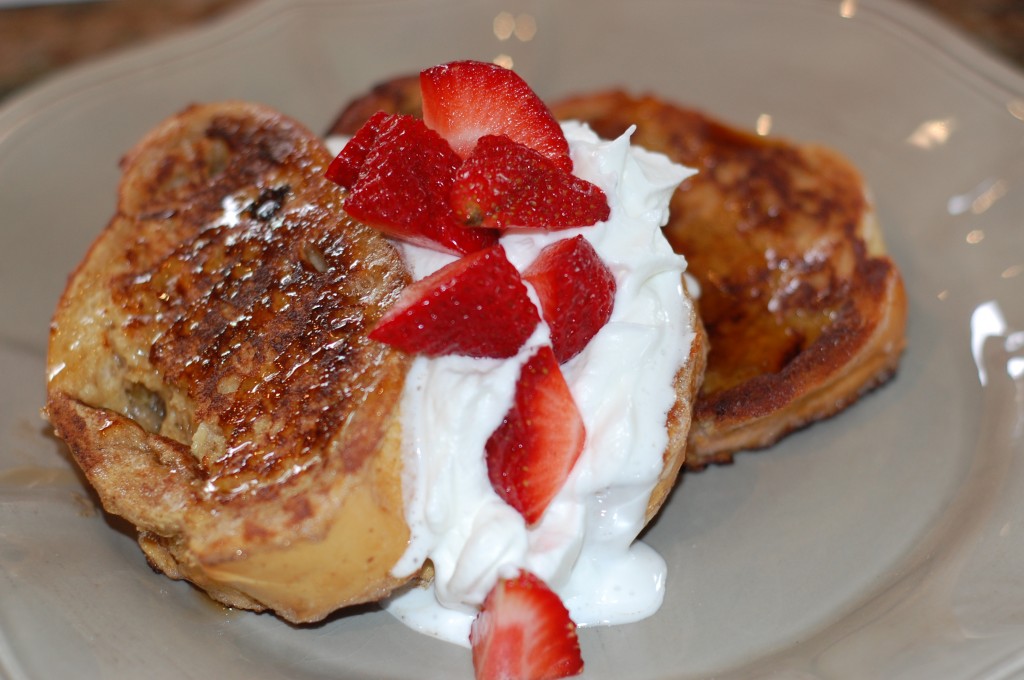 I had a girls night out on Saturday night and Ryan had a boys night in here at the house. I came home early Sunday morning feeling great. Ryan? Not so much…. His brother was here as well so I decided to whip up some french toast to help absorb the um….beer/tequila/scotch left in their tummies.
This is by far the best french toast I have ever had. It's crunchy and sweet and sinful all at the same time. Enjoy!
Hubby's note: I used to be in good shape. Then my wife became an amazing cook and started making ridiculous things like this French Toast. Once the smell of this French Toast wafts though the house, I'm done. Throw some bacon on the side and I might as well sink into a food coma right there. So good.
Ingredients:
4 large eggs
1/2 cup whole milk
1/2 teaspoon vanilla extract
1/4 cup brown sugar
1/2 teaspoon cinnamon
Butter…yummy butter
8 slices day old french bread (I get mine from Albertsons) cut into 1 inch thick slices.
Directions:
Whisk all ingredients together (except the bread, right?). Melt a tablespoon of butter in a nonstick skillet over medium heat. Soak the bread in the batter, turning to coat. When your pan is hot, place 3 slices of bread into the pan. When it turns a really great golden brown, flip it. Flip it for real. Make sure both sides are really golden brown.
Serve with maple syrup and if you really want to go all the way…fresh whipped cream and strawberries.
Comments