Spice Cake Cupcakes with Brown Sugar Cream Cheese Frosting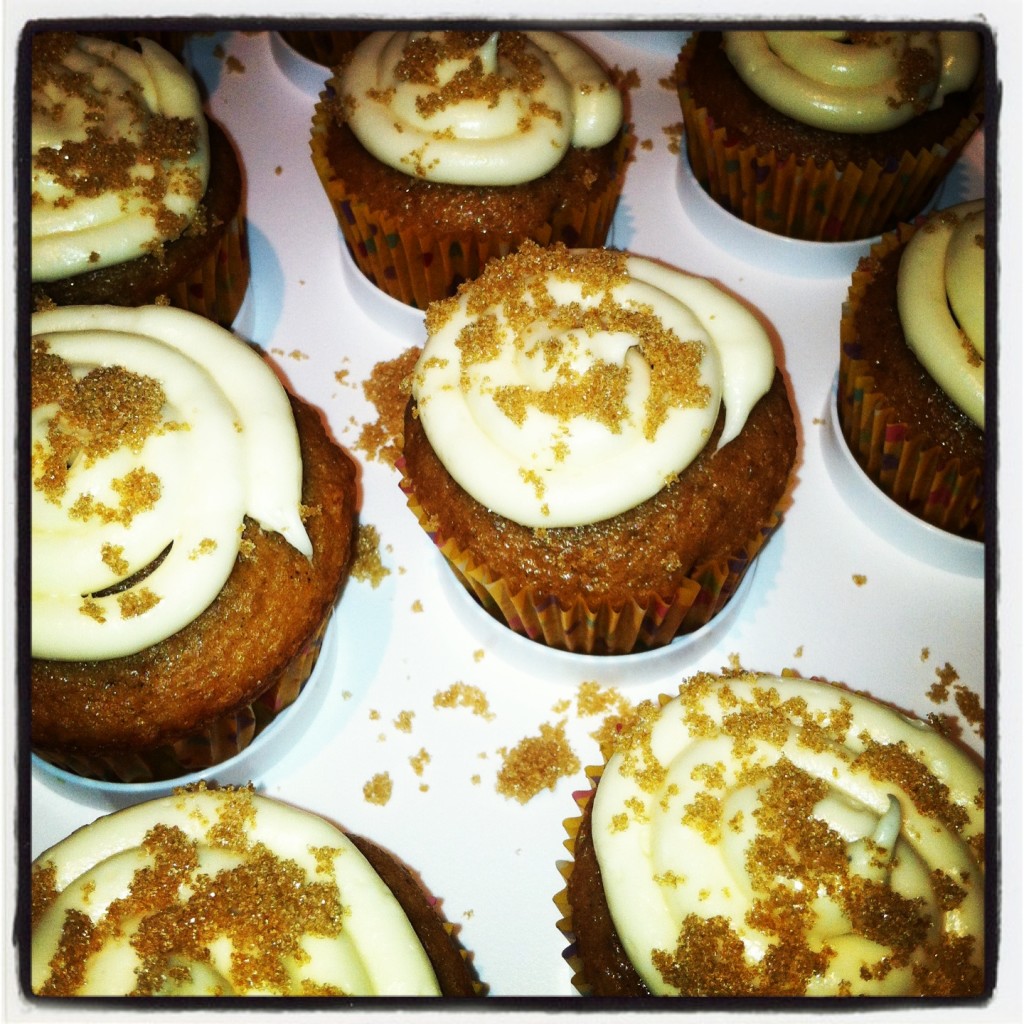 It was only a few weeks into the school year when it was my turn to prepare a special breakfast treat for the teachers. I wanted it to be something special. Something that started their day with a smile and a delicious treat. I made these cupcakes along with some blueberry streusel muffins, fresh fruit and OJ. They were a huge hit and so super yum….That I HAD to make them again for Buggies school. And maybe a few got lost on their way to the different schools too…
Adapted from Tasty Kitchen
Ingredients
2 cups All-purpose Flour
1 teaspoon Baking Powder
½ teaspoons Baking Soda
½ teaspoons Salt
1-½ teaspoon Cinnamon
½ teaspoons Ginger
¼ teaspoons Nutmeg
½ cups Butter, Softened
½ cups Brown Sugar
½ cups Sugar
2 whole Eggs, Beaten
¼ cups Molasses
1 cup Buttermilk
FOR THE FROSTING:
6 ounces, weight Cream Cheese, Softened
6 Tablespoons Butter, Softened
1 teaspoon Vanilla
3 cups Powdered Sugar
1/4 cup brown sugar
Directions
Preheat oven to 350° F and prepare cupcake tins by adding cupcake liners. Using a whisk, stir together flour, baking powder, soda, salt, and spices; set aside. Using an electric mixer, beat the butter with the sugars until creamed. Beat in eggs, and then add molasses. Add about a third of the dry ingredients to the creamed mixture, then pour in a third of the buttermilk and continue mixing, alternating dry ingredients with the buttermilk until all combined.
Fill each cupcake about 2/3 full. Bake in a 350° F for 20-22 minutes, or until a toothpick inserted near the center comes out clean. Let cupcakes cool completely.
For the frosting, mix together the cream cheese, butter and vanilla. Stir in the powdered sugar and combine thoroughly. Add half of the brown sugar to the frosting and mix to combine. Transfer the frosting to a pastry bag fitted with a large star tip pipe frosting over the top of the cupcake. Sprinkle with remaining brown sugar before serving.
Comments