Roasted Brussel Sprouts with Pomegranate and Hazelnuts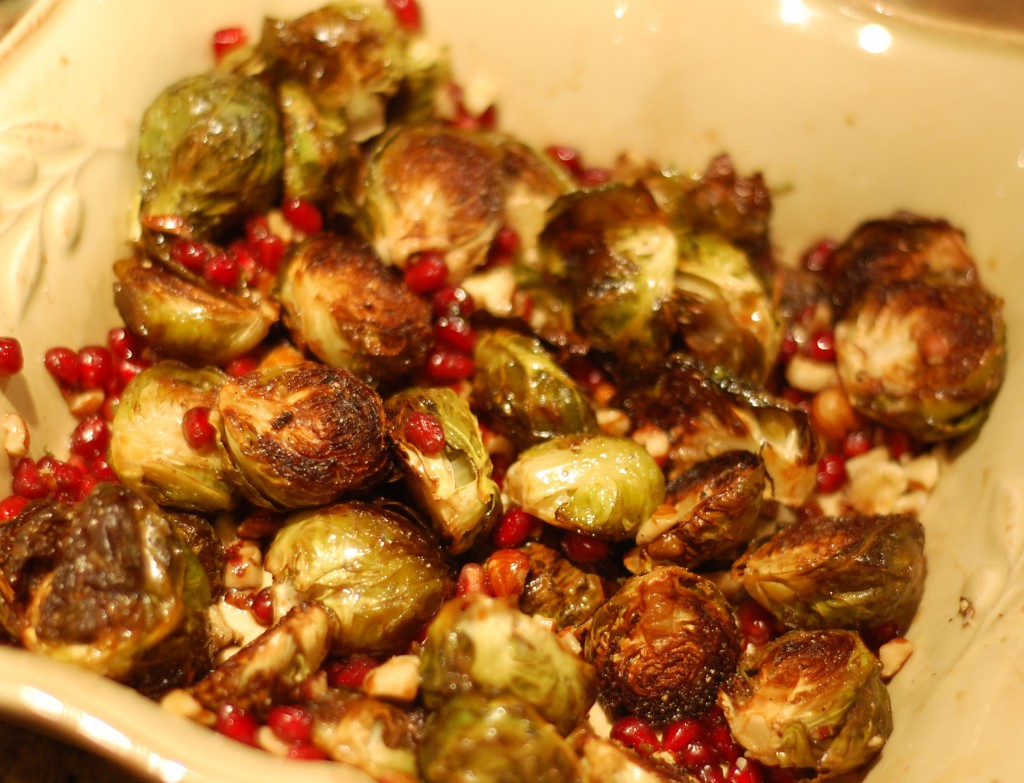 I take no credit for this one peeps. Last year I was watching Throwdown with Bobby Flay. It was my absolutely favorite episode EVER. Three reasons why:
#1: It's Bobby Flay. I love him and my ultimate dream (besides winning the lottery) would be to have dinner with him. Don't worry, I'd bring the hubby along.
#2: This episode was a throwdown with Pioneer Woman, Ree Drummond. I heart Ree. She's the God of Mommy Bloggers. She's funny, has great recipes, she has 4 kids (that she homeschools!) and lives on a cattle ranch. I mean really. She's a mommy rockstar.
#3: It was a Thanksgiving throwdown. Yeah, I said it people. A Thanksgiving Throwdown with Bobby Flay and Ree Drummond? Are you kidding me? That's one way to make my heart swoon. It's like kitchen porn.
Anywho….Bobby made this recipe and it just looked so beautiful. I'm not a Brussel Sprouts person but this was too pretty to not try. I'm glad I did cause it was delish!! I couldn't find the molasses so I just made it without it. I thought it was awesome!
Ingredients
1 1/4 pounds Brussels sprouts, trimmed and halved
2 tablespoons olive oil
Kosher salt and freshly ground pepper
3 tablespoons pomegranate molasses
Seeds from 1 pomegranate
1/2 cup coarsely chopped toasted hazelnuts
Finely grated zest of 1 lime
1 tablespoon finely grated orange zest
Directions
Preheat the oven to 375 degrees F.
Put the Brussels sprouts in a medium roasting pan; toss with the canola oil and season with salt and pepper. Roast in the oven until light golden brown and a knife inserted into the centers goes in without any resistance, about 45 minutes.
Transfer the sprouts to a large bowl and add the pomegranate molasses, pomegranate seeds, hazelnuts, and lime and orange zests. Season with salt as needed.
Comments