Chimichurri Steak (And Thanksgiving Debrief)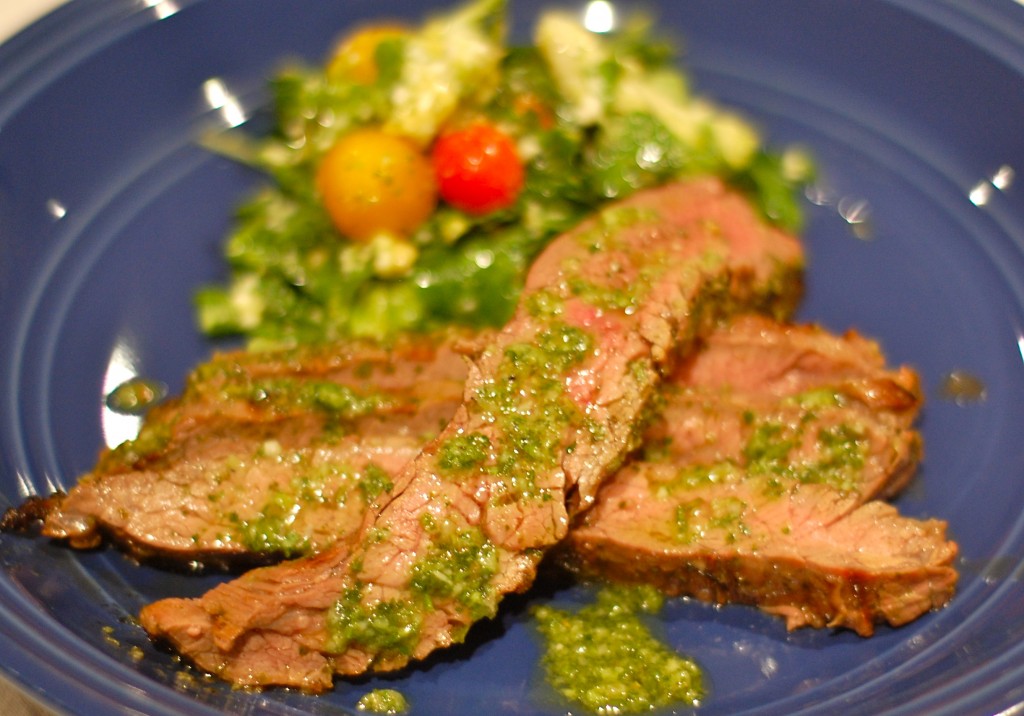 Wheredya go?
I've missed you so,
Seems like it's been forever,
That you've been gone….
It's been a week. I'm so ashamed. I've missed my computer, designing new recipes, and posting them for you. So, what's new? Anything happen to you? Thanksgiving – that's right. How was yours? Did 'ya do Black Friday!?!? Did you eat turkey leftovers till Monday even though you probably should have tossed them on Saturday? 
Here is a recap of my week. Starting with Thanksgiving. We had 15 wonderful family and friends join us for our Turkey day celebration. Our menu consisted of:
Salad with pears, cranberries and feta cheese with a delicious herb vinaigrette (gotta get my new sis's mom's recipe. I wanted to drink it.)
Slow grilled turkey
Pork roast with mushroom gravy
Roasted garlic mashed potatoes
Sweet potato casserole
Brussel sprouts with bacon (YUM)
Mini pumpkins with homemade brown sugar applesauce
Roasted red onion stuffing/dressing
GRAVY!
L.C.'s cranberry salad (I ran out of time with posting this one for Thanksgiving. Stay tuned, it's coming for Christmas)
Pumpkin bread pudding
Brown bag apple pie
It was traditional. simple. comfort. I walked in circles for about an hour afterwards just trying to will my body to digest faster. Secretly I wanted seconds but I didn't want to look like a freaking pig. We followed dinner with a game of charades. And then things got out of hand as my brother-in-law bet my husband that he couldn't run to my parent's condo a few blocks away in less than a minute. Yes, my drunk-ass, stuffed full of turkey husband changed into a "track suit", complete with flashlight head band so he could see at night…and he took that bet. And lost. That was the hysterical laughter portion of the evening.
Friday I spent the day cleaning up and then headed to the beach to meet my parents for some cocktails and playing in the sand with my two favorite girls, Buggies and Pixie.
Saturday was the baby shower for sweet baby Jane due to arrive in A MONTH! And to keep the party going (and my blood alcohol content up) we had great friends over Saturday night for Mexican food and margaritas and some serious ass kicking of the boys in some board games.
The rest of the week is in fast forward as I'm sitting here on freaking Thursday night writing my first post in a week. What the H, Jess!?! Pull it together!
This is the dinner we had tonight. It is so freaking good, I could take the marinade and drink it with a straw. You must like garlic. And if you're reading my blog, you probably already do. I'll be posting some random items this week and next week before I hunker down into full blown Christmas mode.
BTW – On december 12th, I'll be making 500 cookies for my brother-in-law's bosses. If a venti peppermint mocha were to magically appear on my doorstep, I would be forever grateful.
Peace out.
Hubby's Note:  Regarding the midnight sprint down the block…in hindsight, it was probably not the best idea.  I did spend the hour afterwards trying to keep all the beer, wine, scotch, and about 10 lbs of food from making a second appearance in my house.  But you know what?  It will be talked about for decades.  In life you either take the challenge, or you let it pass you by.  And i'd like to point out that I was about 50 yards short of making it.  I demand a rematch.  Oh, and the Chimichurri Steak?  Amazing.  It's like Argentina in your mouth.  Class dismissed.  Go forth and sprint your way to glory.
Ingredients:
Chimichurri Marinade AND Sauce:
1 1/2 cups olive oil
Juice of 2 limes
1 1/2 cups flat leaf parsley
8 cloves garlic
1/2 cup cilantro
Salt and pepper to taste
Flank Steak!
Directions:
Put all of the ingredients (except for the olive oil) in a food processor and pulse. Oh – and obviously not the flank steak either. DUH! 😉
Pour half of the chimichurri in a bowl, cover and refrigerate. Pour the remaining sauce over your flank steak, toss to coat. Refrigerate for at least 2 hours. Preheat grill to high. Let the steak come to room temperature. Remove it from the marinade. Grill for 4 to 5 minutes on one side until browned, turn, and grill another 4 to 5 minutes for medium-rare doneness. Remove from the grill, let the meat rest for 10 minutes, and slice thinly on the bias. Serve with the remaining chimichurri on the side. I love to serve this with a salad and use the chimichurri sauce as the dressing too. I know it may seem like overkill but damn it's good.
Comments