Red Potato and Goat Cheese Stack with Basil Balsamic Drizzle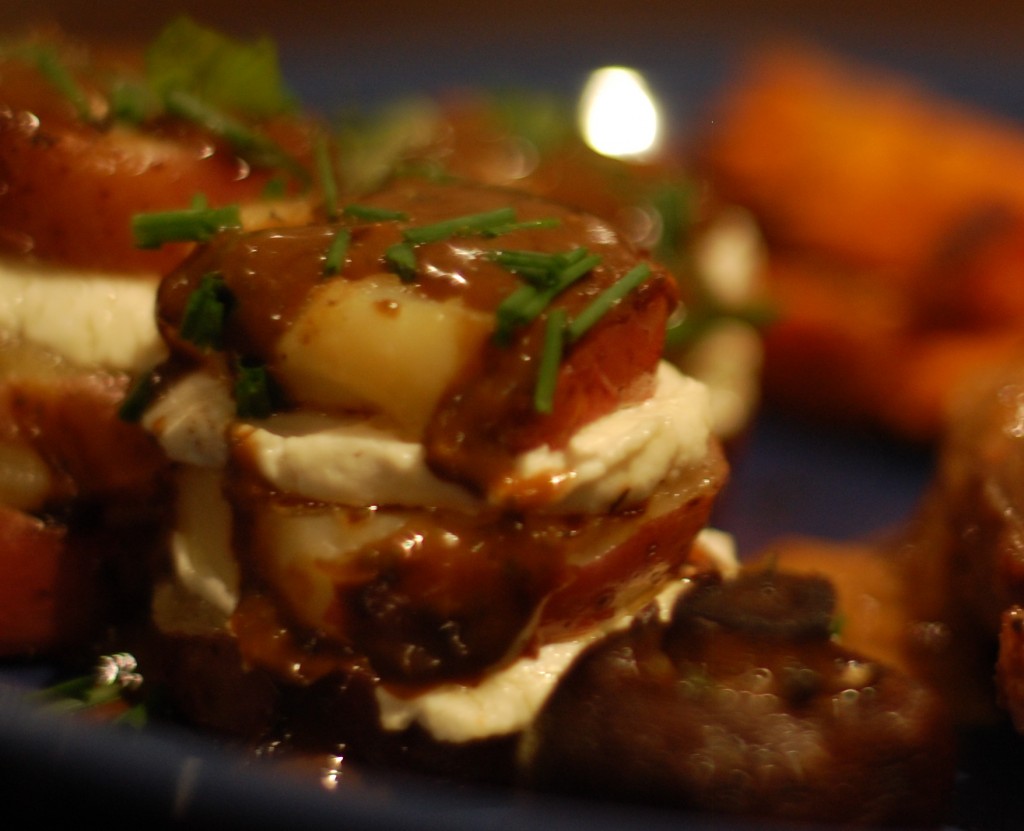 Last night I posted my recipe for Filet Mignon with Whiskey Cream Sauce. So far two of the comments on the steak refer to the potato stack next to the steak. I felt bad about not getting yesterdays post up until late so I am giving you another recipe today. When I made it for the first time, I didn't dip the potato slices in the vinaigrette before assembling and that is a MUST.
My sweet girls are sick as sick can be so this post has to be short. I barely got any sleep last night and I would love to catch some shut eye before my angels wake up from their naps.
But get ready for tomorrow! It's my birthday and the start of another fabulous giveaway!!!
Ingredients
For the Basil Balsamic Drizzle…
1/4 cup balsamic vinegar
1/4 cup fresh basil leaves
3/4 cup extra virgin olive oil
2 teaspoons dijon mustard
1 garlic clove
Salt and Pepper to taste
For the stack….
4 red potatoes
Olive oil
Salt and freshly ground pepper
8 ounces soft goat cheese
Basil leaves, for garnish
3 tablespoons chopped fresh chives
Directions
Place all of the vinaigrette items – except the olive oil – in a food processor and blend until smooth. With the motor running, slowly add the oil and blend until emulsified, season to taste with salt and pepper.
Bring a large pot of salted water to a boil. Add the potatoes and reduce the heat to low. Cook potatoes until they are tender but not falling apart, about 15 minutes. Drain and let cool. Once they are cool, cut into 1/2 inch slices.
Preheat oven to 400. Now to make the stacks…As you assemble, dip each potato slice into the vinaigrette before layering with goat cheese. These are the layers: potato, 1 tablespoon goat cheese, potato, 1 tablespoon goat cheese, ending with potato. Place your potato stacks in a non stick baking pan and cook in the oven for 4-6 minutes. Before serving, drizzle the vinaigrette on and around the potatoes and top each stack with some of the basil leaves and chives.
Comments