Filet Mignon with Whiskey Cream Sauce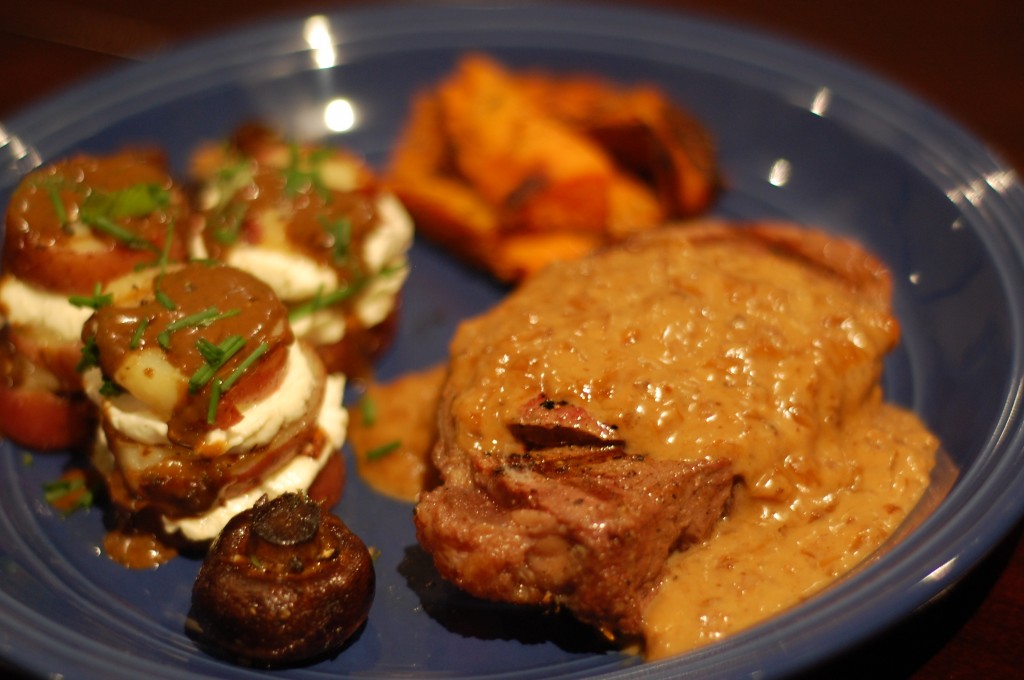 This past weekend I had my first mommy getaway in almost a year. My brother in law is getting married in October and I went on the bachelorette party for my soon to be mini sister-in-law. I say mini because she's a beautiful petite woman. I was so excited to spend the weekend with her, her friends and of course my other sister in law, Kellie.
I don't know what it is about when Mom's go out of town but Murphy and his damn law inevitably show their faces and the children get sick. Here I am sitting on Descanso beach in Catalina with 12 really fabulous ladies and my brand new iphone gives its legendary ring of a new text message. Excited to see a picture of my darling girls, I am instead greeted with, "Buggies has a fever of 102." Ugh. Really? 102??? Several hours and several text messages later, I've decided to stay on the island rather than helicopter myself for a bazillion dollars to my doorstep. As the night goes on, she's not feeling better and my guilt level starts to rise. My downright out of this world husband insists he's got everything under control through the cries from the girls and the panic in his voice.
And of course when one gets sick, both get sick. By Sunday morning they are both running fevers, hysterical and just sapped of their energy from the pain of this illness. I'm feeling like I'm last place in the mother of the year awards. But Ryan keeps texting Kellie, "please make sure Jess is having fun. I've got this." So, I stay. I visit all of my favorite places on the island….C.C. Gallagher for my morning coffee, El Galleon for some before lunch mojitos, laying out and zoning out to a bridal magazine as we plan Kellie's upcoming nuptials (I might be confusing you….Kellie is Ryan's sister. She is getting married in May of next year. Ryan's brother, Sean, is getting married in October. And while we are at it, let's add in my two dear friends, Kim and Molly, who I love to the moon who are also getting married next year in May and June…) followed by the Dingy Dock for nachos and margaritas and then a stop at Casa de Chaos, the Waters' family Catalina house that we stay at every year for our legendary Mommies and Babies gone wild trip.
At 3:45 our boat leaves the island and we head back to Long Beach where I zoom on the 405 to Hollywood to drop Kellie off before powering through Crescent Heights, 170 Freeway, 5 Freeway, and the 118 freeway shuffle. I walk in the door and I'm greeted by a very, very thankful husband to see "Mommy" as well as two girls who were apparently in the best spirits they were in all weekend.
We are still in the midst of "Summer Flu Battle 2011." My house looks like a bomb has gone off. My suitcase remains unpacked, the sink is full of dishes, the laundry is over pouring from the hampers, the children refuse to eat regardless of my unending attempts at getting them to eat ANYTHING (besides marshmallows), there are toys bursting from every seam of my house, my fridge is empty, and I look like a frazzled mom of octuplets. So, my post is about 14 hours late and I hope you give me some slack. Cause I'm actually impressed with myself that I got my teeth brushed and my face washed today.
Tonight, I give you our absolute favorite stand-by meal. I'm pretty sure every couple has a "go-to" dish or something you make weekly – and LOVE. In our house, it is this steak with fire roasted artichokes. I love filet mignon because it's not fatty or chewy and tastes so savory when grilled properly (yay hubby!).You can find the recipe for fire roasted artichokes recipe here
Hubby's note: On the Seventh Day, many people think God rested. I think he created this dish. It's that good. Filet is by far my favorite cut of beef. And I would bathe in this Whiskey Cream Sauce. Or bathe my wife in it, and then lick…well, you can fill in the blanks here. Filet + whiskey = HUBBY APPROVED
For the Steaks…
Ingredients
One filet per person
Fresh Ground Sea Salt
Fresh Ground Black Pepper
Olive oil
For the Whiskey Cream Sauce:
Ingredients:
1 stick butter
1/2 medium onion, diced
1/2 cup whiskey
1/2 cup beef stock
1 teaspoon minced garlic
Salt to taste
Ground black pepper to taste
1/4 cup heavy cream
Directions for the steaks: (HUBBY CONTRIBUTED)
There are two ways that I know how to grill a Filet on the Grill. There's the way that you're used to, where you get the grill as hot as you possibly can (even hotter with Grill Grates) and then you cook them on either side until they hit about 140 degrees. OR…you can try the reverse sear that I got from www.amazingribs.com. That's where you cook the whole thing indirectly first and then you sear them at the end. Ultimately, this does taste slightly better in my opinion, but it takes longer so I usually cook them the regular way.
By all means, you should download the "On The Grill" app by Weber. It's a grilling app that gives times and temperatures, and timers, etc. It's amazing and a tool that every man should have in his arsenal (also, my favorite soccer team: Arsenal). Lastly, you need a thermometer to know when it is done. I like mine at 140 degrees. That's medium in my book. Oh, and the time per side will vary depending on the thickness. Because you want Filets less done in the middle, I don't actually thaw them out before i put them on the grill. I just take them out of the fridge about 20 minutes before hand, then throw them on. A 2 inch filet takes about 4 minutes per side.
Directions for the sauce:
Hand steaks over to the Master Griller of the evening to grill your steaks.
Melt all but one tablespoon of butter over medium heat in a skillet. Add onion and garlic and cook until brown. When the onions are brown, add the whiskey. As soon as the whiskey evaporates, pour in the beef broth. Add salt and freshly ground black pepper.
Whisk in the remaining tablespoon of butter. Allow the mixture to bubble for about a minute, then reduce the heat to low. Over low heat, pour in the cream. Whisk, adding more cream if the mixture looks too brothy. Allow to simmer on low heat. Stir occasionally until steaks are done. Spoon over your filet and serve alongside artichokes!
Comments