Not Your Mom's G-Man (Gingerbread Sandwich Cookies)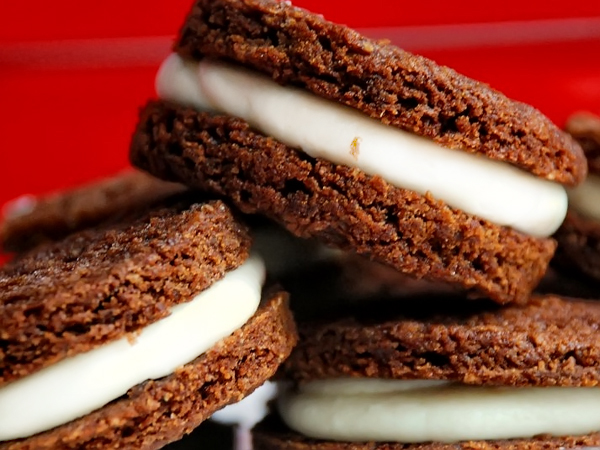 I keep a clean house. I can't focus when everything is everywhere….which is quite the challenge with two little ones under the age of 4. So, when I made these cookies, my girls and my best friend's son were addicted. As a result I'm still finding little crumbs of these all over my house. I can only assume that they helped themselves and created a fallout shelter full of these cookies somewhere with a secret handshake and a "don't tell the mommies where the cookies are" pact.
I cannot for the life of me find the original recipe. Whoever the fabulous genius was to come up with this recipe….I thank you. As do my children.
Hubby's note: I'd like to explore Mom's G-something a little later. I'll give you a hint, I'll be the only man there.

Cookies:
1-½ cup All-purpose Flour
1 teaspoon Baking Soda
2 teaspoons Ground Ginger
1 teaspoon Ground Cinnamon
¼ teaspoons Salt
10 Tablespoons Unsalted Butter, Softened
¾ cups Sugar
1 whole Egg, At Room Temperature
¼ cups Unsulfured Molasses
Cookie Filling:
6 Tablespoons Unsalted Butter, Room Temperature
1-¼ cup Confectioner's Sugar
1 Tablespoon Milk
Directions
Preheat oven to 350 degrees and position racks in the upper and lower thirds. Line 2 baking sheets with parchment paper or silpats.
In a bowl, whisk together the flour, baking soda, ginger, cinnamon and salt. In the bowl of an electric mixer fitted with the paddle attachment, beat the butter and sugar at medium speed until fluffy, about 3 minutes. Beat in the egg and molasses. Add dry ingredients and beat at low speed until well incorporated, scraping down the sides. Drop tablespoon-sized dough onto the baking sheets, 3 inches apart. I recommend using a cookie scoop so that your cookies are the same size…everytime. Bake the cookies for 10-15 minutes, until they have risen and fallen and are slightly firm; shift the sheets halfway through for even baking. Let cool slightly, then transfer the parchment paper to racks to cool completely.
To make the filling:
In the bowl of a electric mixer fitted with the paddle attachment, beat the butter with the confectioners' sugar at medium speed until light and fluffy, about 3 minutes. Beat in the milk until well combined. Give your kids a spoonful each and let them have that sugar high.
Arrange the cookies in pairs on a large working surface and spoon or pipe the filling onto the flat side of half of the cookie. Place the other cookie flat side down on top of the cookie with the filling and press down slightly until filling spreads to the edges.
I think this is my new all time favorite cookie. Well, besides my secret cookie that is.
Comments