Red Velvet Sandwich Cookies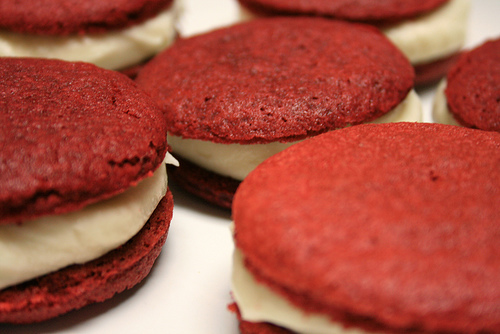 I just finished baking 600 cookies. Yes, you heard that right. 600. Every year my brother-in-law's production company hires me to make their holiday gift baskets. So, I've been MIA because I was chained to my oven busting out cookie after cookie. I love to bake. I love to try new things. However I am not the kind of baker who can come up with new recipes on the spot. I can easily make a new savory entree but when it comes to baking….I just don't have it in me! The only recipe that I have for cookies that is my very own creation is my crack cookies. Don't judge me on the name. I'm taking ideas for what they should be called. You can see pictures of these cookies here. So for the next 12 days, I am going to feature all of the cookies I made this year. And of course who the credit goes to for the original recipe! These freaking amazing red velvet cookies are those of the southern master; Ms. Paula Deen. When I made these cookies last year, one of the production company's clients called after receiving their basket. He said he had just finished licking the plastic bag these cookies were in because they were so incredible.

Ingredients
1 1/3 cups all-purpose flour
2 tablespoons cocoa powder
1 teaspoon baking powder
1/4 teaspoon baking soda
1/2 teaspoon salt
1/4 cup butter, room temperature
1 cup sugar
2 eggs
2 tablespoons buttermilk
2 teaspoons apple cider vinegar
1 teaspoon vanilla extract
1 tablespoon red food coloring
For the Cream Cheese Frosting:
1 pound cream cheese, softened
2 sticks butter, softened
1 teaspoon vanilla extract
4 cups powdered sugar
3/4 cup finely chopped pecans, optional
Directions
Preheat oven to 375. Mix together flour, cocoa powder, baking powder, baking soda and salt in a small bowl. Cream together the butter and sugar until light and fluffy, about 3 minutes. Add the eggs 1 at a time. Then beat in the buttermilk, vinegar, vanilla and red food coloring. You might need a little more red food coloring…I'll let you be the judge. Once combined, add the dry ingredients to wet. Mix until thoroughly combined. Onto a parchment lined sheet tray, drop batter using an ice cream scoop, forming 2-inch round circles. Bake for 10 minutes, until baked through. Cookies should be cake-like and light. Allow to cool for a few minutes on the baking sheet, then remove to a wire rack to cool completely.
For the Cream Cheese Frosting:
In a large mixing bowl, beat the cream cheese, butter, and vanilla together until smooth. Add the sugar and on low speed, beat until incorporated. Increase the speed to high and mix until very light and fluffy. Grab a spoon and take a taste. You wouldn't want anyone to get sick off of these right?
Spread the cream cheese frosting between 2 cooled cookies. Try and put the first one down. I dare you. It will most likely end up in your tummy because it was "broken." 🙂
Comments