Meyer Lemon Snowdrops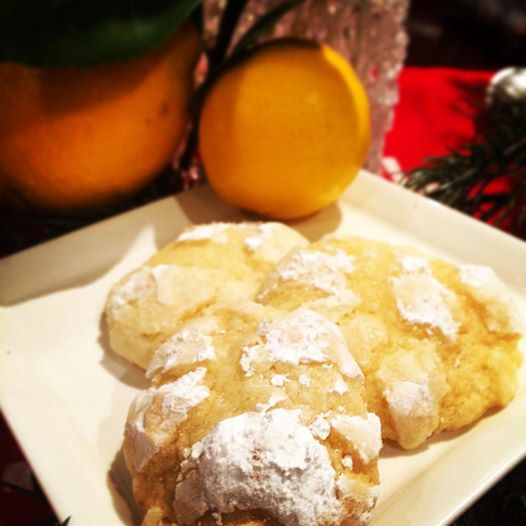 Okay folks! The last promised recipe. I KNOW I'm going to get some e-mails asking where the Crack Cookie recipe is. It happens every year!
You see, that recipe is the ultimate cookie recipe. There is a reason they are called Crack Cookies. They are chewy and chocolatey and truly the best cookie you will ever eat. But the recipe is a secret. No one in the world (except for my god-daughter who deserves to have delicious cookies her entire life) has the recipe. I will pass it on to my girls after they sign a confidentiality agreement 😉
In the meantime, these Lemon Snowdrops are chewy and like a little lemon bar drop cookie…
From sophistmom.com
1 3/4 cups unbleached all-purpose flour
pinch of salt
8 tablespoons unsalted butter
zest of 2 lemons
1/2 cup granulated sugar
1/4 cup agave nectar or honey
1 teaspoon baking soda
2 tablespoons lemon juice
about 1 cup powdered sugar, for coating
1. Preheat oven to 350 degrees. In a medium sized bowl, whisk together flour and salt. Set aside.
2. In an electric mixer fitted with the paddle attachment, cream together butter, lemon zest, sugar, and agave nectar. Mix until very smooth, about 3 minutes. Scrape down the sides.
3. With the mixer off, add in baking soda. Pour lemon juice on top, and turn the mixer to medium, and mix for a couple of turns of the beaters. Add in flour and salt mixture, and mix on low until just combined. Scrape down sides of bowl with a rubber spatula and mix the dough by hand a few times to ensure an even distribution of the ingredients.
4. Roll the dough into balls, one inch in diameter. Bake for 10-12 minutes, or until just barely starting to brown. Let cool for a few minutes on the cookie sheets , and then toss in powdered sugar to coat.
Comments