Sriracha Ramen Soup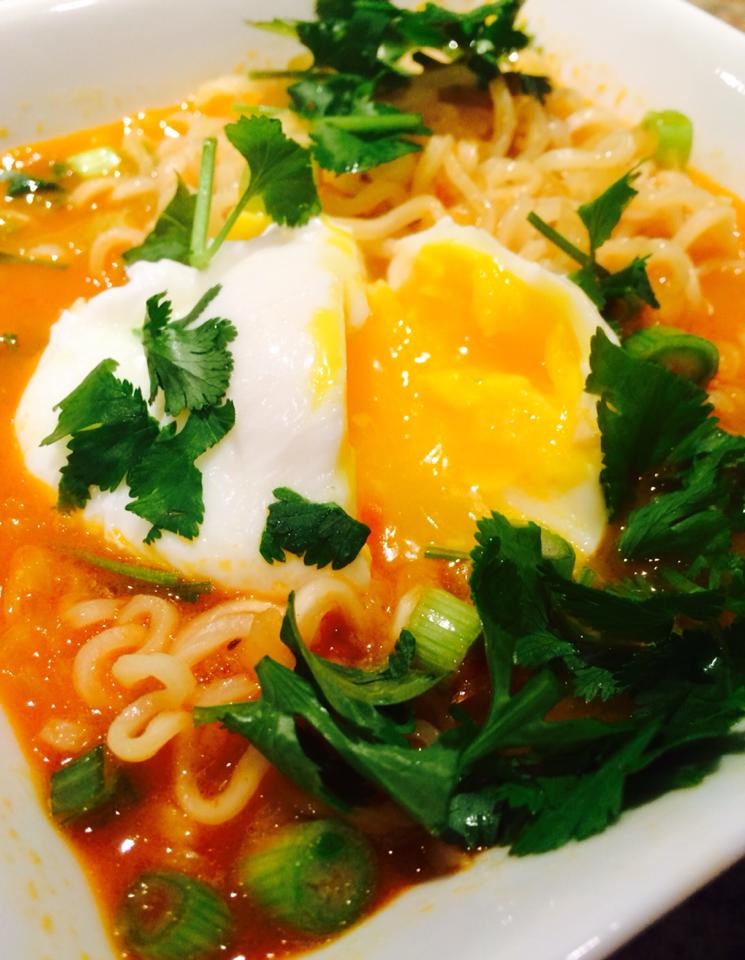 Sriracha. It's just so delicious! Often referred to as yuppy ketchup – I really don't care! It gives that spicy bite to Vietnamese Pho, some extra kick to grilled salmon and makes a damn good aioli.
I've been Pinteresting a lot lately and I came across this recipe from Baker By Nature. It was super simple to make and super yum. Next time I would add some spinach to the soup and also top it with some fresh basil.
Ingredients
2 tablespoons sesame oil
2 tablespoons sriracha hot sauce
1 small onion, diced
1 small roma tomato, diced
1 tablespoon ginger, grated
5 cloves garlic, minced
1/2 teaspoon garlic powder
1/2 teaspoon celery salt
4 cups vegetable broth
2 cups water
1 tablespoon soy sauce
1 teaspoon rice vinegar (optional; only if you like tang)
3 packages ramen noodles
1/2 cup scallions, chopped
1/2 cup cilantro, chopped
2 poached eggs (optional)
1 cup fresh spinach
1/4 cup fresh basil, torn
Instructions
Add the sesame oil and sriracha to a large stockpot and bring to a simmer over medium-heat. Add the onion and tomato and cook for 4 minutes, stirring occasionally. Add the ginger, garlic, and seasonings; cook for 2 minutes or until fragrant. Add 2 cups of water and transfer mixture to a blender or food processor and pulse until smooth. Return mixture to the pot and add the broth.
Bring to a simmer; add soy sauce, vinegar and spinach and simmer for 8-10 minutes. Taste and adjust seasoning as needed.
Add the ramen noodles to the broth and simmer for an additional 2-3 minutes, or until the noodles have softened. Add the scallions, stir to combine. Remove pan from heat, ladle soup into bowls, and top with cilantro, basil and eggs.
Comments
Chicken and Butternut Squash Curry plus The Bone Broth Diet | Mommy Bistro - […] version of one of her recipes). Then the next day I used the remaining broth to make some of…