And the winners are!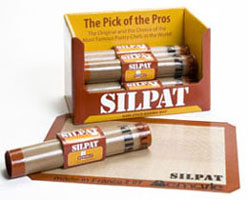 Buggies is sitting in my lap and she just helped me go to random.org to find our winners of the Silpat giveaway. And the winners are:
(Drum roll please! Oh who am I kidding…I want a whole freaking rock band playing for this!)
Post #5: Heather: Ok….I over boiled water. Or I burnt the toast. Ha ha!!!!! I really enjoyed your new blog. Love it!!! Can't wait to try out the recipes.
Post #9: Shannon: I would have to say mine would be when I was making coffee cake at my moms for Christmas morning. Apparentely I didn't bake the coffee cake long enough so the inside was all gooey! Oh well, we could still eat the outside:) I love your blog Jess and can't wait to make some of those yummy dishes. Love ya!
Post #13: Ginger: Ah, I love silpats!
My biggest kitchen disaster in recent memory was when I misread a recipe and whipped egg whites with the sugar instead of by themselves for a big baking project. I didn't want to risk messing up the whole thing so I ended up dividing four more eggs and starting over.
Aside from the waste in yolks, it turned out ok cause I baked the original egg whites/sugar into meringues!
CONGRATULATIONS LADIES! You're my first ever giveaway winners. Sheesh, I've got a tear in my eye….
Comments