Harvest Salad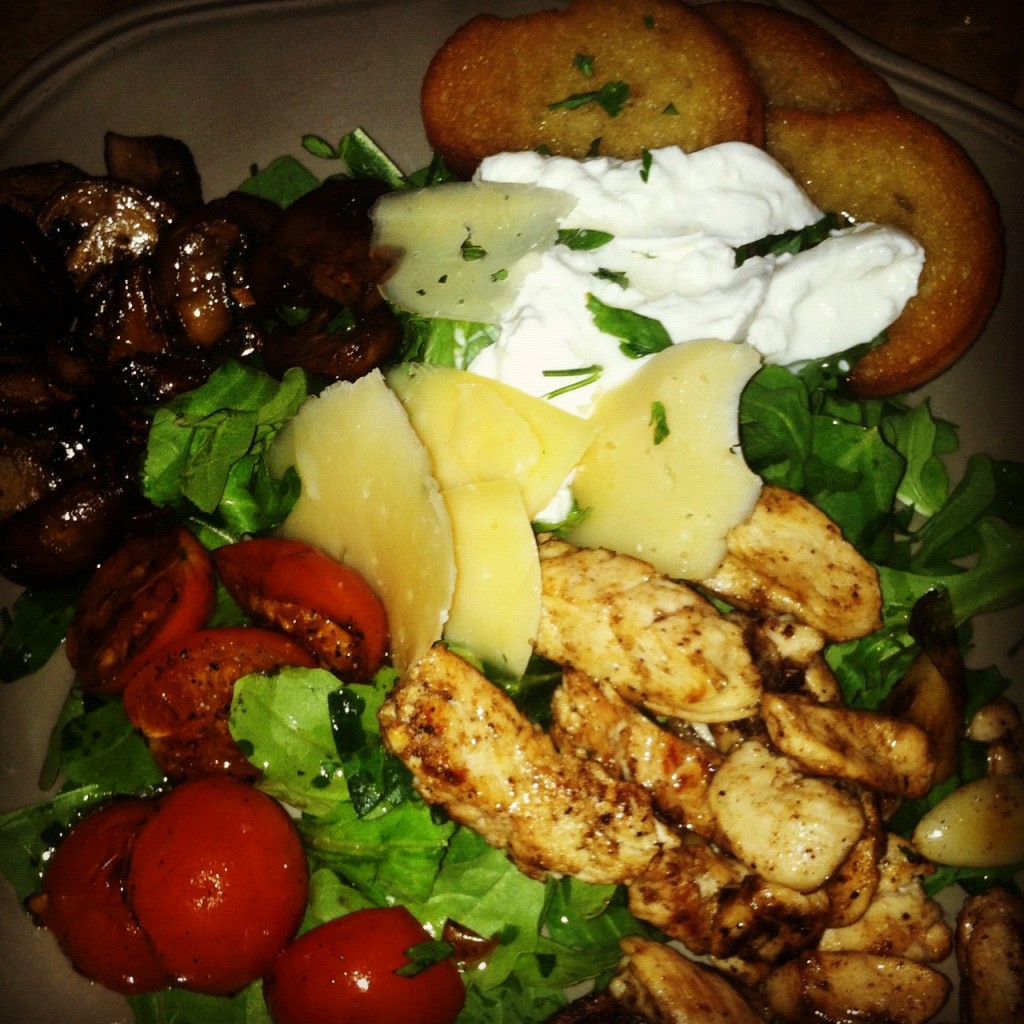 What a busy few days it has been! On Friday I had the pleasure of recording a little blurb for KEYT morning news out of Santa Barbara. I had so much fun! Granted I got up at 3:30 in the morning and my bleary and puffy eyed little self had to be in Santa Barbara by 5:30 but who cares! It was a blast. The lovely Lisa Carey who is handling all of the PR for the event was with me as well. You can see a clip of it here.
Here is me on the set!!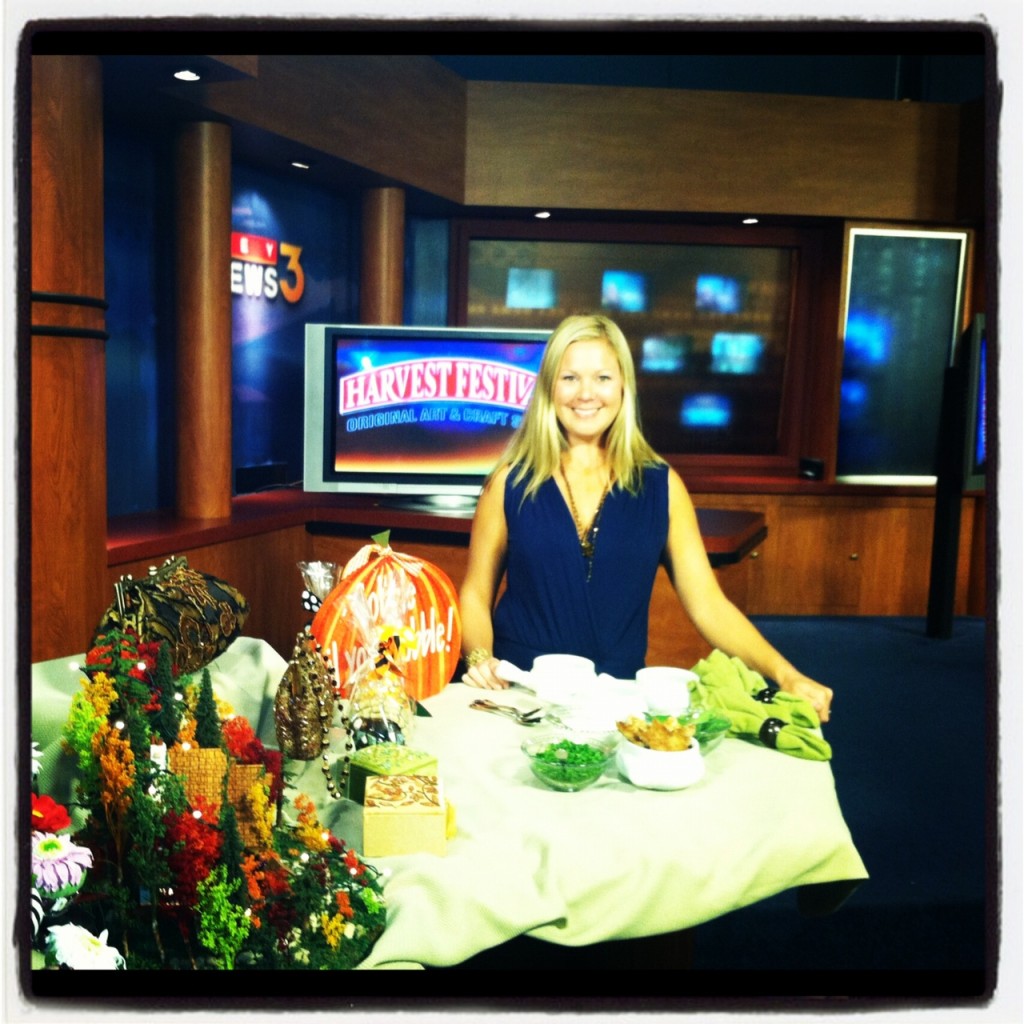 After filming our segment (which we ROCKED!) we headed back home. For me, that meant no rest! I had Buggies all day and a wedding that I created a candy and dessert buffet for. What do you think?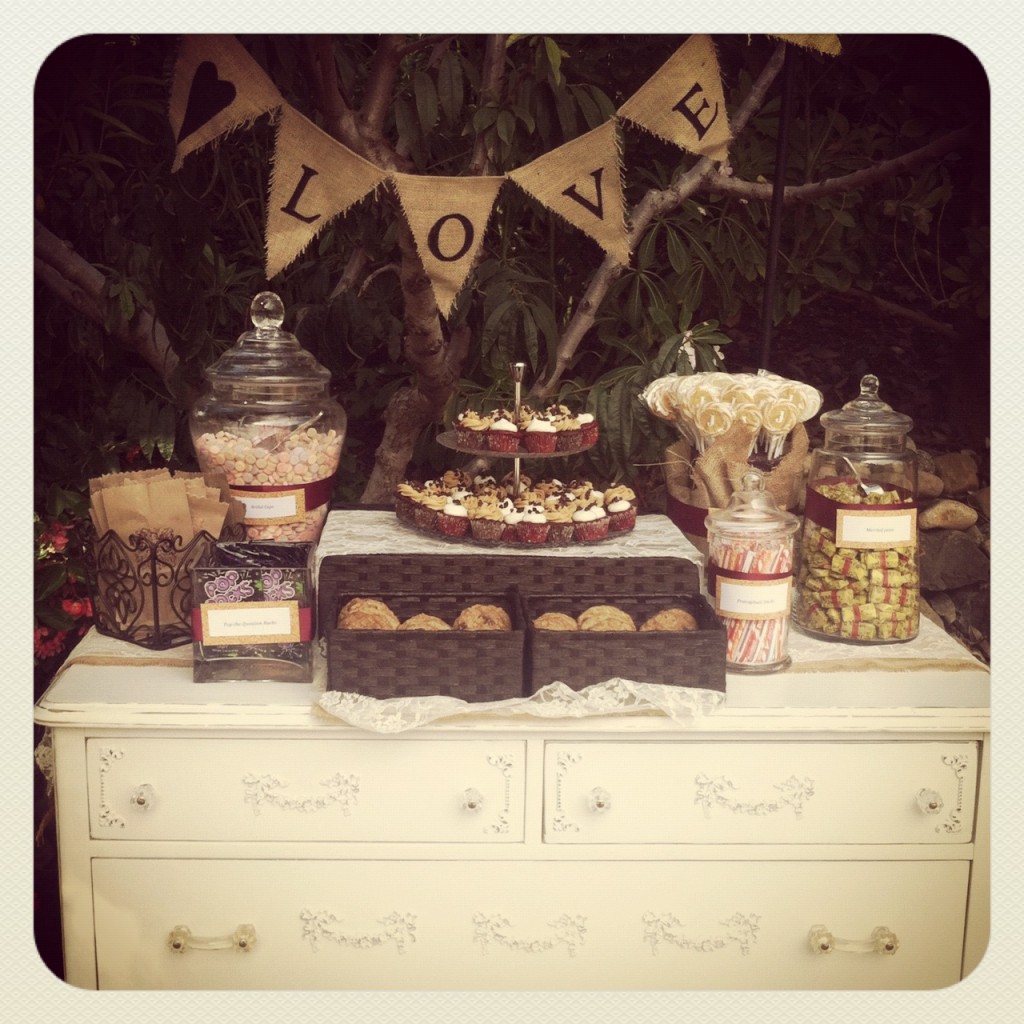 After setting up the candy buffet, I went home to cook up 100 servings of Bourbon Chicken and Roasted Garlic Mashed Potatoes. You can find that recipe here!
We had a great time serving up all of the tastings and performing our little skit about the chicken. A couple of bumps in the road but I think today will be perfect! Here is my little family at the festival yesterday:
Now for today's delicious meal! I am making a Harvest Salad with arugula, oven roasted tomatoes, wilted mushrooms, burrata cheese, shaved parmesan and the whole salad is drizzled in white truffle oil. Be there at 1:00 PM today to make sure you get a taste of this delicious salad. Or my mom might eat it all.
Ingredients
2 cups of arugula
1 cup mushrooms, washed and sliced
1/4 cup butter
5 tablespoons olive oil
1 cup cherry tomatoes, washed
1 bulb of delicious burrata cheese
1/4 cup shaved parmesan
White Truffle Oil
Salt and pepper
Directions
Preheat your oven to 325 degrees. In a casserole dish, add your tomatoes, olive oil and salt and pepper. Toss to coat. Bake for about an hour. You want to the tomatoes to cook through but not burst. About half way through, gently toss them again so they all cook evenly. In a wide saucepan, melt the butter. Once it starts to brown, add the mushrooms and cook for about 10 minutes, stirring often. You want the mushrooms to be a dark brown, wilted and cooked all the way through. Remove from heat and drain any water/butter from the bottom. The mushrooms and tomatoes should both be at room temperature when serving. Slice the burrata cheese into 1/4 inch pieces. Divide the arugula between two plates. Add the mushrooms on one side, with the tomatoes right next to it. Then comes the burrata cheese on the other side. You should have two slices of burrata for each plate. Top the salad with the shaved parmesan and drizzle the white truffle oil over it all. Crack some fresh pepper on top and serve immediately! I also served mine with a few pieces of crostini which you can use as a scoop for the tomatoes, mushrooms and burrata. I can't wait to have this salad later!!
(PS….my salad picture has chicken it. I know, I know, it is not listed in the ingredients for the salad. I liked it better without the chicken the next time I made it so I didn't include here….but if you love chicken, put it in!!)
Comments