Mediterranean Pita Pockets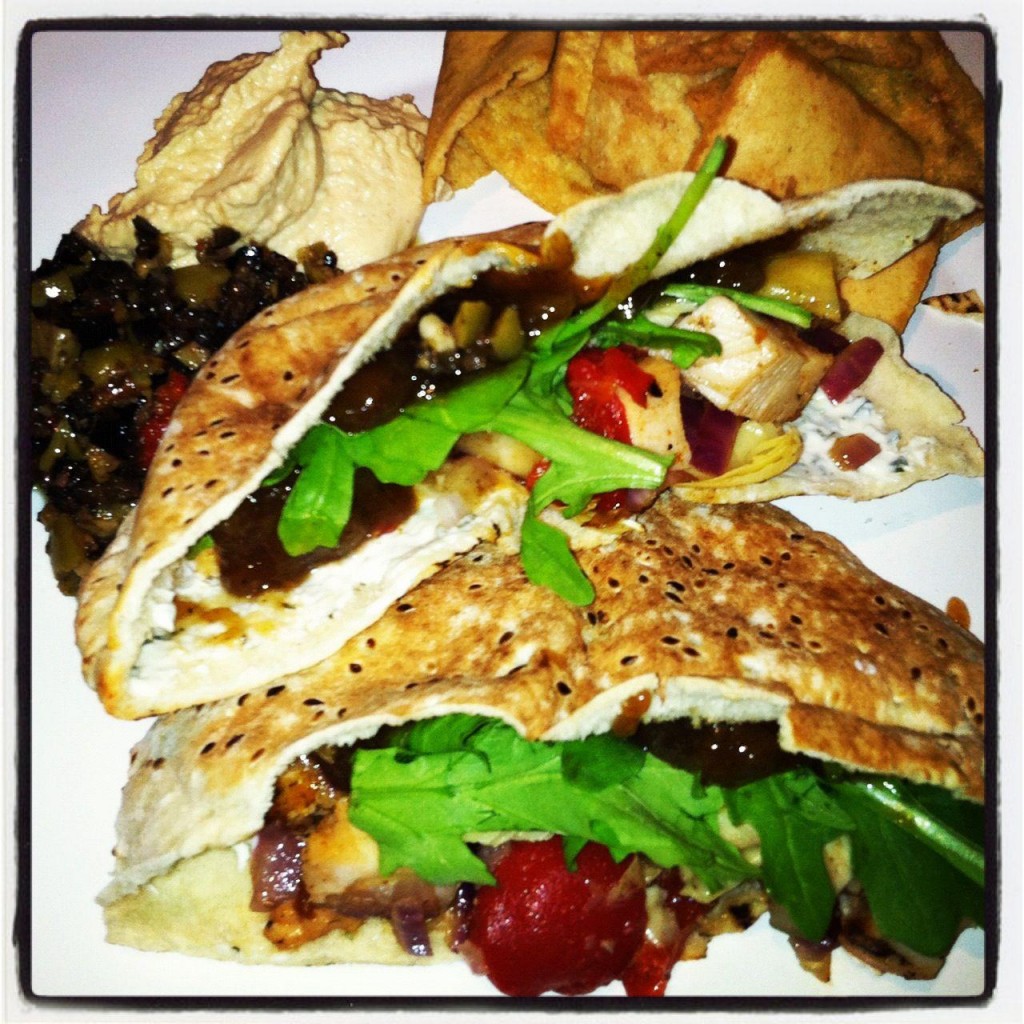 What IS IT with Tupperware? Every time I put a piece away, I neatly stack it nestled from large to small and lids to the side. Then I close the cabinet door and I SWEAR to you, those plastic little lunatics have a good time, make babies and those babies throw themselves around in a deconstructive manner. The next time I open that cabinet, there is usually about an extra ten pieces of tupperware and they've been scattered freely. I don't know how it happens but I'm fairly certain they grow legs and wander about my house when I'm not looking. Maybe that's where all my ice cream is going? HOODLUMS!
I made these delicious pita pockets last week as a quick, healthy and super duper easy dinner. We liked them so much we had them again last night!
For this recipe, all of the products can be purchased at Trader Joe's. Best part? I think this dinner costs about $5 TOTAL for two people. (Obviously the ingredients cost more than that, but you use them multiple times so you know what I mean!)
HUBBY'S NOTE: I would not call myself an adventurous eater. Much to my wife's chagrin, I am a culinary creature of habit. I like what I like and I have many restrictions (aka fear of new foods). I was wary of this one the first time she suggested it. I didn't want some hummus and yogurt pita pocket. But as usual, my wife rocked my world. HOLY SHNIKES!! These things are amazing. Sooooo good. This combination of flavors rocks my world. One note, I'm an Olive Tapenade connoisseur and the tapenade from Costco is ridiculous good. I highly recommend it for this recipe, and for all your tapenade needs. I give this recipe four snaps up in Z formation!
Here you go!
Ingredients
1 cup Just Chicken, diced
1 cup red onion, sliced into thin rings and then cut in half
2 tablespoons peanut oil
1/2 cup roasted red peppers,chopped
1/2 cup artichokes hearts, chopped
1/2 cup olive tapenade
1/2 cup yogurt dip with cilantro and chives
1/4 cup hot mango chutney
1/2 cup arugula
1/4 cup feta cheese
sriracha, to taste
2 pita pockets (I got the TJ package with the sesame seeds on it)
Directions
Heat peanut oil in a skillet and add red onions. Cook for 3-4 minutes and then add the chicken. Cook for another 3 minutes. Add red peppers and artichokes and turn skillet off. Cut pita pockets in half and heat in a toaster. Open pita pocket and spread one side with yogurt chive mixture and the other with olive tapenade. Add the chicken mixture and then add in the arugula. Top arugula with mango chutney, feta and then dot with sriracha. Enjoy!
Comments