Fried Brussel Sprout Leaves with Sea Salt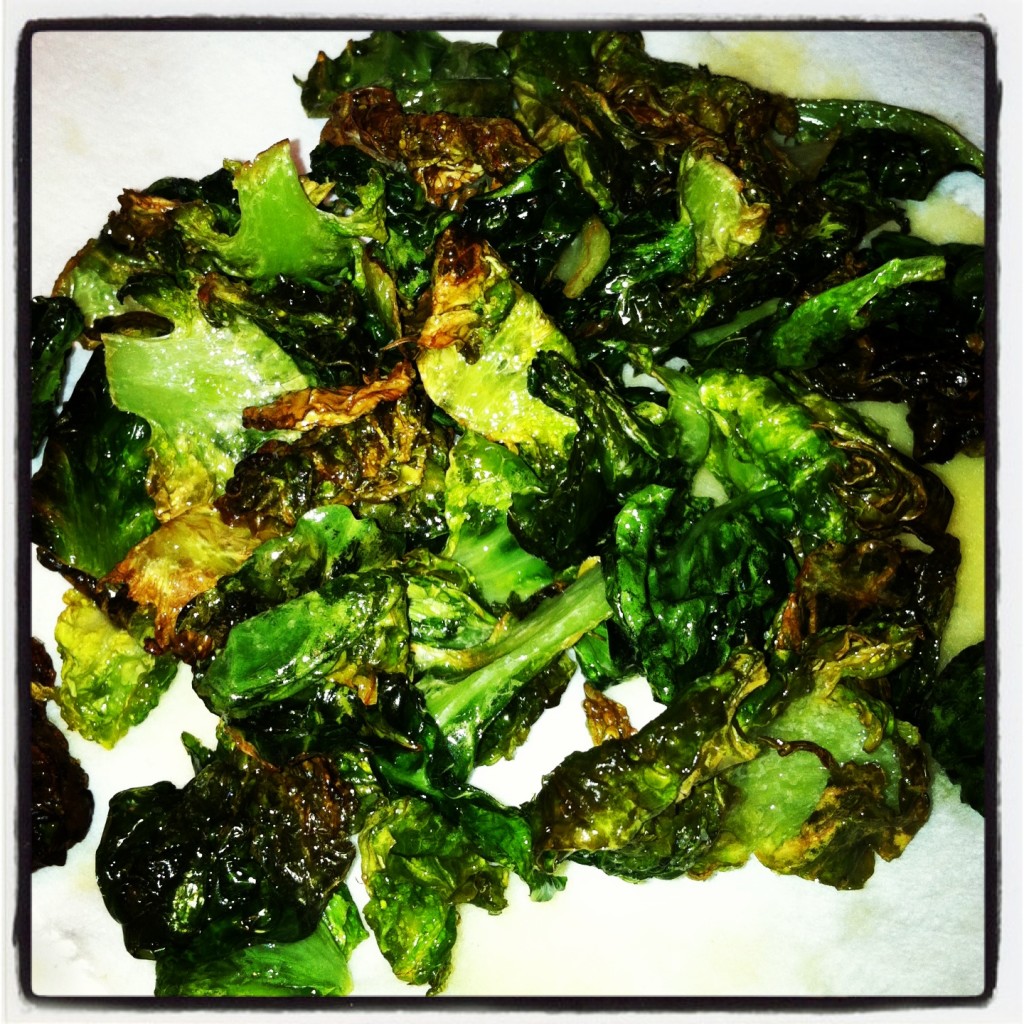 For the hubby's birthday, I kidnapped him from work and took him to Chicago for the weekend. We haven't been to Chicago since I was seven months pregnant with Pixie. You see, one of my best girlfriends lives in the windy city and she's single. And knows how to have a blast. Essentially, this was a bucket list kind of trip. And since I had almost just kicked said bucket, I knew we had to go!
Did you know that one of the largest populations of Irish descendants is in Chicago? Did you know we went for St. Paddy's day? Did you also know that we spent 8 hours on a trolley drinking at bars all over the green river city? I swear to you – we honestly ate and drank all day everyday. Here is a summary of SOME of the delicious things we ate:
At Kuma Burger: Make your own Mac N Cheese with bacon, garlic and caramelized onions
At the Purple Pig: Deep fried Brussel Sprout Leaves
At some sushi place that I never even saw the name for: Unbelievable albacore sashimi
At one of the stops on the trolley: The best damn pork slider I have ever had
At Paris Club: A Croque Madame that sparkled it was so perfect
At John's Diner: The peanut butter pancakes, the freaking best tri-tip chili on the planet, three types of eggs benedict, carnitas tacos, breakfast burrito, and the cocktails. (Yes, we ordered all of that plus more. I'll share a picture at the end of this post)
I can't remember (shocker) but I think we ended up ordering three rounds of the Brussel Sprouts at the Purple Pig. My little (BIG) feet had barely landed in Los Angeles before I was running to a supermarket to recreate these delicious little morsels.
The trip overall was one of the best times I can remember. Great friends, new friends, handsome Derek, and a week long detox once we got home….
Ingredients:
2 pounds Brussel Sprouts
2 cups Olive oil
sea salt to taste
Directions:
Heat the oil in a heavy bottom pot or smaller dutch oven. Cut the ends off of the sprouts. Then peel the leaves apart. They should come apart pretty easily. Once the oil is hot but most certainly not smoking, carefully add all of the sprout leaves. Stirring occasionally, let the leaves fry for a few minutes. They do pop a little so please be careful. I don't want anyone burning themselves. Once they start looking dark green or brown on the edges, remove them from the oil with a slotted spoon and drain on a paper towel lined plate. Sprinkle with sea salt and serve immediately. They should last no more than 3.333333333 seconds.
Comments