Carnitas Pizza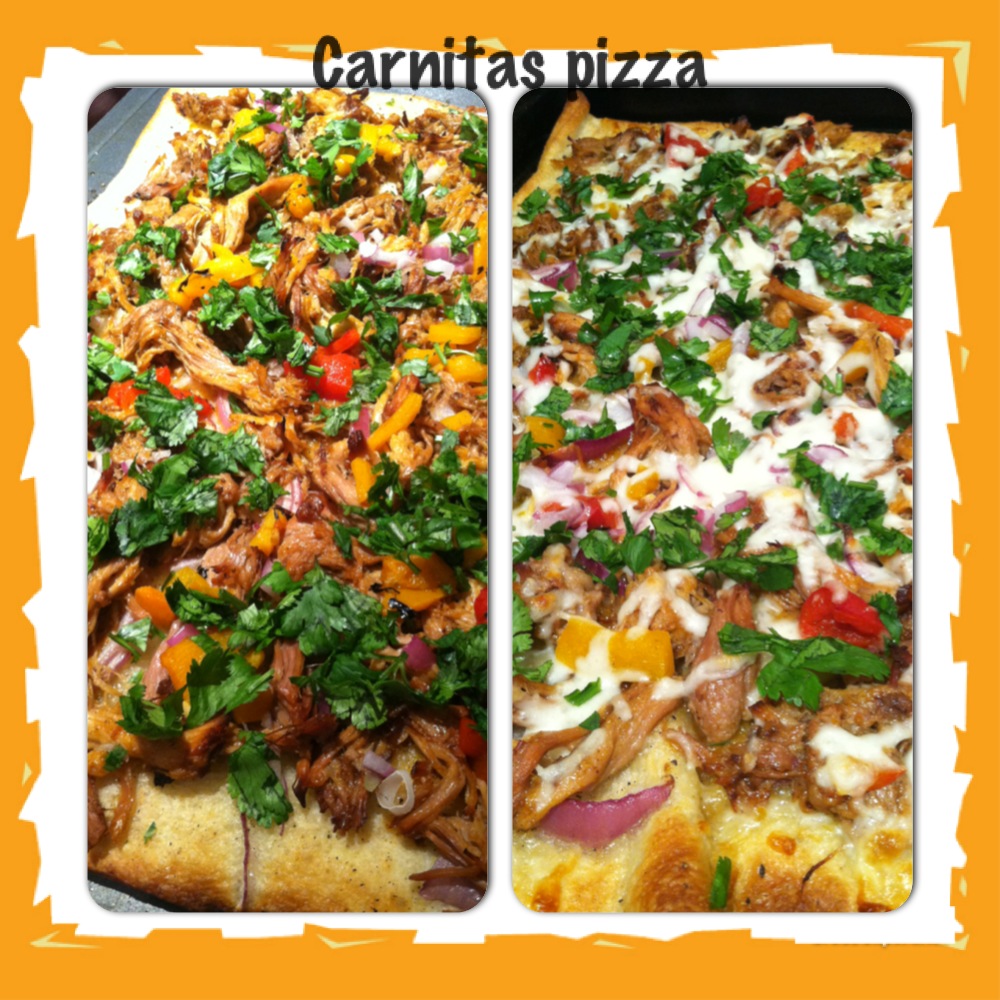 What is it with kids dumping every single damn toy out of every bin every single day? I was drowning in barbies, stepping on legos (if you haven't had the pleasure of stepping on a lego yet, oh just you wait! Your time is coming), being run over by Thomas and the gang of Cars Land and cursing every Disney Princess to have lived.
I took the proactive by the book Mommy approach and created a reward chart for each of my little rugrats.
ME: Here sweeties! You get a sticker every day for cleaning up your toys!
THEM: Yayayayayay! Oh Mommy! Best idea ever! You're the best mommy on the planet!!! (With a twinkle of sweetness in their eyes)
ME: I love you angels. Now let's go make cookies.
Oh, wait. That was the dream I had last night. Nevermind.
Ten days later, we have finally collected all of the stickers needed to complete our chart. I swear to you. Pixie got her final sticker THIS MORNING. After a long day at school, we are home playing for a bit. I had to pay some dreaded bills and they were playing a little too quietly in Buggies room. I walk in just to make sure everyone is still breathing and they have dumped every single toy out. That's seven bins of toys dumped in the middle of the floor. Of course, they are not playing with a single one of said toys.
I'm fairly close to painting my face red with some of their poster paint, raiding the room and having a massive bonfire in the backyard. Come on by….Tequila for everyone!!
I made this recipe on my hiatus from Mommy Bistro. It sounds divine for dinner but alas, we are juicing tonight. I may add a little vodka to my juice.
Ingredients
Recipe for Pork is down below…..
Recipe for Pizza dough is down below as well OR! Just buy the good ol' Trader Joe's brand if you're NOT IN THE MOOD to make pizza dough
Cilantro
Fire Roasted Peppers (I just bought the store jarred peppers)
Shredded Mozzarella
Red Onions
Directions
Make the pork according to directions. It takes several hours in the crock pot so make sure you read this recipe all the way through. Do the same with the pizza dough.
After you've cooked the pizza dough…Brush with a little olive oil, top with shredded pork, red onions, roasted peppers and cheese. Bake for 10-12 minutes. If it looks deliciously done, remove from oven and sprinkle with cilantro. Serve immediately!
Spicy Pulled Pork
Ingredients
2 onions, peeled and quartered
1 whole pork butt (pork shoulder roast)
Salt and freshly ground black pepper
One 11-ounce can chipotle peppers in adobo sauce
2 cans Dr Pepper
4 packed tablespoons brown sugar
3 garlic cloves minced
1 teaspoon ground cumin
6-8 flour tortillas
3 tablespoons minced cilantro
Shredded gouda cheese
Sliced Avocado
Directions
Start by placing the onion quarters in the bottom of your crock pot. Generously season the pork with salt and pepper, and then place on top of the onions. Pour the chipotle peppers over the top, and then open the cans of Dr. Pepper and pour them over the whole thing. Add the brown sugar, garlic and cumin to the liquid and stir.
Cover the crock pot, and cook for at 6-8 hours, flipping the roast twice during the cooking process. When it's done, the pork will be fork-tender.
Remove the meat from the pot. Remove the chipotle peppers and discard. Shred the pork completely. Then return the meat to the pot and keep in the juice until you need it.
Pizza Dough:
2 tablespoons sugar
1 tablespoon kosher salt
1 tablespoon olive oil
3/4 cup warm water
2 cups flour
1 teaspoon instant yeast
2 teaspoons olive oil
Olive oil, for the pizza crust
Flour for rolling the dough out…
Oregano, cracked pepper and garlic powder (if ya want)
Directions
Place the sugar, salt, olive oil, water and yeast into a bowl and combine. Put the two cups of flour into your KitchenAid bowl. Add the sugar, salt, (blah blah) mixture. Using the paddle attachment, start the mixer on low and mix until the dough just comes together, forming a ball. Throw the hook attachment onto the mixer and knead for 15 minutes on medium speed. (While this is going on, do the dishes, feed the children, go potty – make sure you wash your hands! You're cooking for Pete's Sake!!, check facebook…ahh the joys of a mixer that does it for you…)
Roll the pizza dough into a smooth ball on the countertop. Place into a stainless steel or glass bowl. Add 2 teaspoons of olive oil to the bowl and toss to coat. Cover with plastic wrap and refrigerate till dinner.
Place your pizza stone or tile or a plain ol' cookie sheet onto the bottom of a cold oven and turn the oven to its highest temperature, about 500 degrees F. Split the pizza dough into 2 equal parts.
Sprinkle some flour onto your counter and place the dough onto the counter. Using your hands, stretch the dough into a round disc, rotating after each stretch. Toss the dough in the air if you dare (each time I've tried this, it has most likely landed on my head. Do yourself a favor. Leave the dough tossing to those professionals in Italy).
Brush the pizza with olive oil, throw some cracked pepper, oregano and garlic powder on it and bake for 5 minutes. Whip it out and cover that pizza with all the yummy goodness you love.
Comments