Fettuccine a la Pumpkin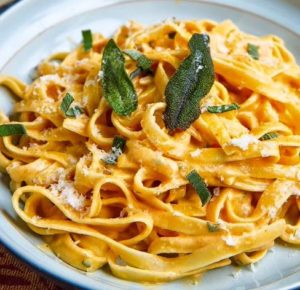 Have I mentioned that Pixie has almost finished her second season of soccer? Have I mentioned how I am counting down the damn minutes until the last game this Saturday at 1:00 PM? Seriously, don't judge me if at the final whistle you see me popping open a bottle of bubbly and dumping it down my throat. It has been a LOOOOONG twelve weeks and I am very happy to put the cleats away for a bit.
Given the weather this evening in SoCal, this felt like the perfect cozy dinner. My girls inhaled it as well so it is Buggies and Pixie approved!! If you want to add a little heat to this smoky pasta, add some crushed red pepper to your plate so you don't cause the kids to rocket through the ceiling.
Ingredients
10 ounces uncooked fettuccine
4 applewood-smoked bacon slices, chopped
3 tablespoons finely chopped fresh sage, divided
2 garlic cloves, minced
1 cup canned unsalted pumpkin puree
1/2 cup Parmesan cheese, grated
3/8 teaspoon salt
1/4 teaspoon freshly ground black pepper
3 tablespoons heavy cream
2 tablespoons chopped fresh flat-leaf parsley
Directions
Cook pasta until al dente (about 9 minutes). Drain in a colander over a bowl, reserving 1 cup cooking liquid.
Heat a large skillet over medium heat. Add bacon; cook until crisp, stirring occasionally. Add 2 tablespoons sage and garlic, and cook 2 minutes, stirring constantly. Remove from heat.
Return pasta and cooking liquid to large pot. Stir pumpkin puree, Parmesan cheese, salt, and pepper into fettuccine; toss to coat. Cook 2 minutes or until thoroughly heated then add heavy cream; mix to combine. Add bacon mixture (including grease) and stir thoroughly. Sprinkle with remaining sage and parsley. I served it alongside some fresh arugula tossed with olive oil, fresh Meyer lemon juice and cracked pepper.
Comments