Summer Skewers with Balsamic Syrup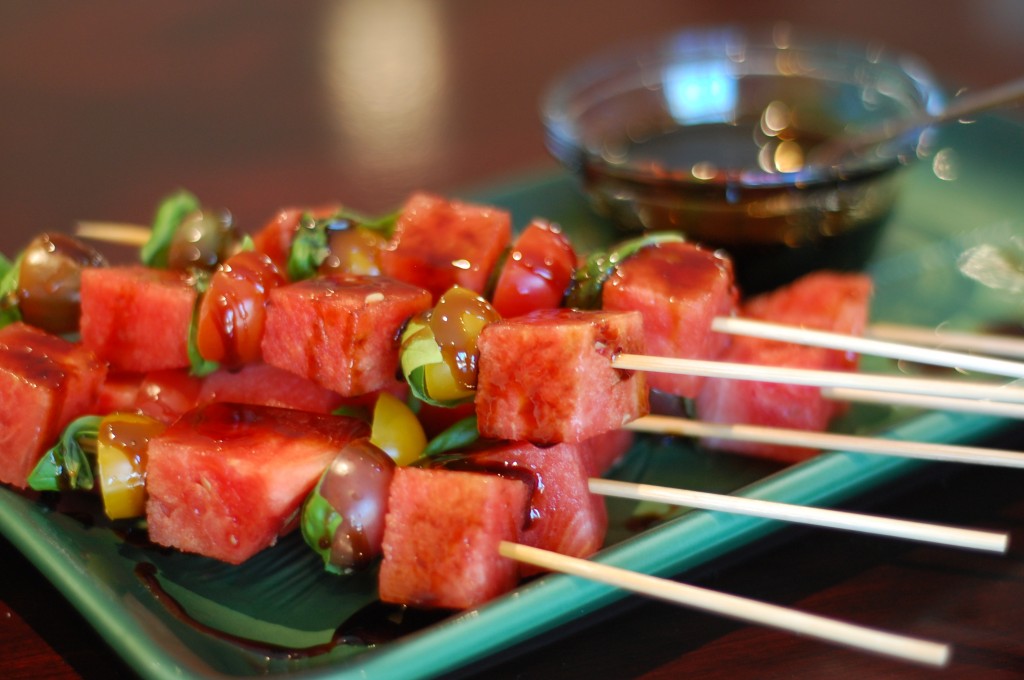 We recently had a few friends over for an impromptu backyard BBQ. Ryan was dying to smoke a pork shoulder and I wanted chocolate sheet cake. That's half a party right there isn't it? I think so! Well, I wanted to make something light and refreshing as an appetizer. I was google-ing, searching recipe books, looking at our BBQ app on my phone – I was desperate for some inspiration! I had a watermelon, mini heirloom tomatoes and basil in my house. What to do…what to do. What I did was make these fabulously refreshing skewers. I layered the watermelon, basil, and tomatoes on skewers and served them up with a balsamic/sugar reduction. I made a few too many so I took them to my in-laws house the next day and my mother-in-law swooned. I know it's "kind of" fall already but here in California, we have Indian summers that last well into October. Make these quick before watermelon is out of season and we have to wear close-toed shoes again.
Oh! And scroll to the end to see a picture of our four kids eating their corn. Silly little monkeys…..
Ingredients
1/4 cup balsamic vinegar
1/4 cup sugar
1 mini watermelon, cut into cubes
1/2 cup small basil leaves (or torn larger leaves)
16 mini heirloom tomatoes, halved
2 tablespoons extra-virgin olive oil
Kosher salt
16 bamboo skewers
Directions
Soak skewers in cold water for at least 30 minutes. Combine the balsamic vinegar and sugar in a small saucepan over medium heat. Bring to a simmer, stirring occasionally, until the sugar is dissolved. Turn off the heat and set aside to cool. Push a piece of watermelon all the way up the skewer. Then add a basil leaf, then a tomato half. Continue with another watermelon, basil leaf, and tomato half. Continue with the remaining skewers. Drizzle the skewers with the reserved balsamic syrup. Serve.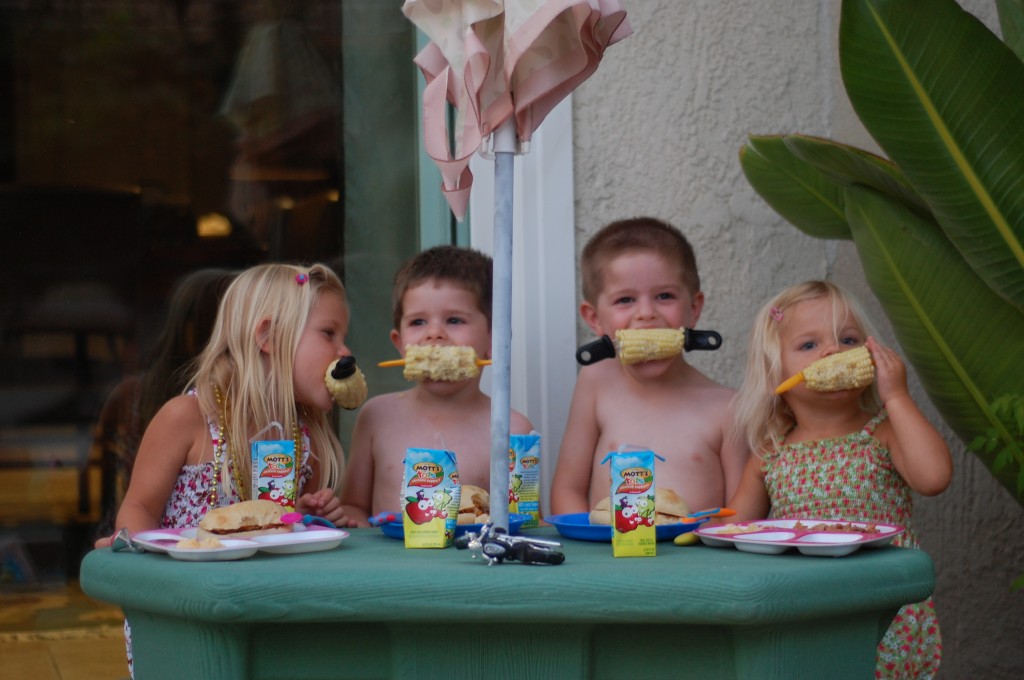 Comments