Balsamic Flank Steak with an Arugula and Shaved Parmesan Salad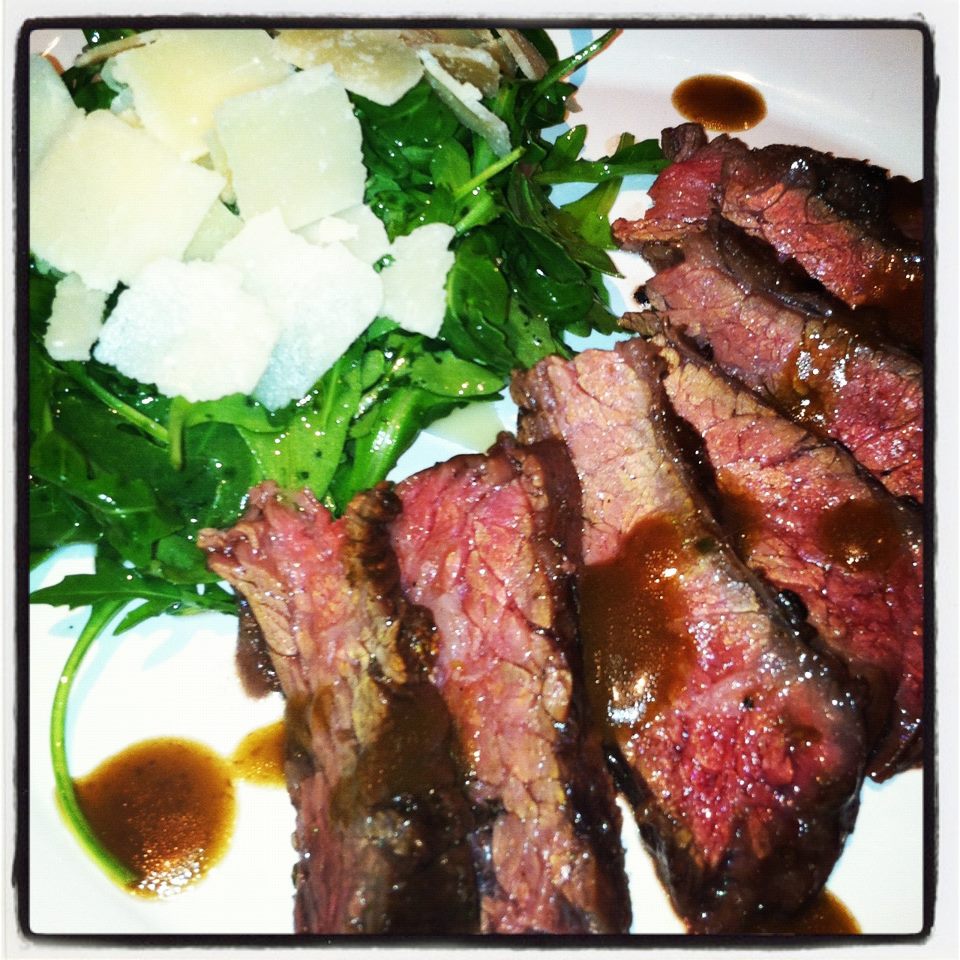 For my birthday my mom and I went down to Hollywood and had lunch at Pizzeria Mozza. It wasn't my first rodeo and knew that I needed the Bianca pizza and a Caprese salad. Stat. Leading up to the day, my girlfriend told me she had bought the cookbook that had all of the recipes from the menu. WHAT!?? How did I not know about this cookbook!?! We enjoyed a delicious lunch and finished it off with an order of the butterscotch buddino. And one order of the cookbook.
The recipes looked delish. I was totally in the market for a new cookbook and like a little kid in a candy store I did a little sugar high happy dance as we left.
The next night, the hubby was looking through the cookbook and saw a picture for this recipe. He begged and pleaded that I make it immediately. I obliged, and we had it this week. It was phenomenal. The lemon vinaigrette from the cookbook was a little sour for me so I added some honey and it was perfect.
Hubby's Note: Point of clarification for all hubbies…not all begging and pleading will lead to your wife obliging. But I find that if you beg and plead for food, your odds improve exponentially. And the marinade on this steak is so good that if you make it for your lady, it might further perpetuate an "obliging" mood. (Wine helps too.)
Ingredients
For the Beef:
1 cup balsamic vinegar
1/2 cup whole fresh rosemary needles
8 garlic cloves
1/2 cup extra-virgin olive oil
2 pounds flank steak
kosher salt and freshly ground black pepper
4 ounces wedge of Parmigiano-Reggiano
8 cups loosely packed arugula
sea salt
aged balsamico condimento
finishing-quality extra-virgin olive oil
For the Lemon Vinaigrette:
1/4 cup mince shallots
1 lemon, juiced
1 tablespoon champagne vinegar
1/2 cup extra-virgin olive oil
1 tablespoon honey
Salt and pepper to taste
Directions
For the Beef: Combine the balsamic vinegar, rosemary and garlic in the bowl of a food processor, and pulse until the rosemary is finely chopped. Add the olive oil and pulse until all the ingredients are combined. Season marinade with salt and pepper.
Place the steaks in a large bowl or nonreactive baking dish. Pour the marinade over and turn to coat them on all sides. Cover tightly with plastic wrap and refrigerate for at least 1 hour and up to overnight. Remove the steaks from the refrigerator and bring to room temperature before grilling.
Preheat grill.
Put the steaks on the grill and cook until the meat is seared and deep brown on all sides, 5 to 6 minutes per side for medium rare. Remove the steaks to a platter or cutting board and let them rest for about 5 minutes before slicing. Use a sharp knife to carve the steaks diagonally against the grain into 1/2-inch thick slice.
While the steaks are resting, use a large knife or mandoline to cut the wedge of Parmiagiano-Reggiano into very thin slices. Put the arugula in a large, wide bowl, sprinkle with salt and toss gently to distribute evenly. Drizzle the vinaigrette and toss gently to coat. Taste for seasoning and add more salt or vinaigrette, if desired.
To serve plate steak with dressed arugula on the side. Drizzle with the balsamico condimento and olive oil.
Place Parmiagiano-Reggiano onto the arugula.
For the Lemon Vinaigrette:
Combine the shallots, lemon juice, vinegar, and salt in a small bowl. Set the bowl aside for 5 to 10 minutes to marinate the shallots. Add the honey. Add the olive oil in a slow, steady, stream, whisking constantly to combine. Stir in the pepper. Taste for seasoning and add more salt or pepper, if desired.
Comments