Fried Polenta Cakes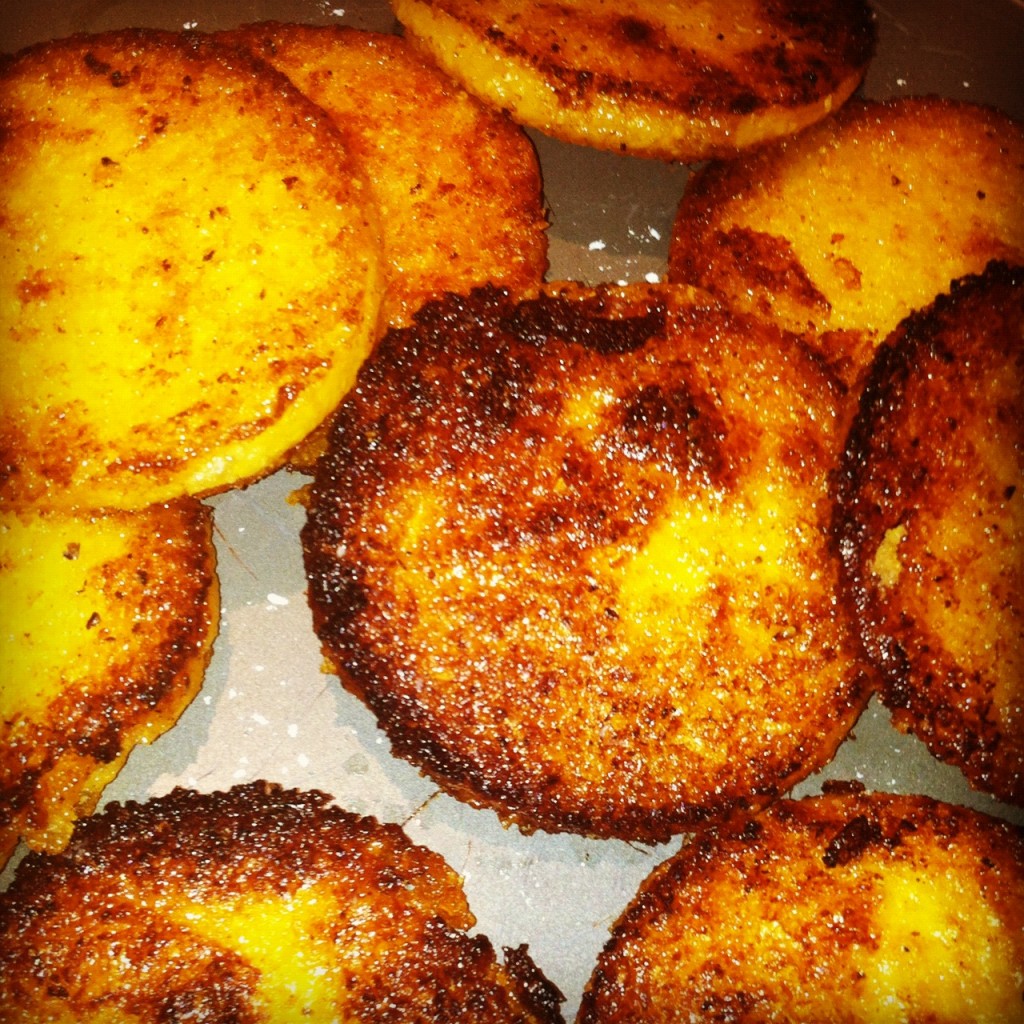 I've been feeling pretty zen lately. My life has calmed down and I haven't been feeling overwhelmed, double booked, or even frayed at the edges, which, let's be honest, is how most mommies usually feel. Between the weddings, school, and family commitments, I was really coming apart at the seams.
And I wasn't being a good mother. There. I said it.
There were times that my patience level started at negative one thousand before the girls were even awake. I just had so many balls juggling and so many commitments that my mothering skills suffered. I would catch myself losing my marbles at the drop of a triscuit on my newly mopped tile floor. And then, I started noticing a pattern. Every time I woke up grumpy and red faced, my girls would also wake up grumpy and red faced. My mood fed their mood and their mood fed me back in this terrible cycle of crazy until we would spiral out of control as the circle of yuck kept going. Finally, after looking deep into my exhausted brain and body, I realized that their moods were mirroring my own.
What have I done? What is wrong with me? These sweet little children look to me for guidance, love and support. They are well mannered, intelligent and loving children. And I am so fortunate to be able to stay home with them and help mold them into the amazing women I know they will be. Over-reaching my limits was my fault, not theirs. They look to me for guidance. I'm their barometer. The gauge by which they measure their day. And there was no reason to take out my frustrations with myself on them. They don't yet have the tools to break the cycle. But I do. So shame on me.
I woke up one morning and changed everything. I kept our weeks open, asking the girls what they would like to do. I stopped obsessing about getting to my 9:30 spin class and instead worked out when I could squeeze a gym stop in to my day. I really listened and played with my kids and we negotiated different activities. We would do a few things for them (playing at the park, arts and crafts, going on a nature walk) and then I would need time for mommy stuff (grocery shopping, getting some laundry done, paying bills). I allocated more time to get places so I wasn't frustrated that we were running late, made some changes in our daily routine for getting dressed and out the door, and within a week….our cheeks were red from running around playing in the summer sun or from being tickled too much.
Sometimes life gets busy and complicated. Sometimes things don't go the way we want them to. Life will have extra traffic, bills, a hard day at work, laundry, illness and spilled milk. We just have to make the conscious choice to make those moments teaching moments, whether they are meant for us or for our children. Give more hugs, take deeper breaths and love your children before your reactive brain has a chance to get there first.
Here's a quick easy side dish to give you time to read one extra bedtime story tonight.
Hubby's Note: Great advice. Easy to hear/read, hard to implement. You're amazing.
Ingredients:
Polenta in a tube (Trader Joe's and Albertsons both carry it)
1 stick butter
Sea Salt
Directions
In a large pan, melt the butter. While the butter is melting, remove the polenta from its packaging and slice the polenta 1/4 inch slices. Place the polenta in a single layer in the pan; flipping every 3 minutes. Keep cooking until the polenta turns a beautiful crispy brown. Sprinkle with sea salt and serve with your favorite protein or vegetables.
Comments