Hungarian Langos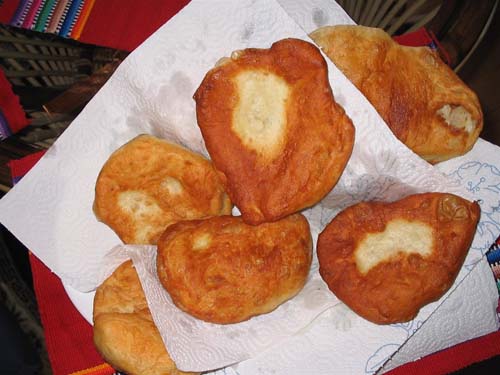 First off, you absolutely must love garlic to love Langos. Second, if you are eating it…everyone around you MUST eat it too. Cause it ain't pretty when you're the only garlic infused person in a room. I'm going to give you two recipes: the authentic recipe making it from scratch. And the "I want langos now and don't have time to make the damn dough recipe"
Hubby's note: I'm not Hungarian. And I don't play Hungarian on TV. When I first started dating a Hungarian family (you don't just date the daughter), they made this dish one night. They cooked the dough, and then handed me a whole clove of garlic and said "Bite into this!". I'm not gonna lie to you, I thought they were crazy. I was one fried dough patty away from taking off. But OH, am I glad I stayed. This stuff is ridiculous. Be daring! Bite the garlic! You will thank yourself later. As an added benefit, vampires won't come within a mile radius of you (nor will your spouse if they didn't have any).
Ingredients:
3 cups flour
1 package yeast
1 pinch salt
1 teaspoon sugar
1 cup water
1 tablespoon butter
Directions:
Melt butter in saucepan, add water and heat until warm (105-115 degrees). Pour into large bowl. Add yeast and sugar to bowl and let stand for a few minutes for yeast to soften. Add 2 cups flour to bowl and beat with electric mixer until well blended. Add the rest of the flour to the bowl.

 Knead on a lightly floured surface until dough is smooth and elastic. Place dough in greased bowl, cover with damp paper towel and let rise for 1 hour.

 Punch dough down and roll dough on floured surface to 1/8 inch thickness.

 Cut desired pieces and fry in hot oil (I use canola) until golden brown. Remove from oil and place on several stacked paper towels to cool. Rub with fresh garlic and sprinkle with table salt before serving. If you're really daring, or your love garlic as much as we do, take a bite out the garlic and chew the two together. MMMMMMMMM!!!!
Okay…now here is the easy version:
Ingredients:
1 package of frozen Bridgeford brand dinner rolls
1/2 cup flour
8-10 garlic cloves
salt
Directions:
Place rolls three inches apart on a floured surface. Cover with a kitchen towel and let rise for a few hours. Then take each roll and gently pull apart into a circle. Cover with kitchen towel again. Allow to rise again for an hour or so.
Heat oil in a large nonstick skillet and fry until golden brown. Serve with fresh garlic cloves and salt. Again, if you're a garlic addict, take a bite out of the garlic, a bite of langos and chew together. Did I mention you should bite into the garlic? If you are a garlic novice, rub the garlic on your langos and then take a bite. Or if you are like our good family friend from Nicaragua, you can put several cloves on the langos, fold it in half like a taco and dive in.
Comments