Eggs Benedict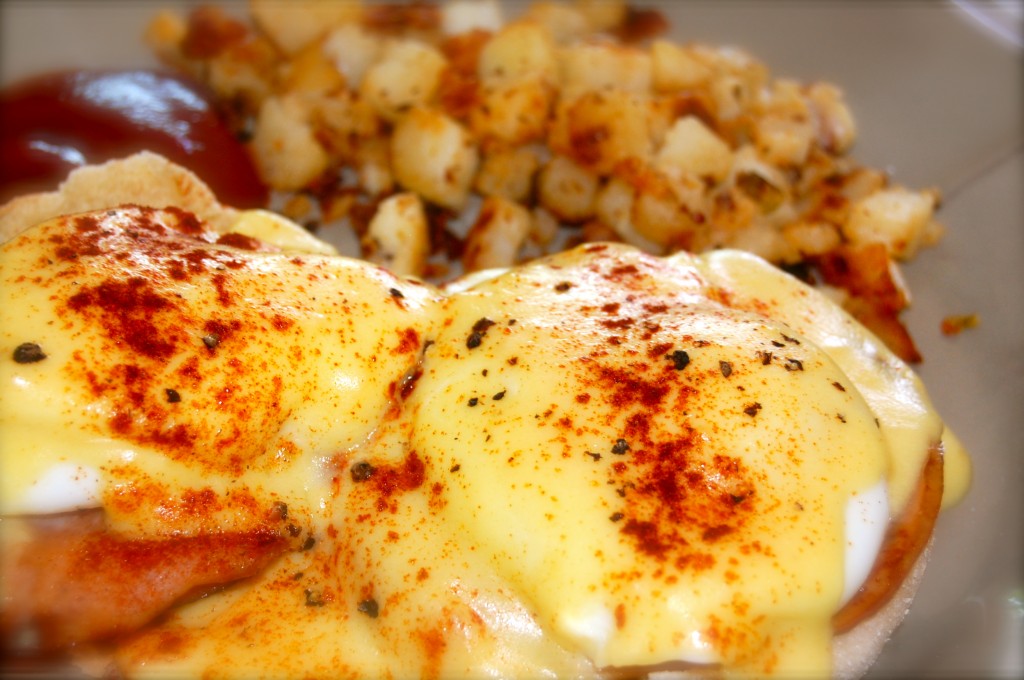 I love savory breakfasts. Whenever we go out to eat for breakfast – there is no chance on the planet that I'm ordering a big ol' plate of pancakes. It is guaranteed that I will order Eggs Benedict every time. The crunchy english muffin, poached egg, smoked ham, the delicious hollandaise and hash browns (well done)…need I go on?
The day after my brother-in-law's wedding, Ryan and I stumbled into a cafe, hungover as David Hasselhoff after a night of babysitting his kids, with a definite booze eau de toilette emanating from our bodies. I ordered eggs benedict. He of course ordered the largest breakfast burrito ever made. It was a life changing meal.
Last week when my dad surprised me by showing up at my house for breakfast, I had to whip up my own eggs benedict. Complete with breakfast potatoes. Don't tell anyone but we sat there and gobbled up every last bite. I'm still trying to figure out how the heck I'm not 500 pounds. Maybe it's chasing Hurricane Buggies around all day that does it.
Make these on Sunday morning friends. Open a bottle of Prosecco, turn on a Christmas special for the kids and eat these for both of us. OH! And if you are in a pinch, the Lawry's brand hollandaise packet from Albertsons is an easy instant substitute and no one has to know you didn't make it from scratch. 😉
M.B. – out.
Hubby's Note: I'm not kidding when I tell you that the aforementioned breakfast burrito actually did save my life. I sometimes dream about it. Usually the morning after a bender. (For the record, I'm not an alcoholic. Alcoholics go to meetings.)
Ingredients
4 egg yolks
3 tablespoons lemon juice
A quick dash of Worcestershire sauce
1 cup butter, melted
1/4 teaspoon salt
8 eggs
8 pieces of Canadian-style bacon (you can substitute ham, turkey or steamed spinach as well)
4 English muffins, split and toasted
Directions
For the Hollandaise: Take a saucepan and fill it with water about half way up. Bring to a boil. Place a smaller saucepan within the larger saucepan but make sure the water is not touching the smaller saucepan. You've just made a double boiler people! In the top saucepan, whisk together the egg yolks, lemon juice, Worcestershire sauce, and 1 tablespoon water. Add the melted butter to the egg yolk mixture 2 tablespoons at a time while whisking the yolks constantly. If hollandaise begins to get too thick, add a teaspoon or two of hot water. Continue whisking until all butter is incorporated. Whisk in salt, then remove from heat. Place a lid on pan to keep sauce warm.
To Poach Eggs: Fill a large saucepan with 3 cups of water. If it works with what you have in your kitchen, you can use the same saucepan you used for the double boiler. Saves water and clean-up! Bring water to a gentle simmer. Carefully break eggs into simmering water, and allow to cook for 2 1/2 to 3 minutes. Yolks should still be soft in center. Remove eggs from water with a slotted spoon and set on a warm plate
While eggs are poaching, brown the bacon in a medium skillet over medium-high heat and toast the English muffins in a toaster.
Top each english muffin with one slice of bacon, followed by one poached egg. Place 2 muffins on each plate and cover with hollandaise sauce. Sprinkle with Hungarian paprika (preferably the Szeged brand!) and serve immediately.
Comments