A.J.'s Margarita Pork Tacos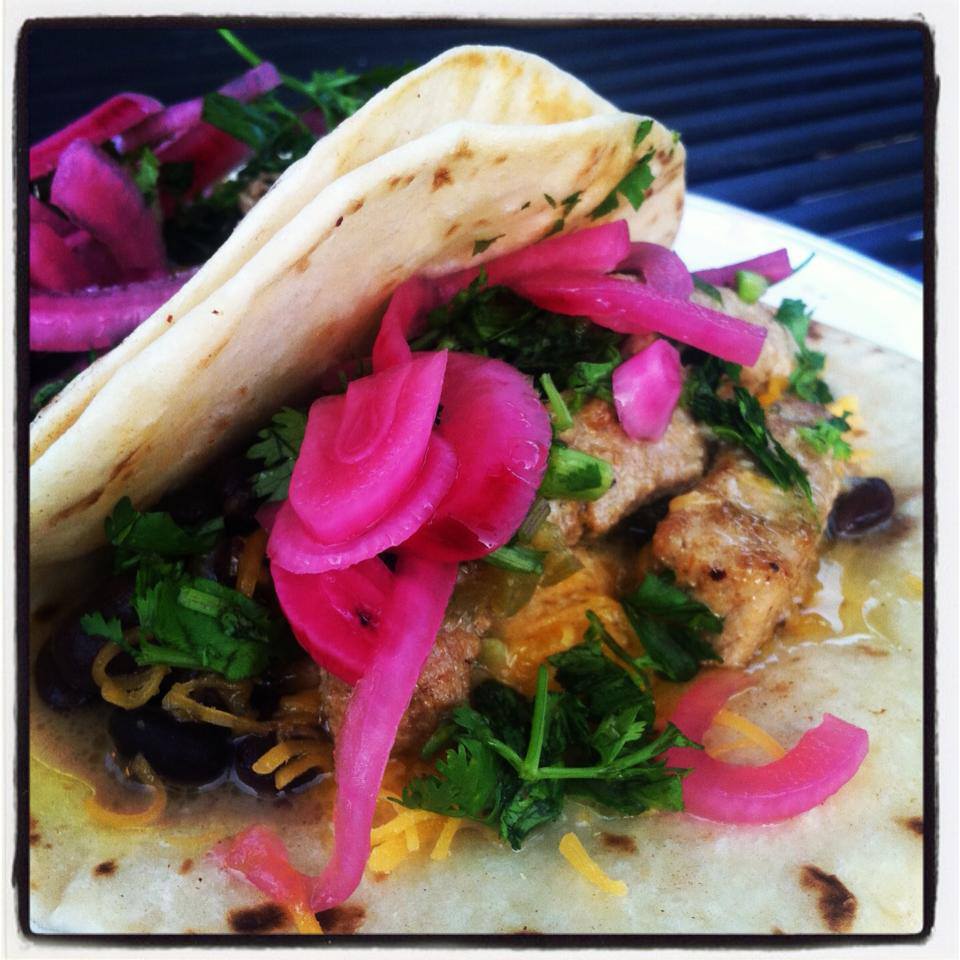 The hubby works for the best company on the planet. Hands down; the best company any hubby could work for. The owner of the company is by far the greatest and most compassionate leader I've ever met who values his employees down to their core. He is knowledgable in everything from chopping down a tree to the legal ramifications of said tree and the effect its chopping will have on the price of tea in China. Well, not really, but you get it—he's pretty amazing. Because he has created such a special work environment, his employees are equally as wonderful. They are all amazing people and everyone in the office really gels together.
One of the hubby's coworkers is a foodie. I love having her and her husband over because they will come up with something new, something different, something you never would have paired together – and it's always really, really good.
AJ has been with the company for quite a few years now. Her bubbly personality and smile can make your day brighter in an instant. She is sweet as pie and I love spending time with her.
This week she sent me this recipe. I had everything I needed for it at home so I knew I had to try it immediately.
It knocked our socks off it was so good. The pork was flavorful and didn't get tough. The seasonings were just right. The only changes I made were that I omitted the lettuce and added cheese, cilantro and pickled red onions.
The hubby and I decided it would pair nicely with a Tequila/Squirt cocktail. And then we got sidetracked and started talking about all of the sodas from our childhood…. Tab, Fresca, Cactus Cooler. And then we decided all of those would probably taste amazing with tequila. And then our trip down memory lane was interrupted by the whining of tired children, reminding us once again why it was we thought about tequila in the first place. Stay thirsty my friends.
HUBBY'S NOTE: Yes, my boss rocks. Yes, my co-workers rock. As do these ridiculous pork tacos, tequila, and anything with the word Margarita in the title. Seriously, I might even try escargot if it had the word Margarita in front of it. I'm a man. We're pretty simple creatures.
Margarita Pork Tacos – adapted from Cherie Mercer Twohy's "Margarita Pork Chops"
Ingredients
2 tsp. cumin
1 pork tenderloin (about 1 lb.)
1 Tbsp. olive oil
4 cloves minced garlic (or 4 cubes of frozen, crushed garlic from TJ's)
¼ c. chicken broth
½ c. tequila
2 Tbsp. fresh lime juice
4 Tbsp. butter
½ jalapeno, minced
salt & fresh ground pepper
black beans
cheddar cheese
fajita or soft taco-sized tortillas
pickled red onions (see previous recipe)
Directions
Combine the cumin with 2-3 teaspoons salt and about 1 teaspoon fresh ground pepper in a large plastic bag. Chop the tenderloin into large-bite-sized pieces and shake in the bag with the spices. In a separate bowl, combine the chicken broth, tequila and lime juice; set aside.
In a large sauté pan, heat the oil and brown the pork pieces on all sides, then remove to a warmed platter while still faintly pink in the center.
In the same pan, sauté the garlic until fragrant (1-2 min.). Remove pan from heat and add the tequila mixture, then return to heat. (Mine did not flare because the tequila was diluted, but probably a good idea to have a lid ready nearby, just in case!) Bring the liquid to a boil and reduce to about ¼ cup. Add the butter, and once the butter is just melted, add the minced jalapeno and the pork pieces with any accumulated juices. Toss to combine and leave on the heat for about 2 minutes, or until the pork is cooked through and the jalapenos have softened just slightly.
Serve the pork in tortillas over warmed black beans with cheese, fresh cilantro and pickled onions. Be sure to spoon a little of the butter/ margarita sauce over each taco!
Comments