Salmon Tacos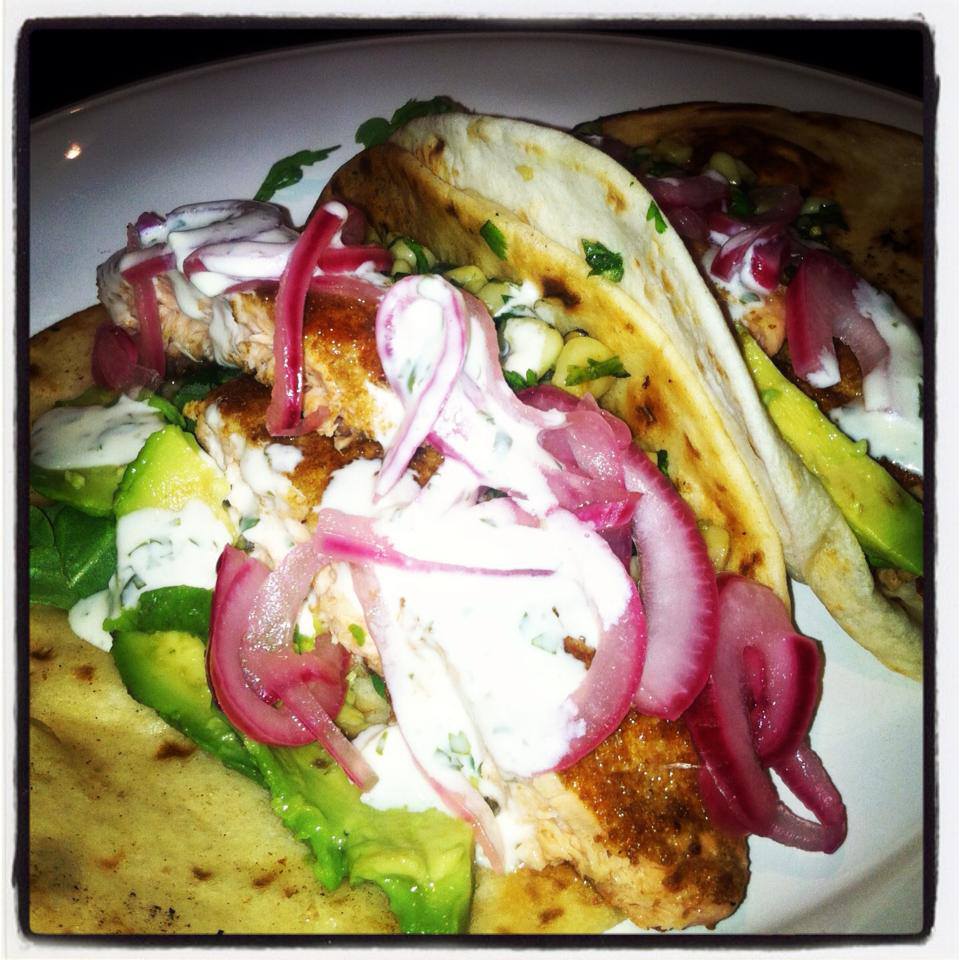 DUDE.
I just watched the Miley Cyrus video from the VMA's. Wow. I think I actually lost brain cells watching it. Girl, you do NOT have the body to wear a flesh colored plastic granny panty bikini. Especially in front of millions of people. Grow your hair out, put some damn clothes on and keep your tongue in your mouth. GROSS.
In other news…..

Kindergarten.
How did I get here? I swear on my life that I was just handed this 7 pound 5 ounce little breach bundle of joy. Now, she is off to kindergarten. New school, new kids, and a large amount of independence. I cried like a blubbering mess over pancakes the morning before school started. On the day of, I called the hubby and had a good cry on the phone with him.
Today she came home and I opened her backpack and noticed a folder that I did not put there. I carefully opened this mysterious folder to find my nemesis for the next 13 years. HOMEWORK. Cheese and sprinkles!! I did seventeen years of homework already! Haven't I put in my time? It's not Trig and Chem yet but I'm sure those will be here before I know it (which cooncidentally is the same time I'll be hiring a tutor as I am not a math and science girl).
To all the parents out there, welcome back to the new school year. Only 174 days to go!
HUBBY'S NOTE – My wife makes delicious food. This is a fact. On occasion, she also makes delicious food that is healthy too! I'm a firm believer that if fish is the main ingredient, it doesn't matter how much cheese and aioli you drown it in, it's still healthy. Fish = Healthy. So, go make these Salmon Tacos. Not only will the Omega 3s help lower your blood pressure in anticipation of your pending homework pile, but they will also make your coat shine. That should work on humans too, right?
Ingredients
8 ounces of fresh salmon
2 teaspoons cumin
2 teaspoons Hungarian Paprika
2 teaspoons garlic powder
Mini flour tortillas
1 tablespoon butter
1 ripe avocado
Pickled red onions
Juice of 2 Lemons
1/2 cup- mayonnaise
2 ears of corn
1 jalapeno or serrano pepper, minced
1/2 cup cilantro, chopped
Salt and Pepper
Directions
Bring a pot of salted water to a boil. Add cleaned ears of corn and let cook uncovered for 7 minutes. Meanwhile, combine the cumin, paprika and garlic in a small bowl. Rub salmon on both sides with seasoning mixture. Set aside. Mix mayo and lemon juice together. Refrigerate until ready for use. Remove corn from pot and let cool. Cut the kernels from the cob. Toss with cilantro and jalapeno or Serrano. Add salt and pepper to taste. Fry tortillas in butter. Grill salmon for 5-7 minutes. Place salmon on tortilla followed by corn relish, sliced avocado, pickled red onions and finish off with lemon aioli.
Comments