Spinach Salad with Balsamic Onion Dressing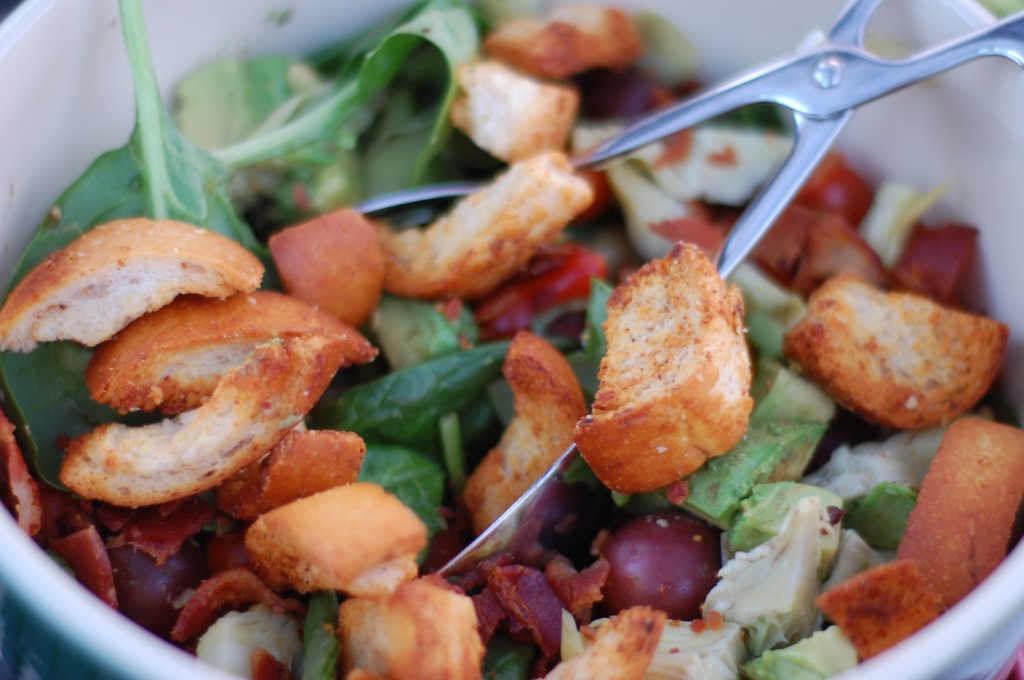 Salads are a pretty standard fallback meal in our house. They are healthy, delicious and easy to make. Most evenings we don't sit down to eat our dinner until after Buggies and Pixie are fast asleep. And some days don't go as smoothly as others. Which brings me to make an easy salad for dinner. Spinach is such a wonderful source of vitamins and is one of the healthiest leaves you can put in your body. Granted topping it off with bacon may not be the best thing for your body but my motto is, "everything in moderation." In this picture you can see croutons which I don't normally use. But they were calling my name in Trader Joe's…
Hubby's note: And my motto is, "WHERE'S THE BACON"?! Bacon + Avocado = Happy Hubby. Wait, did you say this was healthy?
Ingredients
1 pound Lean bacon
2 chicken breasts, cooked, cooled and diced
1 can artichoke hearts, quartered
12 mini heirloom tomatoes, halved
1 avocado, chopped
1/2 cup pine nuts, toasted
1/4 gorgonzola cheese, crumbled
1 red onion sliced and then cut in half
Kosher Salt; to taste
Freshly-ground black pepper
1/2 c Balsamic vinegar
1 lb Fresh baby spinach
1 ts Dijon mustard
3 tb Olive oil
2 tb Honey
Directions
In a large skillet, cook bacon over moderate heat, turning it, until it is crisp, transfer it to paper towel-lined plate to drain, and discard all but 2 tablespoons of the fat. In the remaining fat, cook the onion for 3 minutes. Add the vinegar, mustard, oil, honey and salt and pepper to taste. Bring to a boil. Remove from heat. Place spinach and all of the other delicious ingredients into a bowl. Pour dressing over the salad and toss. Serve immediately!
Comments