Sriracha Chicken Skewers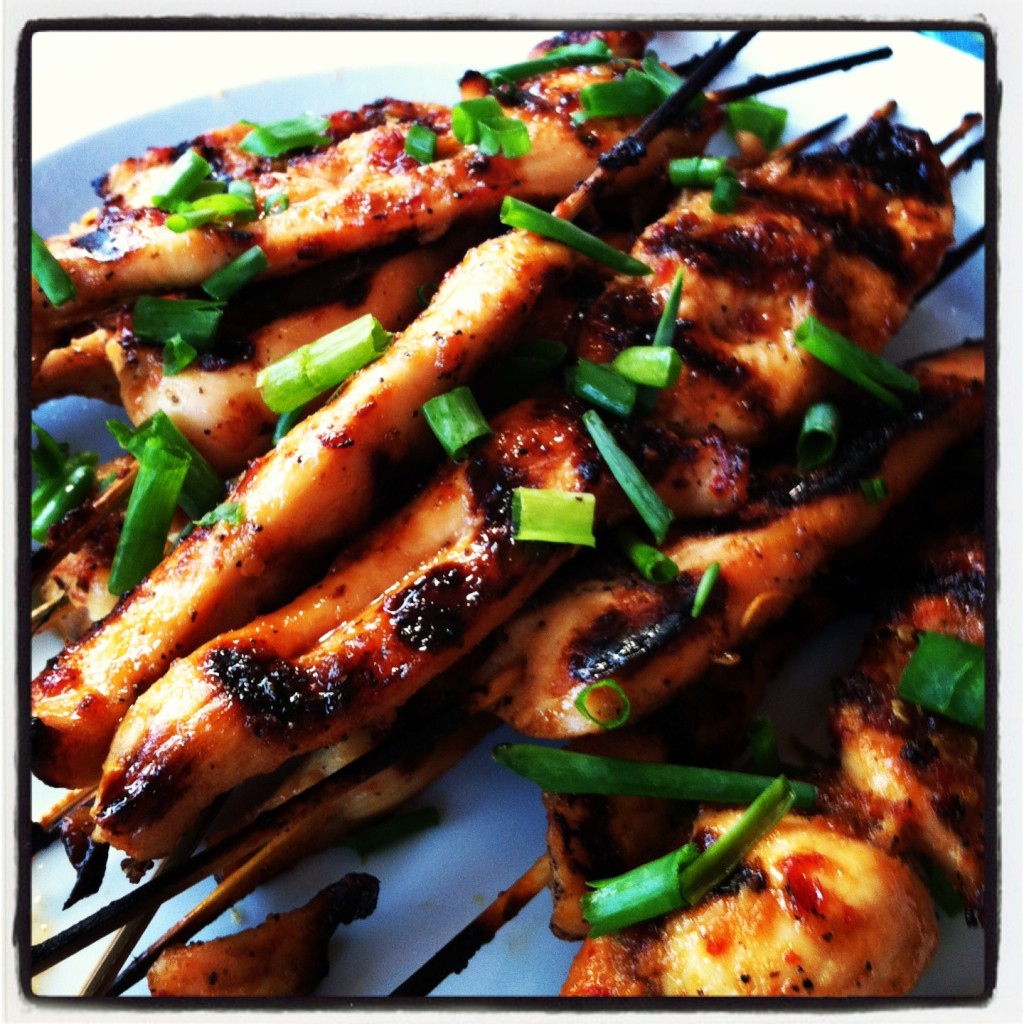 Contrary to popular belief, there is a stay at home mom uniform. My hubby wears suits and dress shirts and ties and nice things to work. He sees people dressed nicely all day. And then he comes home and sees me in sweats, t-shirts, gym clothes, or some sort of stained article of clothing that would not go over well in an office environment. But it certainly adheres to the very strict stay at home mom dress code: Quick and Comfortable.
Next time you are wandering the grocery store mid-week, take a look around. Most likely you will see a gaggle of moms sporting their Lululemon compression capris with flashy Asics and some version of a Victoria's Secret Pink t-shirt, sweatshirt or tank. I'm sure they look like they are in some race because they are. And by they I also mean me. You see, once we rush out of the house like lunatics getting kids to school, we have a very small window of opportunity to complete all errands without the children. We don't have a lunch hour to run to the bank or quiet time to eat lunch at our desk and pay our bills. We don't have any free time. We do not get holidays, vacation days, or sick days. And because we aren't "working", we usually pile more on our plate feeling like we should be able to get more done. (silly us)
Our running shoes and work out clothes may look like we just rolled out of bed, but truth be told, we are preparing for the everyday marathon.
I am not saying that women who work full time are not as busy. Trust me, I understand very well that you still have errands to run on nights and weekends. I understand that you also rush out of the house in the morning to get kids to school. I will say however, that in the times I have worked since having children, it has been easier than being a full time stay at home mom (for me, anyway). In a past life I worked for an international restaurant chain as their Director of Human Resources. I travelled. I worked long hours. I stressed out. That job was a cake walk compared to being a stay at home mom. This is by the far the hardest job I have ever had. Probably because, as I suggested, there is no break. There's no punching in and punching out. I clocked in at the birth of the first one, and I'll be working full time till I ship them off to college.
But I wouldn't trade it for the world.
I have the opportunity to volunteer in my children's classrooms. To be room mom, team mom and in the PTA. I shuttle to dance, art, and soccer practices. I survive the day on one cup of coffee and perhaps a leftover half of PB&N (yeah, peanut butter and nutella….waaaay better than grape jelly). But at the end of the day, as I tuck my sweet girls into bed, amidst the yawns and sleepy smiles, I get an I love you. A kiss and a cuddle.
And I've realized that as overwhelming and stressful as being a stay at home mom can be, it is worth way more than a paycheck to me. So, I'll wear my Mommy-Uni with pride and I'll share knowing glances of appreciation and smiles to my fellow racers as we pass one another on the track of life. And on anniversaries and birthdays, I might even shower and change into something nice before the Hubs gets home. Well, at least a shower. 😉
HUBBY'S NOTE: Wait. Are you telling me that you don't just sit at home and eat Bon-Bons all day catching up on your Soaps?
This recipe is brought to you as an adaptation from a Bon Appetit recipe. I doubled the sauce and added some extra ingredients.
INGREDIENTS
1 cup (packed) light brown sugar
1 cup unseasoned rice vinegar
2/3 cup hot chili paste (such as sambal oelek)
1/2 cup fish sauce (such as nam pla or nuoc nam)
1/2 cup Sriracha
4 teaspoon finely grated peeled ginger
2 garlic cloves, minced
1 1/2 pounds skinless, boneless chicken breasts, cut into 1 inch wide and 4 inch long pieces
1/2 cup green onions, diced
SPECIAL EQUIPMENT
8 bamboo skewers soaked in water at least 1 hour
Directions
Prepare grill for medium-high heat. Whisk brown sugar, vinegar, chili paste, fish sauce, Sriracha, and ginger in a large bowl. Thread one piece of chicken onto each skewer. Place all skewers in a single layer in a shallow dish. Pour half of the marinade over the top. Let sit in marinade for a few hours.
Pour the remaining half of marinade into a saucepan. Bring to a boil, reduce heat, and simmer until reduced by half (about 1 cup), 7–10 minutes.
Grill chicken, turning until cooked through, 8–10 minutes. Serve with reduced sauce on the side. Sprinkle with diced green onions.
Comments