Simon and Garfunkel Chicken Stuffed with Gorgonzola Cheese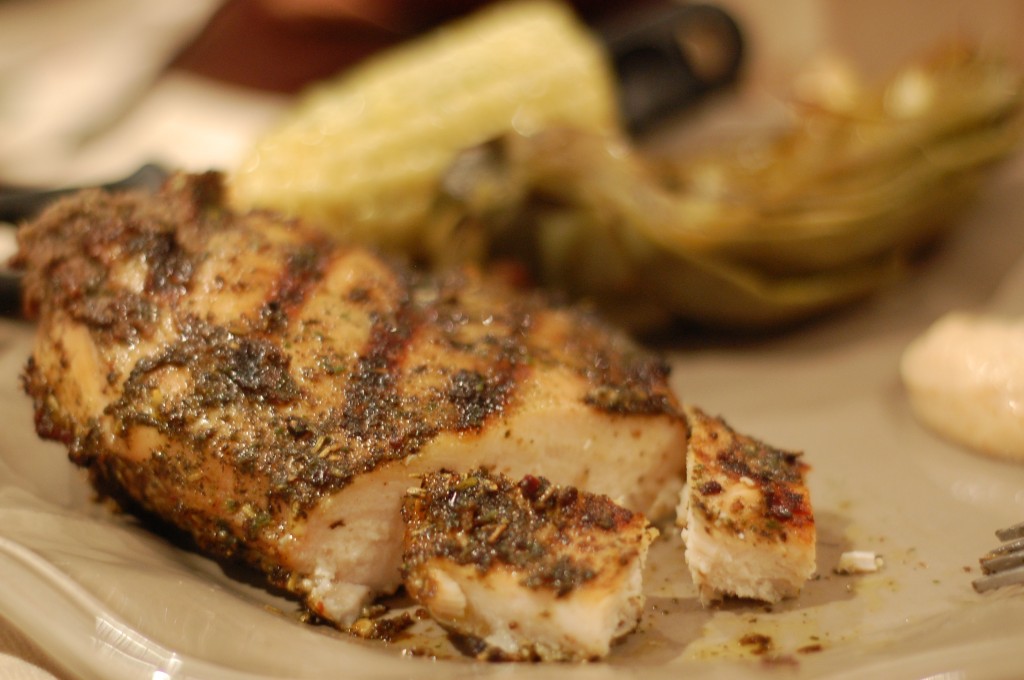 Gosh, that's a mouthful. But I feel like it needed its whole title, ya know? Sing with me – parsley, sage, rosemary and thyme….Here is the deal. I am SO NOT a big fan of chicken breast. It just seems boring. I like it in my salads but honestly, to BBQ chicken breast? It usually comes out dry and yuck. Now, my father-in-law LOVES chicken breast. Being a loving daughter-in-law, when he came over for dinner one night I made him this chicken. On the BBQ. (well, Ryan grilled it. He's the grill master. Which reminds me, get ready cause I have a Labor Day weekend grilling extravaganza coming your way – time to get your man involved! Okay – back to this chicken now.) When I took the first bite I thought to myself, "Holy Bananas!! That's YUM!" Add the cilantro corn and fire roasted artichokes on the side and it was a completely yummy meal. I borrowed the seasoning ingredients from my pals at Amazingribs.com and then stepped it up a notch by stuffing this chicken with gorgonzola cheese. Here we go peeps!
Hubby's Note: Men love fire. Men love food. Thus, men should grill. I learned how to grill about a year ago from Craig "Meathead" Goldwyn on his site www.amazingribs.com. It's so much more than ribs and if you are a man, you need to check it out. If you have a man in your life, you need to send him there for tokens of wisdom such as "If you boil ribs, the terrorists win". Anyway, I found this spice rub (and the S&G moniker) on Meathead's site. And my amazing wife pumped it up a notch. Hubby inspired, hubby approved!
Ingredients for the rub:
1 tablespoon dried crushed parsley
2 tablespoons dried crushed sage
1 tablespoon dried crushed rosemary
1 tablespoon dried crushed thyme
1 tablespoon dried crushed oregano
1 tablespoon dried crushed basil
1 tablespoon ground black pepper
1 tablespoon dried crushed red pepper
1 tablespoon sugar
1 tablespoon table salt
Ingredients for the chicken:
4 boneless skinless chicken breasts
1/2 cup gorgonzola cheese
1/2 cup olive tapenade (for my lactose intolerant hubby)
4 tablespoons olive oil
Directions:
For the rub….Measure everything and dump it into a food processor/blender. Put the top on your processor/blender, open a window and prepare to cough your lungs out for a minute or so…and run it on medium for a few seconds, turn it off, and run it again. Continue pulsing about until you have a powder. The red pepper seeds will be the last to powderize. Dump the whole thing in a jar and label it.
Wash your chicken and pat it dry. Cut a narrow slit in the fattest part of the breast at the end so you can stuff the cheese or olive tapenade inside. Then toss it in the olive oil and add the rub. Here's your chance to be a liberal people. Put that rub on there as liberally as you can muster. Let that marinading yummy chicken sit in the fridge for at least 3 hours before handing it off to the grill master in your house and having them grill it to perfection. I served mine with cilantro buttered corn and fire roasted artichokes with a chipotle aioli.
Comments