Forty Cloves of Garlic Chicken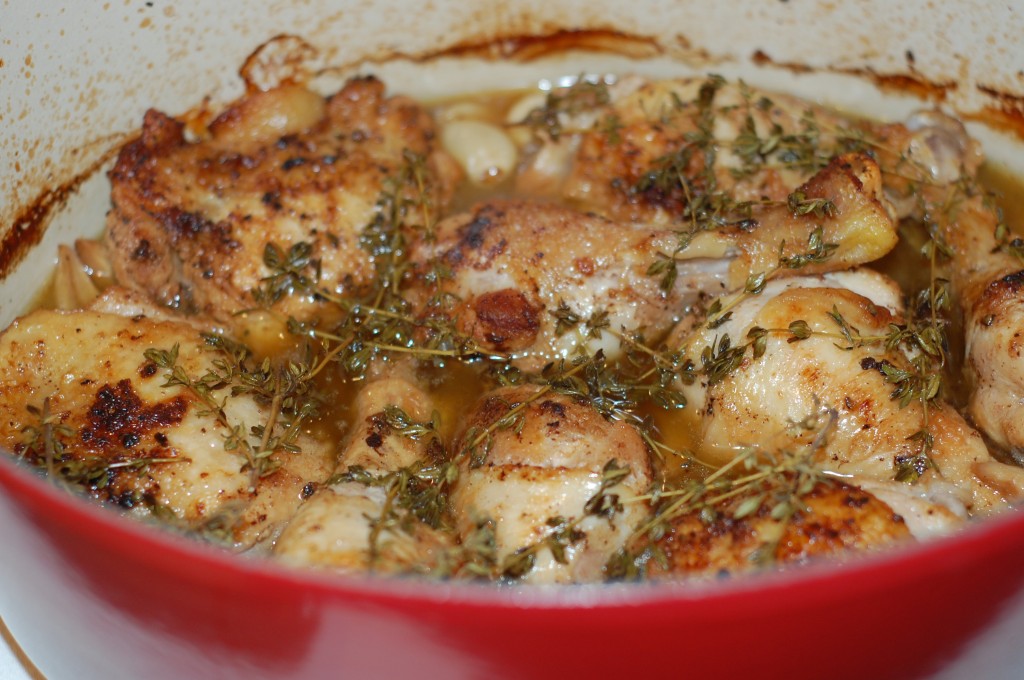 We spent the 4th of July weekend up at my parents house in Bear Valley Springs. Their Homeowner's Association puts together this non-stop action packed weekend for the 4th. There are hot air balloons that take off every morning, a fair, a parade, swimming, live music, movies in the park…it just goes on and on. So, when talking to my dad about all of the guests they would have at the house and how I could help with the cooking, he said, "will you make that garlic chicken thing you made for your mom on her birthday?" So, I did. And he had two helpings (maybe three but who's counting.) I served it with my mashed potatoes and some crusty french bread to sop up the garlic and sauce.
Hubby's note: This dish MUST be served with some kind of bread. The chicken is outstanding. But the BEST part of this dish is the melted garlic cognac sauce in the pot. Garlic + Cognac + Chicken + Carbs = Heaven You could even take the chicken out of that equation, but not the carbs. You need the bread to sop up this delicious slice of heaven. I've said before that my wife's cooking has the power to make me levitate. This dish does that. Ridiculously good. I give it Two Thumbs Up with a Snap in Z Formation.
Ingredients
40 cloves of garlic (save yourself the trouble of peeling and get the peeled garlic in the bag)
8 chicken drumsticks and 4 thighs
Kosher salt
Freshly ground black pepper
2 tablespoon unsalted butter
1/4 cup Cognac
1 1/2 cups dry white wine
5 sprigs fresh thyme
Directions:
Preheat oven to 375.
Dry the chicken with paper towels. Season liberally with salt and pepper on both sides. Heat the butter in a large pot or Dutch oven over medium-high heat. In batches, saute the chicken skin side down until nicely browned, about 3 to 5 minutes on each side. Turn with tongs or a spatula; you don't want to pierce the skin with a fork. If the fat is burning, turn the heat down to medium. When a batch is done, transfer it to a plate and continue to saute all the chicken in batches. Remove the last chicken to the plate and add all of the garlic to the pot. Lower the heat and saute for 5 to 10 minutes, turning often, until evenly browned. Add the Cognac and the wine, return to a boil, and scrape the brown bits from the bottom of the pan. Return the chicken to the pot with the juices and sprinkle with the thyme leaves. Cover and place in oven for 45 minutes, until all the chicken is done.
Comments
Cuban Style Pork and Plantains | Rawdad Healthy Living - [...] Specialty Teas Available OnlineMommy Bistro [...]