French Macarons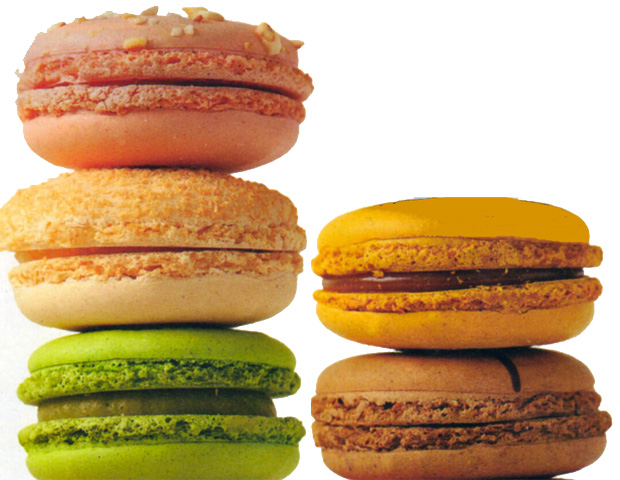 I'm addicted. These little clouds of Parisian cookie sandwich heaven bring joy to my heart. And my tummy. My soon to be sister-in-law had one in a farmer's market and fell in love. We kept wanting to have a baking day and make these for ourselves but kids and jobs and the holidays got in our way. Then one day we walked into a fabulous restaurant in downtown Los Angeles called Bottega Louie and there. they. were. Lined up in perfect little rows. Dozens of flavors and colors. We stood there in awe. I had no idea which…um…one, to get (um…one of each please!?!). I mean with that many little scrumptious choices which one is the right choice? (And is there a wrong choice?) What if I pick green tea but the passionfruit is amazing? What if I order them all and I melt slowly in my leather seat from the scowls of judgement thrown at me by the Size 2's that surround me??? So we did what only us girls could do. We ordered four different ones and split them. Evenly. Admittedly, had I been by myself in the bakery after-hours, i would have eaten all of them. But I wasn't. And they were amazing! Before I knew it, I was obsessed with these little devils. Mark my words – they are the next mini-cupcake. I'm already making them for my Sister & Brother In Law's wedding in lieu of a cake. So, I've tried my hand at them and here is a great recipe for you.
Hubby's note: Adult supervision is required with these little pillows of yumminess, lest the chef eat the whole batch.

Ingredients
For The Macarons
1 cup confectioners' sugar
3/4 cup almond flour
2 large egg whites, room temperature
Pinch of cream of tartar
1/4 cup superfine sugar
Suggested Fillings For Macarons
Chocolate: Chocolate Ganache
Coconut: 1 cup Swiss Meringue Buttercream, mixed with 1/3 cup angel-flake coconut.
Peanut: Chocolate Ganache, or store-bought dulce de leche, jam, or peanut butter.
Pistachio: 1 cup Swiss Meringue Buttercream, mixed with 1/3 cup finely chopped pistachios.
Directions
Pulse confectioners' sugar and almond flour in a food processor until combined. Sift mixture 2 times.
Preheat oven to 375 degrees. Whisk whites with a mixer on medium speed until foamy. Add cream of tartar, and whisk until soft peaks form. Reduce speed to low, then add superfine sugar. Increase speed to high, and whisk until stiff peaks form, about 8 minutes. Sift flour mixture over whites, and fold until mixture is smooth and shiny. At this point get crazy with some colors. If you are making a lemon buttercream filling, throw some yellow dye in. Strawberry? Throw in some red. One of my favorite things about the macaron is their flair for color.
Transfer batter to a pastry bag fitted with a 1/2-inch plain round tip, and pipe 3/4-inch rounds 1 inch apart on parchment-lined baking sheets or silpats (the best invention EVER), dragging pastry tip to the side of rounds rather than forming peaks. Tap bottom of each sheet on work surface to release trapped air. Let stand at room temperature for 15 minutes. Reduce oven temperature to 325 degrees. Bake 1 sheet at a time, rotating halfway through, until macarons are crisp and firm, about 10 minutes. After each batch, increase oven temperature to 375 degrees, heat for 5 minutes, then reduce to 325 degrees.
Let macarons cool on sheets for 2 to 3 minutes, then transfer to a wire rack. (If macarons stick, spray water underneath parchment on hot sheet. The steam will help release macarons.)
Sandwich 2 same-size macarons with 1 teaspoon filling. Serve immediately, or stack between layers of parchment, wrap in plastic, and freeze for up to 3 months.
Comments