Salmon Stack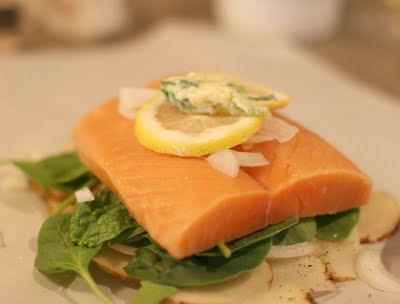 In 2005, we sold our condo in Sherman Oaks and moved back in with my parents. We really didn't want to do a contingency and so my parents took us back in while we looked for a new house. Can I tell you how awkward it is to move back into your old bedroom with your HUSBAND? I still had my glow in the dark stars on the ceiling from when I was 15. No joke.
Well, adjusting our commute from Simi Valley to Hollywood for me and Simi Valley to Santa Monica for the hubby was quite the eye opener. Our days got longer and longer and coming home meant cooking. Which I despised at that time because I was so exhausted from my 12 hour work/commute days. So we picked up a lot of take-out and made a lot of paninis and I my jeans got tighter. And so did the hubby's. We had to switch gears and eat healthy. Alas, this recipe was born. You can use regular potatoes or sweet. It's up to you!
Ingredients
1 tablespoon unsalted butter, softened
1 tablespoon coarsely chopped fresh flat-leaf parsley
1 clove garlic, finely chopped
1 large russet potato or 1 large sweet potato (about 1 pound), cut into 1/8-inch-thick slices
Coarse salt and freshly ground pepper
2 shallots, thinly sliced
3 ounces (about 1 cup) baby spinach
2 salmon fillets (6 ounces and 1 1/2 inches thick each), skinned
1 lemon, thinly sliced
Directions
Preheat oven to 400 degrees. Place a rimmed baking sheet in oven to heat. Cut parchment to size.
Stir together butter, parsley, and garlic in a small bowl; set aside.
Divide potato slices between parchment rectangles, layering them in stacks to form a bed (slightly larger than the salmon fillet) to one side of crease. Season with salt and pepper.
Top each bed of potatoes with one quarter of the shallots followed by half the spinach. Place salmon fillets on top of spinach. Divide remaining shallots evenly between packets. Top each salmon fillet with 2 lemon slices (reserve remaining slices for garnish). Dot with caper butter; season with salt and pepper.
Fold parchment paper over ingredients, at the crease. Starting with one end of the paper and keeping edges together, make small overlapping pleats the length of the paper, creasing tightly as you go and shaping the edge into an arc. The packet should resemble a half-moon.
Carefully transfer packets to preheated baking sheet. Bake until packets have puffed, 15 to 18 minutes. Transfer packets to plates. Serve immediately, opening packets at the table. Garnish with remaining lemon slices.
Comments