Hungarian Cauliflower Soup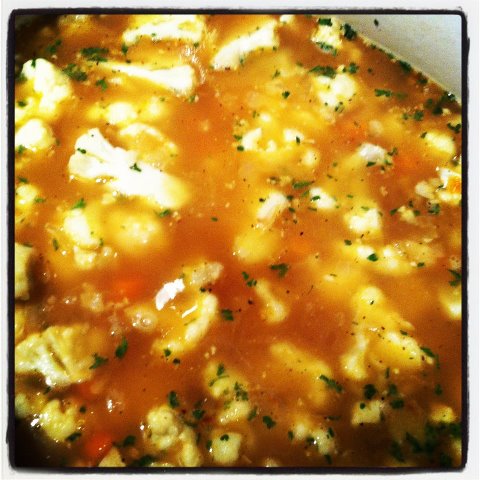 Okay peeps! I've got to churn out some recipes here so my long diatribes about being a mommy and my liver damage will be pretty short for a few posts here. I have tons to tell you about Cabo, my sister-in-law's wedding, bachelorette party numero 3, our new puppy, and summer. I will get to all of it because there is so much great stuff to share….In the meantime, it's only 82 today so why not make soup.
As you should all know, I am Hungarian and was raised eating delicious (and not so delicious) foods. I absolutely loved this soup growing up and now my hubby loves it too. Dig In!

Ingredients:
1 head cauliflower, chopped (approx. 3 cups)
2 carrots, peeled and diced
1/4 white onion, diced
4 -6 cups chicken stock
1 teaspoon salt
2 tablespoons butter
1 -2 garlic clove, minced
1 1/2 tablespoons parsley, chopped
1 teaspoon pepper
1/2 cup sour cream (optional)
Directions:
Place butter in a heavy bottomed pot. Heat thoroughly and then add onion and garlic. Once the onion is translucent and the garlic smells divine, add the cauliflower and carrots. Cook over medium heat, stirring occasionally for 5-7 minutes. Pour chicken stock in and add salt and pepper. Cover and simmer for 20-30 minutes. Add the parsley.
Optional add-in:
In a small bowl stir a little of the soup into the sour cream until smooth; return this to the remaining soup.
Serve with crusty bread and I like to add some red pepper flakes to mine as well!
Comments