Pure Comfort Enchiladas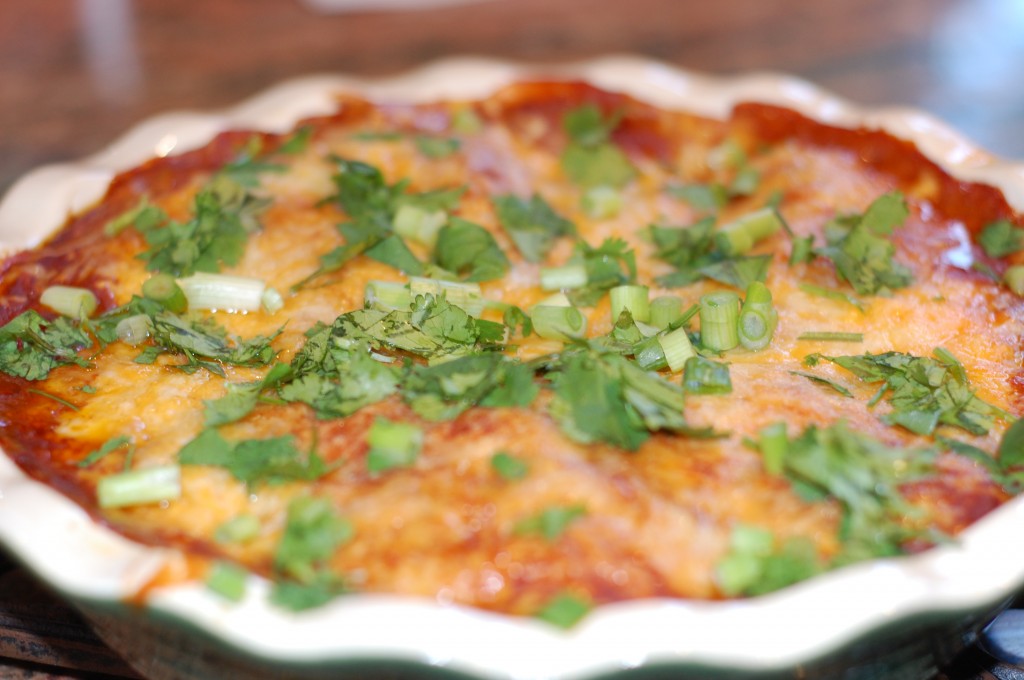 So, we live in California and one of the perks that goes with the outrageous amount of money we spend on houses and property taxes is that we are surrounded by the best Mexican food in America. And of all the Mexican food available, the Enchilada is by far my favorite. It's a squishy, yummy, delicious combination of all the best flavors our California Mexican food has to offer. And I say Californian Mexican food, because it really is it's own style of mexican food. I've been to Mexico. I've eaten the food, got the t-shirt. I honestly prefer ours California version. And when it comes to Mexican restaurants here in CA, I quite honestly judge them based on their enchiladas. Ok, their chips and salsa have to be good to. And their Guacamole. And their chile rellenos better be good too. I know. I'm judgmental.
These enchiladas are the perfect comfort food and quite amazing. Pixie always has second helpings when these pop out of the oven.
Hubby's note: These things are ridiculous. They're so good in fact that they are almost a substitute for sex. But not quite. I prefer mine with no cheese, for Lactosian reasons. But I HIGHLY recommend adding ground beef to these. My wife makes me my own separate enchilada pie with no cheese and lots and lots of taco meat (ground beef soaked in taco seasoning). HUBBY APPROVED!

Confession! I use store bought enchilada sauce. But not just any sauce. You have to get the Lawry's seasoning packet. It makes the perfect blend of red sauce.
Ingredients
2 teaspoons olive oil
2 packages of lawry's seasoning mix
2 cans tomato paste
6 cups water
4 cups cheese
1 package of Guerrero flour tortillas (18 count package)
cilantro (optional)
black olives (optional)
sour cream (optional)
Directions:
Add water, tomato paste and seasoning packets to a large pot. Mix well and simmer for 15 minutes. Now, preheat your oven to 375. Add olive oil to a large casserole dish. Make sure you shimmy it across the bottom so that you're not left scrubbing that dish for too long after dinner. Now it's time to get your fingers down and dirty. Dip your tortilla in the sauce and lay into casserole dish. Repeat the process until the bottom is covered. You will have to rip a few tortillas in half and layer the sides in order to cover it. Then sprinkle—who am I kidding? DUMP a generous layer of cheese and repeat the process. Be sure to add sauce with a ladle between layers too. Keep going till your fingers closely resemble the cheesy enchilada mess you've created AND you've filled the casserole dish. Bake in the oven for 30 minutes until the cheese is lightly browned and bubbly on top. Serve with cilantro, black olives, guacamole, sour cream, you get the picture…..You can also layer this dish with cooked ground beef taco meat. That's how the hubby loves it.
Comments