Pollo Borracho…. Spaghetti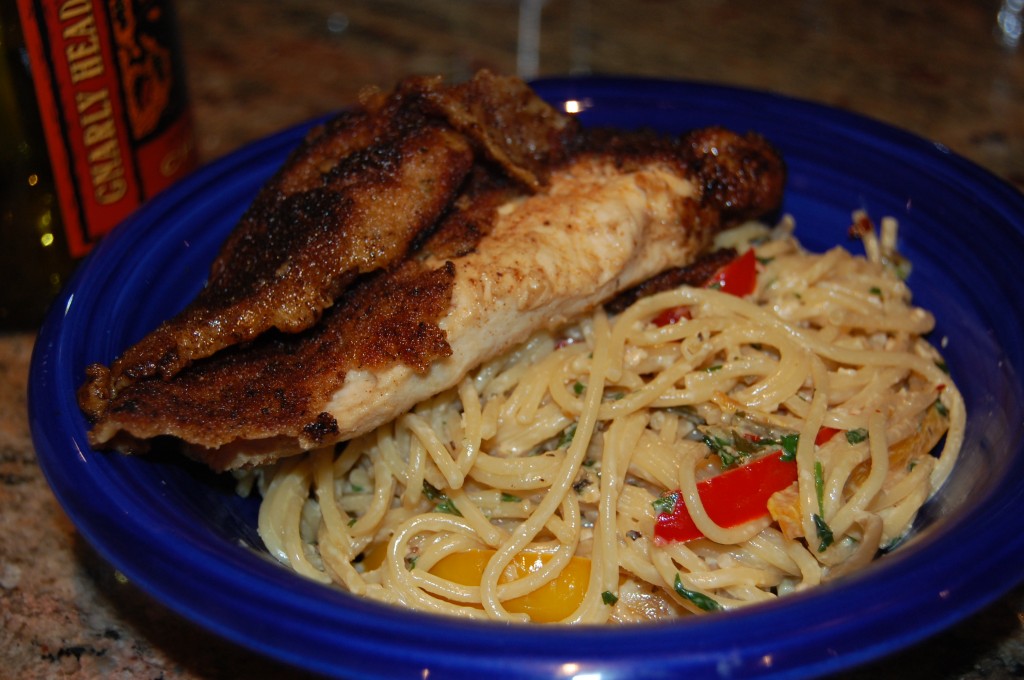 I have no idea how I came up with this recipe. All I know is that some kind of chicken pasta with tequila and peppers sounded REALLY good one day. Though now that I think about it, is there any kind of alcohol that chicken does not taste good with? I think not. And as I was cooking it, I added a bit of this here and a bit more tequila there. Borracho means "drunk" in spanish. And I like to get this chicken good and borracho. I am really not pleased with the picture I took cause the chicken looks funky in it? But I assure you, the drunk ass chicken pasta is downright delicious.
Hubby's Note: Tequila? Check. Meat? Check. Carbs? Check. Tequila in a glass over rocks for Daddy? Check. All systems are go.
Ingredients:
1 package spaghetti
1 bunch cilantro
5 cloves minced garlic
1 jalapeno pepper, minced
3 tablespoons butter
1/2 cup tequila
2 limes, juiced
3 tablespoons soy sauce
3 pieces, boneless chicken
1/2 cup bread crumbs
1/2 cup flour mixed with 1/2 teaspoon cayenne pepper
1 egg beaten with a tablespoon of water
1 onion, sliced
1 red bell pepper, sliced
1 yellow bell pepper, sliced
3/4 cup heavy whip cream
Red pepper flakes (to taste)
Fresh Ground Black Pepper (to taste)
Kosher salt (to taste)
Directions:
Grab your kitchen mallet and some parchment or wax paper and pound the chicken until it is about 1/2 inch thick. Place in a large ziploc bag or a tupperware. Add 1/4 cup of the tequila, soy sauce, 2 tablespoons of chopped cilantro, 2 tablespoons lime juice and 1 clove minced garlic. Place in the fridge to marinate for a few hours. When ready to cook, take the chicken out. Pre heat oven to 350. Bring a large pot of water to boil for the spaghetti. Once it is boiling, add the spaghetti and cook to al dente. Now for the chicken. You're going to bread the chicken. So dredge in the flour, then the egg, and finally the bread crumbs. Put 2 tablespoons of butter in an oven proof skillet (by this I mean a stainless steel pan with no rubber or teflon coating, ya know?). When the skillet is hot, but not burning, add the chicken and cook 2-4 minutes per side until golden brown. Then place in your oven and cook for about 15-20 minutes. Make sure there is enough butter under your chicken that it doesn't burn in the oven. Now for the sauce. Put some more butter in a large skillet and once its hot and melted, add the garlic and onion and sauté for a minute or two. Then add the jalapeno and all of the bell peppers. Cook until wilted. Add the remaining lime juice. When the noodles are done cooking, drain (do not rinse people!) and add the bell pepper onion mixture, tossing to coat. Then add the heavy whipping cream and toss. Finish it off by salting and peppering and red pepper flaking to your desired heat and yumminess. Take the chicken out of the oven and place on top. Putting this recipe into words makes it sound complicated. But I swear it's not. Just several balls in the air at once. But, as a mom I'm queen of multitasking. I was probably making a doctors appointment and building a train track at the same time.
Comments