Mommy Bistro Kids: Pizza Roll-Ups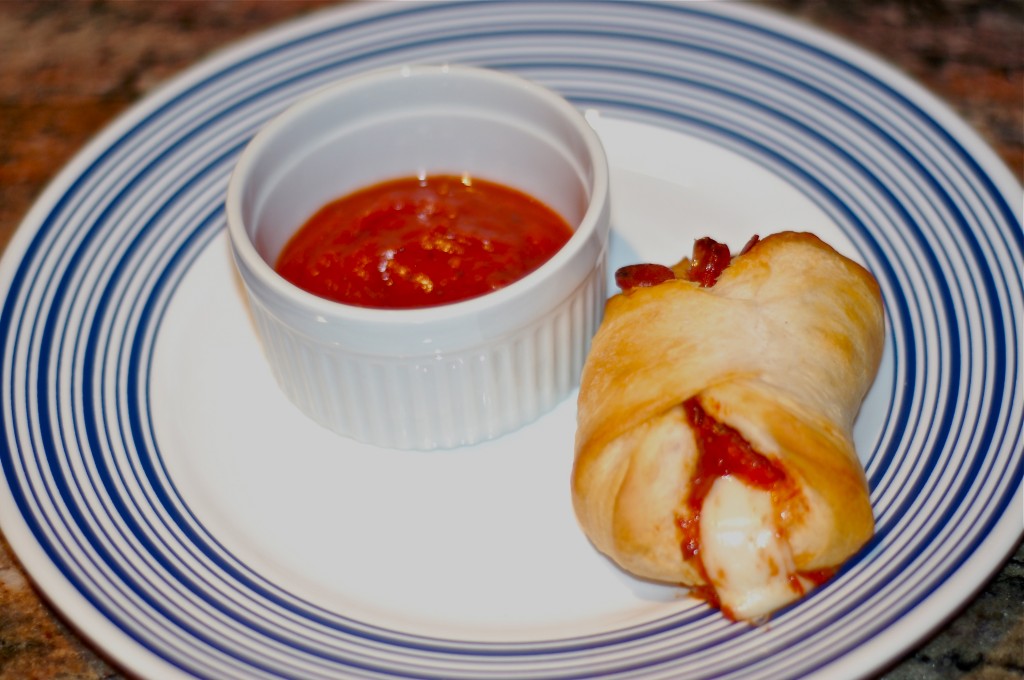 My new goal is to release one kid friendly recipe per week. I am sure I am not the only mommy out there who is frustrated on a daily basis with the near impossible task of getting her darling little kiddos to eat their dinner. When Buggies and Pixie were babies, they ate everything I put in front of them. As they have gotten older (and more independent), I feel like I'm losing the food battle. I insist on vegetables with their meals (fruits are easy peasy to get these little monkeys to eat). Even if it is just one bite, it's a step in the right direction. On the other hand, I've never met a 45 year old man or woman who only eats mac n cheese. Which makes me feel like there is a ray of sunlight at the end of the tunnel.
Hubby's Note: When it comes to our kids, my wife is the Food Whisperer. If I am left in charge of dinner for them, it's gonna be Mac N Cheese, or eggs, or snacks. Or Del Taco. I'm not ashamed of this, I'm just a realist. I know my limitations.
These meals will have some mandatory components to them.
1. They will be fairly healthy.
2. They will be simple – especially for the working mama's out there.
3. They will incorporate vegetables that are carefully hidden from the toddler eye.
4. They will be tested and approved by my little ankle biters, Buggies and Pixie.
I LOVE your feedback and would be so excited to hear if these work for your family. If you have suggestions or variations, please let me know. This first recipe I saw on Pinterest and gave it a try last week. Buggies who REFUSES to eat any type of bread or roll – loved it. BUGGIES APPROVED!
Ingredients
1 can of crescent rolls
24 slices of pepperoni (I used the mini ones)
4 whole string cheese (cut in half)
1 jar of Pizza Sauce
3 tablespoons finely diced spinach
Directions
Heat oven to 375°F. Separate dough into 8 triangles; pat out each triangle slightly. Cut each piece of string cheese in half.
Place 1/2 tablespoon of spinach on the triangle followed by the pizza sauce, and pepperoni, on the center of each triangle. Top each with 1 piece of cheese.
Roll up, starting at widest side of triangle and rolling to opposite point. Place rolls, point side down, on ungreased cookie sheet.
Bake at 375°F. for 10 to 14 minutes or until golden brown. Remove from cookie sheet.
Serve warm crescents with warm pizza sauce for dipping. Make sure the spinach is on the bottom so the kiddos don't see it.
Comments