Curried Chicken Sliders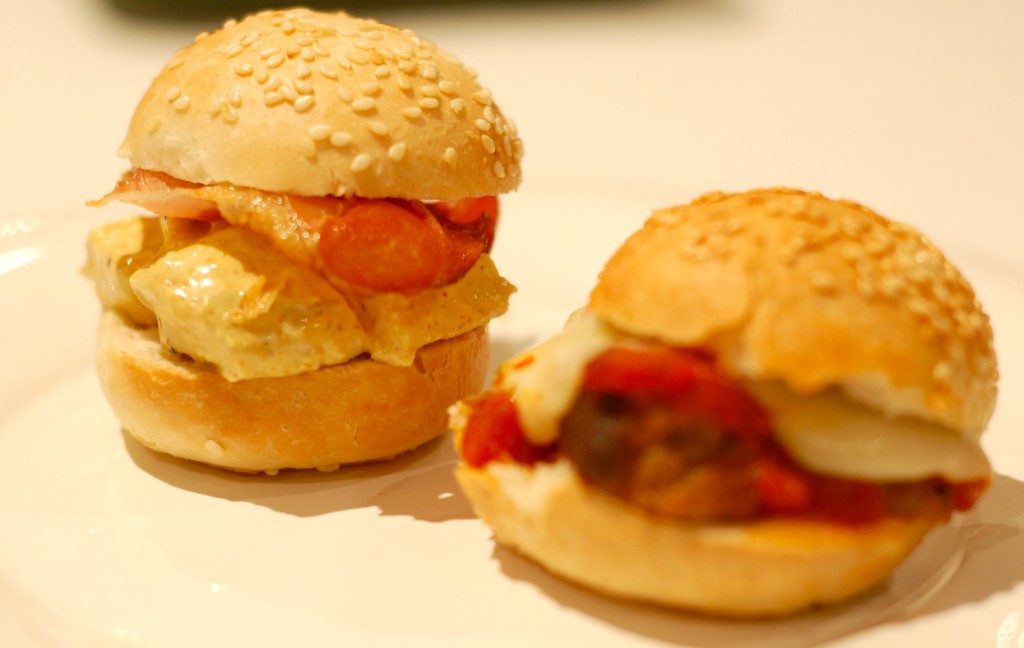 Pay no attention to the little Meatball Slider next to the Curry Slider. He will be the star of his own post. I figure it's a "he" since, you know…he has balls.
This past weekend I spent a whole day with my sister-in-law and my mother-in-law. We had lunch, tackled some wedding stuff (for the S.I.L.), had pedicures, taste tested cupcakes and window shopped for hoochie dresses for Vegas. Yeah, you heard me right. We shopped for totally trashy dresses for our upcoming trip to Vegas…with my mother-in-law. And I mean sequined-gaudy-barely-covering-your-butt dresses. Painted on, cleavage enhancing dresses. I hope she doesn't think we're a bunch of floozies. We didn't end up finding anything which is probably a good thing because then she doesn't have the mental image of us in these dresses while we are gone.
(Prepare yourself for this segway) Much in the same way we will look hot in Vegas, these Curried Chicken Sliders are smokin' hot! (sans sequins) The curry powder I use has some kick to it. If you do not like heat, use a regular curry powder (and don't go to Vegas during my S.I.L.'s bachelorette party).
Hubby's Note: Um…can we go back to the part about the slutty dresses on the bachelorette party? I really didn't get much of anything else once I read that part. Oh, yeah. The Curried Sliders are insanely delicious. Did I mention that my mom told me she wants to join you in Vegas that weekend?
Ingredients
8 ounces thinly sliced pancetta, about 8 slices
3 1/2 to 4 cups diced roasted chicken (I use the Just Chicken from Trader Joe's. If I had a buck for every time I typed that I would be fabulously rich)
1/2 cup plus 2 tablespoons mayonnaise
1 tablespoon Madras Tamarind hot curry powder (I get mine at Cost Plus World Market)
1 tablespoon lime juice
2 teaspoons honey
1 1/2 teaspoons freshly minced ginger
8 slider rolls
Directions
Fry the pancetta slices in a large skillet over high heat until crispy. Remove from the pan and set aside. In a large bowl combine the chicken, mayonnaise, curry powder, lime juice, honey, and ginger. Stir to combine.
Slice the rolls in half. Spoon the chicken mixture onto the bottom halves of the rolls. Cover with the crispy pancetta and the top of the rolls. Serve.
Comments