Fig and Goat Cheese Bundles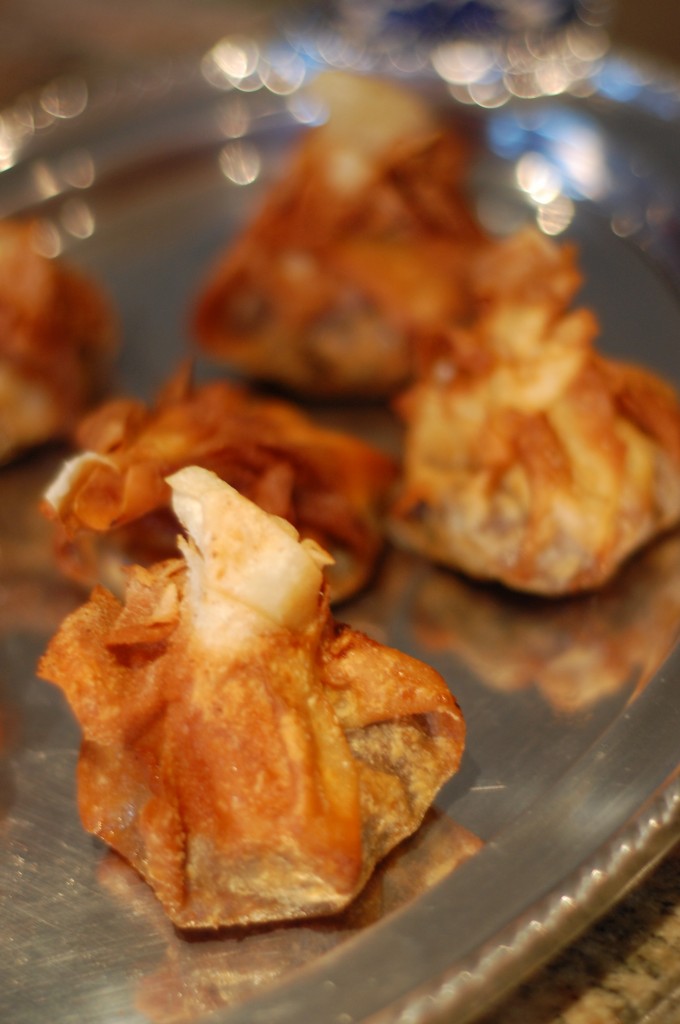 I haven't slept for about a week. No, the children haven't been keeping me up with horrendous stomach flu. No, my new thyroid medication isn't making me crazy (not a word from you hubby!!). And thank goodness, it has not been the wind for a change. You know what it is? I mailed in all of my paperwork to our accountant for our taxes. I checked all of my numbers over and over and couldn't find one single penny more to deduct so with stomach acid creeping into my throat, I mailed it. And then I started frowning more, and my laugh lines softened because I was too busy scowling. A few days later, an e-mail from the accountant with a question. Before even opening the e-mail my stomach was doing queasy flips. Just a simple question about the paperwork followed with a, "We are working on it and will get back to you soon!"
For the weekend, we went camping at Lake Casitas with a great group of friends. Good food, good friends, and cocktails made me forget about the dreaded call for a few days. We had such a great time hiking, playing outside, playing inside the three trailers, and enjoying conversation around the firepit – with s'mores of course.
This morning my phone rings a little after 8:00 AM. I've just given Buggies and Pixie their breakfast so I have exactly three minutes until they will need something. I answer the phone not knowing the number. It's the accountant. Last year when she called she had very, very, very unwelcoming news for us (especially since we were in Vegas on a hubby and wife getaway and were just about to leave for a delicious dinner and show). We owed. Like, a LOT. Which is another reason I've been so worked up. After a few minutes of explaining things from our taxes (I'm sweating like a pig in July in freaking Tennessee) she gets to the money part. "Good news Mrs. Gesell, you WILL be getting some money back this year!!" I gripped the counter and screamed like a teenage Justin Beiber fan. Then danced a happy dance. And I'm pretty sure my accountant thinks that "Mrs" Gesell is nuts-o.
So, now that my tax worries are over for a glorious 365 days…let's get some food cooking!!
I'm fairly certain I've mentioned it before, but my best pal and I used to have our own catering business together. I will say this: If you can be friends, go into business together, still get along while running your business, dissolve your business and still be close as ever; that friendship is made of steel. 😉
When we were catering (think: 18 parties in 14 days during the holiday season) we had these little bundles of joy requested time and time again. I give you Fig and Goat Cheese Bundles!
Ingredients:
1 package egg roll wrappers
1 package calymadria dried figs (I get them at Trader Joe's)
1 bottle of port
1 log of goat cheese
1 gallon of canola or peanut oil
1 egg whisked with 2 tablespoons of water
1 milllllion dollars….Just kidding.
Directions:
Chop the the figs up pretty well. Not minced just chopped up. Add to a saucepan and pour in the entire bottle of port. Yep – you heard me right. The whole bottle. Bring to a gentle boil and stir occasionally. You want to reduce the port/fig mixture down to a jam type consistency. It will probably take 20 minutes or so. Once it starts getting thick, pour the contents into another bowl and let cool. You can keep the fig jam at room temperature until you are ready to use it. Take the goat cheese out and let it soften on the counter for twenty minutes or so. Pour the oil into a large stockpot and heat. While the oil heats, take the egg roll wrappers out of the fridge. On the center of each egg roll wrapper, place one tablespoon of fig jam and one tablespoon of goat cheese. Bring the sides up and pinch into a little bundle. Repeat with the remaining egg roll wrappers. Then brush with the egg wash. Once your oil is hot enough, fry until they are a golden brown. Drain on a paper towel lined cookie sheet. You can keep the completed bundles warm in the oven while you work on the rest. Then serve and make sure you eat one before everyone else because they will disappear.
Comments