Mixologist Molly: Mai Tai Party Punch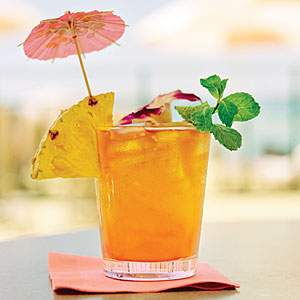 This is a BIG drink. And I mean big in many ways…big in size, big in booze and big in fun. My dad had a HUGE Super Bowl party every year as long as I can remember. He stopped a few years ago, but this drink has always stayed on my mind. Maybe its because it makes me feel like I am on an island, maybe it's the yummy pineapple that sits on the side, but I really think it is the floater of Meyers Dark Rum.
 This recipe if for a GALLON of this yummy concoction. You can of course half or quarter the recipe…but, why???!! Just throw a Super Bowl party and make the whole batch!
Mommy Bistro Note: One of my first memories of drinking was…shhhhh – don't tell my parents!!!…when we were about 13 at Molly's Dad's Viva Las Vegas party. We had some discreet jello shots and of course stole some "sips" of this punch. And of course, every Super Bowl after that, we got to have some of this punch too. It's so delicious and I wish the Maier's still had their amazing parties just for cocktails like this one.
Ingredients:
24 oz OJ (no pulp)
24 oz Pineapple Juice
24 oz Guava Juice
24 oz Passion Fruit Juice
16 oz White Rum
8 oz Orange Curacao
8 oz Orgeat Syrup
Meyers Dark Rum
Pineapple slices
Maraschino Cherries
Directions:
Mix together first 7 ingredients. Pour into fancy beverage canister, have your guests pour into a glass with ice leaving room for a 1oz floater of the Meyers Dark Rum. Garnish with a pineapple slice and a cherry.
1 cup=8 fl. oz.
NOTE: Guava and Passion Fruit juice/nector is made by Kerns and can be found in your grocery store. Orgeat Syrup is a MUST for this drink or you can get Torani Coffee Syrup.
Comments