Citrus Herb Chicken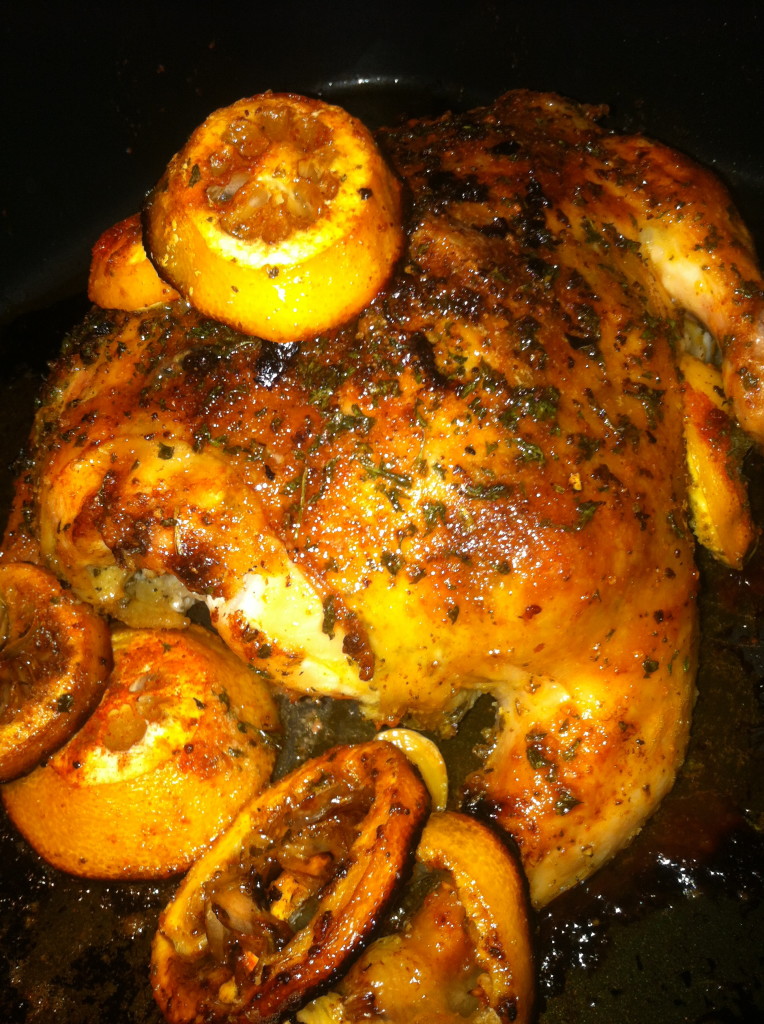 We are deep in throes of Summer people. I've survived two camping trips, a wedding, two weeks of swim class, gymnastics camp, play dates, swim dates, having the neighborhood children over, beautiful weather, great food, great friends and NO ALARM CLOCK.
Yes, it is true. I am a night owl. I hate mornings. I hate rushing out of the house demanding shoes on feet and doing the "scratch test" to check on brushed teeth. The thought of the new school year is raising my anxiety meter by the day. In the back of my mind I know Summer will come to an end and then Pixie will be off to Kindergarten. Which I refuse to wrap my head around.
I LOVE letting my kiddos stay up later to enjoy the warm Summer evenings that Southern California has to offer. I love having lazy mornings with them and not having much planned except that we have fun. They are only little for this fleeting moment that is flying by way too fast. I like letting them be little. I am not a crazy mom who has my kids signed up for every activity from the start to end of Summer. SCREW THAT. Don't get me wrong, we do a lot of fun things and we have things planned, but we also need time to veg. Time to be young. Everything in moderation! Well, except for bacon. And wine.
In the words of Avril Lavigne (yes, I still think I'm 26 in my brain)… Here's To Never Growing Up…
But since we are adults and can use an oven, go make chicken.
Ingredients
1 whole Chicken, Rinsed And Patted Dry
1 cup Butter, Softened
3 whole Lemons
4 sprigs Rosemary
A good bunch of Sage
A good bunch of Thyme
A good bunch of Oregano
4 cloves garlic
Salt And Pepper, to taste
Directions
Preheat oven to 400 degrees. Zest all of the lemons. Strip the leaves off of the rosemary sprigs, thyme and oregano. Take stems off of sage.
In a food processor, add butter, lemon zest, juice of one lemon, rosemary, thyme, oregano, sage and salt and pepper to taste. Turn on for one minute or until all herbs are combined into the butter. Lay the patted-dry chicken in a deep roasting pan, breast side up. Use a small knife to cut a small hole in the chicken skin. Then using your fingers, pull the chicken skin away from the meat. Be careful to not detach the skin from the chicken. Smear the herbed citrus butter mixture underneath the skin of the chicken and inside the cavity. Cut the lemons in half and place them into the cavity of the bird.
Place the chicken into the oven and roast it for 1 hour, 15 minutes or until done. Skin should be deep golden brown and juices should be sizzling.
Comments