Mini Funnel Cakes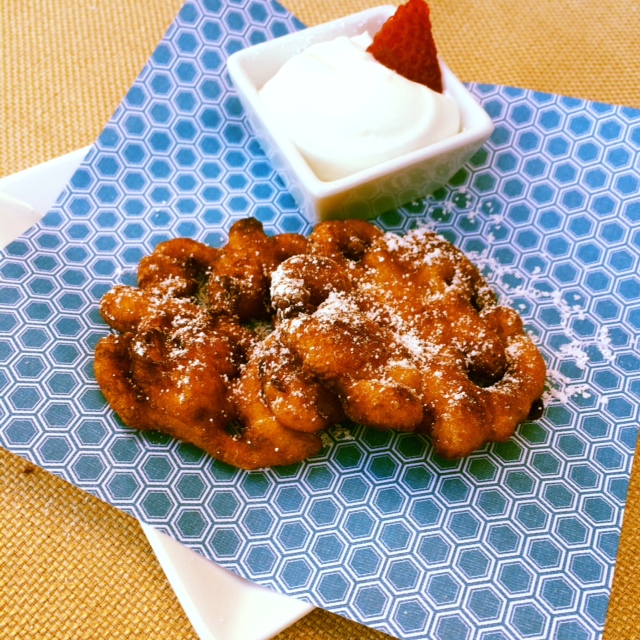 My friend Laura opened this adorable studio to host craft workshops. These aren't your run of the mill Joann's fabrics classes, kids. These are full fledged super hip workshops; macrame, wood working, dream catchers, chalk art, floral arranging.
I've had the pleasure of providing some small bites for a few of her workshops and these delicious little carnie cakes debuted at an event for North Ranch magazine. If you live anywhere near the Conejo Valley, please take a class with her. She is so talented and all of her workshops look so awesome. You can learn more at the Skills + Frills Website.
In the meantime, Fall is here (even though this weekend it will be a cool 105 degrees) and these little funnel cakes are perfect for Halloween, kids birthday parties and event for adult dinner parties.
Dry ingredients
1 1/2 cups All purpose Flour
1 tsp baking powder
1/4 tsp salt
1/4 cup powdered sugar
Wet ingredients
1 1/3 cup milk
1/2 tsp vanilla extract
1 egg
Directions:
Sift the dry ingredients into a large container that you can easily pour from. In a separate bowl, beat the egg with the rest of the wet ingredients. Pour wet ingredients into the dry and stir until a thick batter forms. Using a funnel, pour batter into a squeeze bottle. The batter is thick so be patient for it to flow into the bottle.
In a large pan, pour in your favorite frying oil until it is about 1/2 inch deep, and heat to 350F (I used canola oil). Place 4 inch metal rings into the pan (I used the tops to mason jars) . Squeeze batter into ring and cook until ring is solid (30 seconds-1min). Using tongs, remove metal ring and let cakes float. Flip and cook the other side for 30 seconds to a minute or until a nice light golden brown. These cook very quickly so be careful not to burn. Try experimenting with your first few to find a cooking time that works best for your oil and pan set up.
Once golden brown, remove from pan and place on a paper towel lines plate. Immediately top with powdered sugar and serve with whipped cream. Best if eaten when still warm right after frying.
**** Please for the love of keeping yourself safe, be careful of yourself and little ones when frying anything!!****
Comments