Pad Thai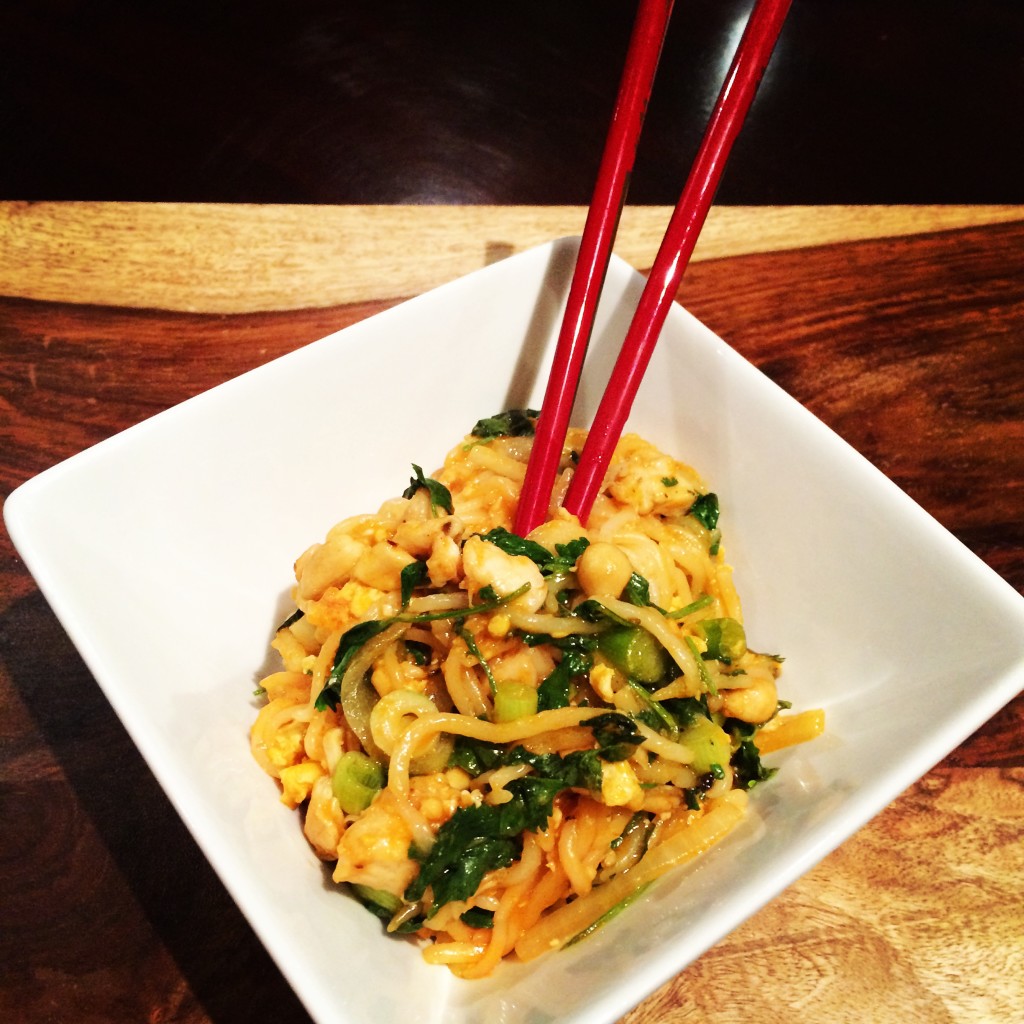 When the hubby and I first started dating, we were broke. I had just come home from a three month backpacking trip to Europe where I spent my life savings (as much of a life savings as one has at 21) and was barely waiting tables at the infamous Miyagi's in Hollywood. My car had died so we shared his 1994 Saturn and we barely had enough money to fill the gas tank. Groceries were a JOKE. My budget for groceries in those days was about $40 a week. We all know our college pal, Top Ramen. I got pretty darn creative with this $.05 wonder. Pasta salad, chicken soup, stir fry and…. Pad Thai. Some of our best memories are of eating this meal on a blanket with candles (to conserve energy since we could barely afford the bill!) in the living room with a delicious bottle of $2 buck chuck (seriously, it's delicious if it is all you can afford).
Now I make this recipe with fresh rice noodles that I get from Trader Joe's. It might taste better with all of the fresh ingredients but the memories of this dish will always remind me of one of the best times of our lives
INGREDIENTS
1 package flat rice noodles cooked according to package instructions (I love the fresh Trader Joe's rice noodles)
2 large boneless skinless chicken breasts, pounded to ½ inch thickness and chopped into bite-sized pieces + salt, pepper and garlic powder to taste
4 eggs
3/4 cup sliced green onions
3/4 cup sliced white onion
2/3 cup cilantro, roughly chopped
optional: peanuts, chopped
Sauce
1/2 cup ketchup
3 tablespoons fish sauce (found in the Asian section at most grocery stores)
3 tablespoons sugar
2 tablespoons peanut butter
juice of 1 lime
1/2-1 teaspoon crushed red pepper flakes (to taste)
1/4 cup soy sauce
INSTRUCTIONS
Season chicken with salt, pepper and garlic powder to taste. Cook chicken in a large wok or pan over medium heat, stirring throughout until cooked through (about 6-8 minutes), transfer chicken to a bowl and set aside.
Whisk together all sauce ingredients and set aside. Crack eggs over preheated pan (where you cooked the chicken) and allow to fry for about a minute, then break it up with a spoon and add the onions. Add chicken and sauce. Add noodles and toss to coat the noodles in the sauce. Stir in green onions and cilantro. Garnish with peanuts if desired.
NOTES
*adapted from Creme de la Crumb
Comments