Butternut Squash Tart with Fried Sage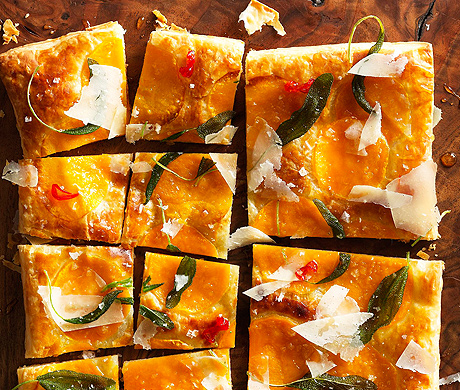 I'm on house arrest.
Not by choice.  And not by legal means of enforcement.  But nonetheless, I am home-bound.  For a little while, anyway.
Uncomfortable Health Issues are something that people seem to steer clear of in conversation.  They're easier for all to avoid.  Especially if you are a woman and going through something with your "lady parts." It's not something we talk about. Our husbands/fathers/boyfriends/sons do not like to even think about this stuff.  Hell, I don't even think I know what my cervix was for.  So I can guarantee that neither my husband nor my father does.
Did you know that in the United States, approximately 600,000 hysterectomies are performed each year, and the procedure is the second most frequently performed major surgical procedure among reproductive-aged women? The first most frequently performed surgery is a c-section.
Ever since I started talking about what I was going through, it feels like every friend, mother, grandmother, or sister knows someone who has experienced the same thing.
Massive hemorrhaging.
Extreme uterine pain.
But we don't talk about it.  It's uncomfortable.
About 18 months ago, I lost so much blood that I was at a critical level and had to have an emergency ablation performed. Thank God that my doctor kicks ass because she moved mountains for me. She completely re-arranged her day to take care of me. One patient out of thousands yet she made me feel like I was the only patient she had.  She made me feel more comfortable.
After a few months I felt closer to normal. I was actually on a regular cycle! I left the house without worrying about bleeding through all of my clothes. I could even go swimming! After living the life I had been living for so long, I finally felt freedom.
That lasted until August of this year when everything spiraled out of control. After battling my body for three weeks, I called my doctor and told her it was time for the next step. We had already discussed hysterectomy at great length and I knew it the only step I had left to take. Luckily for us, my husband and I were already blessed with two healthy beautiful girls and had no plans for more children.  Surgery was scheduled for September 24th.
H day.
No More Bleeding Day.
Freedom.
I am now two weeks post-op from my hysterectomy. I was able to keep both my ovaries but everything else hit the road. This means no surgical menopause for this lady. I'll go through menopause just like all of my friends, I just won't have to bleed to death to get there. I had a few minor complications but the entire procedure was performed laproscopically and I am already off all pain medications. Now I just need to let my insides heal even though the outside feels fine.
I know. The idea of a Hysterectomy is scary! But if you are suffering from anything like this, I highly recommend you discuss your options with your doctor. Don't live your life in a box when you have the power to color outside the lines. Give yourself the freedom to live life, enjoy life and be pain free.  And if you have a history of these sypmtoms or hysterectomy in your family, mention it to your friends.  Please!  Tell the other women in your lives so that they can be on the lookout for symptoms, or at least aware of potential threats to their reproductive timelines which may prevent them from having children of their own.
The recovery process has some restrictions, and it does mean no cooking for now, but the positives already outweigh the negatives. And the best part, is that it is giving me the opportunity to catch up on my posts!
If any of you are experiencing any of these symptoms and have questions, I am happy to talk to you. I'm obviously not a doctor, but would love to share my input as a patient.
But enough about "Lady Parts".  Let's talk about food.  Sorry to switch gears so quickly, but this tart is perfect for the Fall and you need to make it.  It's so easy to make and a huge crowd pleaser.
Ingredients
1 sheet of frozen puff pastry, thawed (from a 17.3-ounce package)
1 large egg beaten with 1 teaspoon water
12 1/8″-thick rounds peeled butternut squash
kosher salt
1/4 cup honey
1 thinly sliced Fresno, jalapeño, or red Thai chile
3 tablespoons olive oil
12 fresh sage leaves
1/4 cup shaved Parmesan
black pepper
Directions:
Preheat oven to 375°. Line a large rimmed baking sheet with parchment paper. Gently roll out 1 sheet of frozen puff pastry, thawed (from a 17.3-ounce package) on a lightly floured surface to a 10-inch square (just enough to even out). Transfer to prepared sheet.
Brush pastry with 1 large egg beaten with 1 tsp. water. Arrange twelve 1/8-inch-thick rounds peeled butternut squash (cut from squash's neck) over pastry, overlapping as needed and leaving a 1/2-inch border. Place another sheet of parchment paper over squash. Set another large rimmed baking sheet over the tart. (This will weigh down the pastry dough and steam the squash slices.)
Bake until bottom of pastry begins to brown and top begins to puff, about 10 minutes.
Remove top baking sheet and discard top sheet of parchment paper. Brush squash slices with 1 tablespoon olive oil and season with kosher salt. Return tart, uncovered, to oven and bake until pastry is deep golden brown and cooked through, 25–30 minutes longer.
Meanwhile, combine 1/4 cup honey, 1 thinly sliced Fresno, jalapeño, or red Thai chile, and 2 tablespoons water in a small saucepan. Bring to a boil over medium heat (add another thinly sliced chile if more heat is desired). Boil until thickened slightly and syrupy, about 6 minutes.
Line a plate with paper towels. Heat 2 tablespoons olive oil in a small skillet until just beginning to smoke. Add 12 fresh sage leaves; fry until crisp, about 30 seconds. Transfer to paper towels to drain.
Slice tart. Arrange 1/4 cup shaved Parmesan on top; drizzle with chile-infused honey. Garnish with fried sage leaves and a few grinds of black pepper.
Recipe from Bonappetit.com
Comments