Lazy Sunday Omelets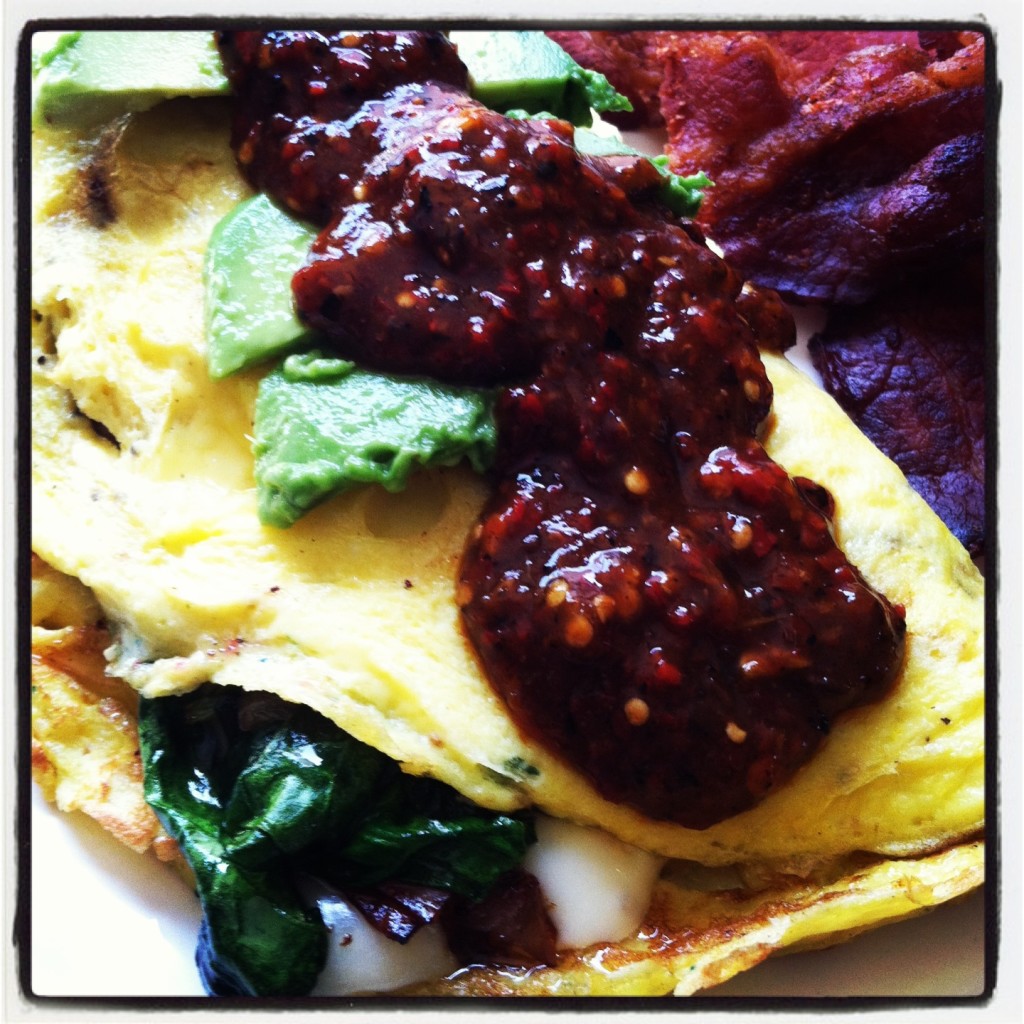 There is nothing lazy about these actual omelets. It's the Sunday that is lazy. The hubby and I live for our Sunday mornings. Buggies and Pixie come tumbling in sometime around 8:30 AM and they cuddle with us in bed for about a half an hour. Afterwards we plop onto the couch and watch a couple of their favorite shows; Sophia the First, Jake and the Neverland Pirates, and Doc McStuffins. About halfway through the second show I disappear into the kitchen to start on breakfast. The girls are all over the map when it comes to what they want for breakfast…and what I'm willing to make (do I look like a short order cook?). Pretty much every day, Buggies asks me to make pancakes, and Pixie goes along w/ that. The hubby and I however, prefer a delicious savory omelet.
HUBBY'S NOTE: I highly recommend getting some Chile Oil and drizzling it on top of these things. Ridiculous good!
Ingredients
4 eggs
1/4 cup milk
1/2 cup diced turkey or ham
1/4 shallot, chopped
1/4 cup mushrooms, roughly chopped
1 cup spinach
1/4 white onion, chopped
1/2 cup sharp cheddar cheese
1 avocado
Salt and Pepper
Salsa, optional
3 tablespoons butter
Directions
Heat 2 tablespoon butter in a small non-stick skillet. Add onion and shallot and cook till opaque. Add mushrooms and cook another 4 minutes. Add turkey and spinach and cook another 3-4 minutes or until spinach has completely wilted down. Remove contents from pan to a bowl. Do not turn pan off. Add eggs, milk, salt and pepper to a bowl and whisk until the eggs start to foam. Add another tablespoon of butter to the pan. Once it has sizzled down, add half of the egg mixture to the pan. Cook for 2-3 minutes and then (CAREFULLY!) flip the egg over. Add half of the turkey spinach good stuff and half of the cheddar cheese. Fold omelet in half and (CAREFULLY!!) transfer to a plate. Repeat these steps for the second omelet (which is usually mine because Mommy is ALWAYS LAST). Add slices of avocado to the top of each omelet. Sprinkle with salt and add some salsa over the top if you dare.
Comments