Artichoke and Asparagus Ravioli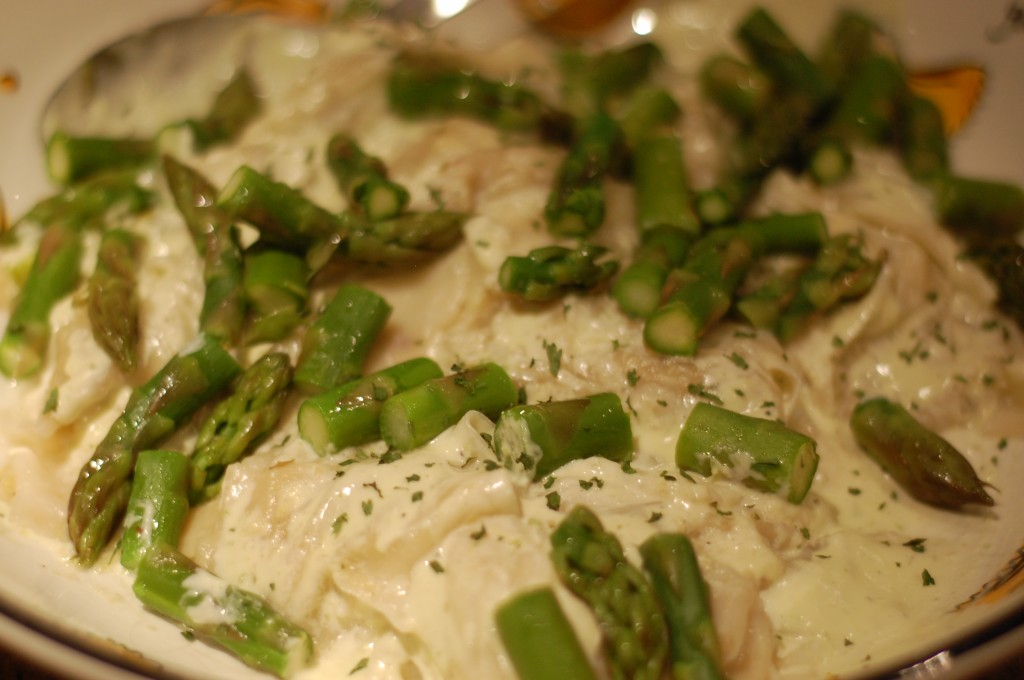 Today was an insane day. My to-do list was 20 items long filled with fun errands like the bank and dry cleaners. Can I tell you how much work it is to unpack two children for a two minute errand?
Hubby's Note: Good point. Whatever happened to the drive-thru cleaners and banks? Do those still exist? How cool was it when your mom would put the checks into that little plastic missile and you'd watch it shoot through that vacuum tube onto the tellers desk ten feet away?
Ingredients:
1 cup artichokes hearts, roughly diced
1/2 cup mascarpone
1/3 cup whole milk ricotta cheese
1 lb. thick asparagus, trimmed, spears cut into 1-inch pieces, tips reserved
1/4 cup freshly grated Parmigiano-Reggiano; more for serving
1 teaspoon minced garlic
Kosher salt and freshly ground black pepper
36 wonton wrappers
1/2 cup Butter
1 cup White Wine
2 whole Lemons
2 cloves garlic, minced
3/4 Cup Heavy Cream
Chopped Fresh Parsley
Finely grated lemon zest to taste
Directions:
Bring a medium pot of well-salted water to a boil over high heat. Have a medium bowl of ice water ready. Boil the asparagus tips until tender but still bright green, about 2 minutes. With a slotted spoon, transfer to the ice water. When cool, transfer with the slotted spoon to a small bowl and set aside. Cook and cool the asparagus spears in the same manner; dry them on paper towels. In a food processor (or by hand), chop 1-1/2 cups of the spears very finely and transfer to a medium bowl. Add the chopped artichoke hearts.
Add the mascarpone, ricotta, Parmigiano, garlic to the chopped asparagus and artichoke hearts; mix well. Season to taste with salt and pepper.
Arrange 18 wonton wrappers on a work surface. Put 1 tablespoon of the asparagus filling in the center of each wrapper. Using a pastry brush, moisten the edges of each with water. Top each with another wrapper and press the edges firmly to seal, pushing out any air bubbles as you seal. If you don't plan to cook the ravioli immediately, cover them with a damp cloth.
Bring a large pot of well-salted water to a rolling boil over high heat. In a saucepan, heat 1/2 cup butter until it starts to turn a light brown. Pour in the wine, and squeeze in the juice of two lemons. Make sure you don't get any seeds in the sauce. If you do, remove them immediately. Whisk the sauce, scraping the bottom of the pan. Allow this yummy sauce to cook and bubble and thicken until reduced by about half. Add in two garlic cloves. Reduce heat to low and pour in cream. Whisk together and allow to cook for a couple of minutes until it has a gravy like consistency. Taste and adjust seasonings. Sprinkle in some chopped parsley and stir.
Add the ravioli to the boiling water. When they rise to the surface, after about 1 minute, use a slotted spoon to transfer them to warm plates or pasta bowls. Spoon the lemon sauce mixture over the ravioli. Top with the reserved asparagus pieces, a grinding of pepper, a sprinkle of Parmigiano, and a little lemon zest, and serve.
Comments