Chicken Chutney Tacos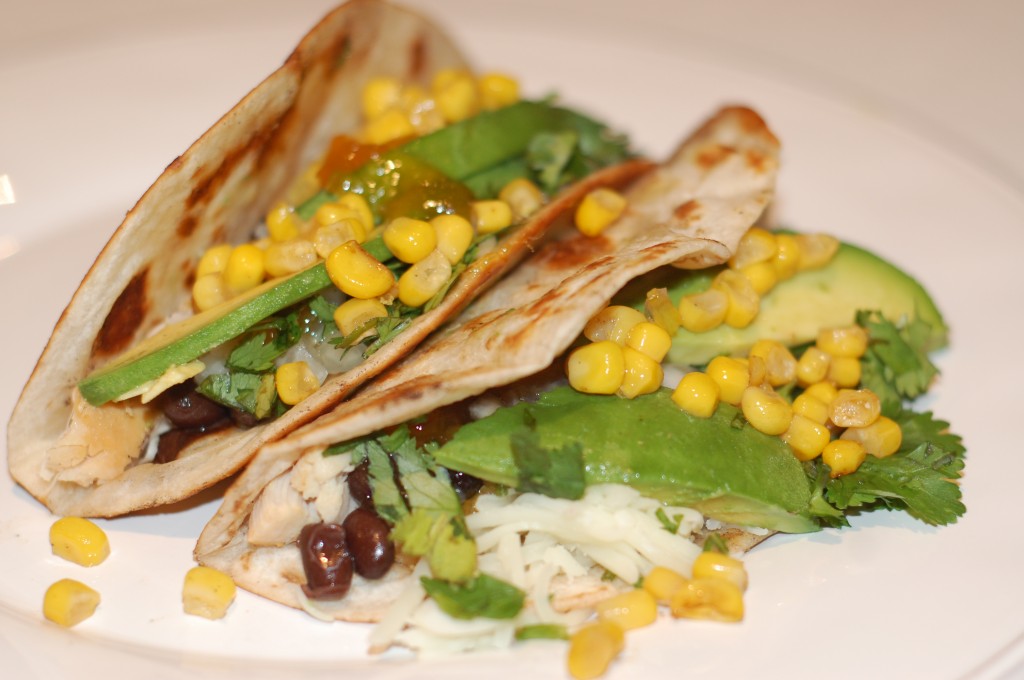 I'm living with a terrorist.
She's about 3 feet tall, has blonde pigtails and responds to the A.K.A. of "Buggies."
Toddlers are like little terrorists or drug addicts. Happy one second, hysterical and jones-ing for "insert-anything-from-Goldfish-to-favorite-blankies-here" the next; ready to blow the roof off my house if I don't allow her to have a "nack" an hour before dinner.

My darling, sweet…yes, sweet (insert self convincing tone here) toddler has decided to stop telling me when she has to use the potty.
Let me give you some backstory….This attitude goes back to the womb. My sweet little Buggies decided due dates were overrated and so she broke my water (on purpose) three weeks before she was due. She started walking at 10 1/2 months. She chipped both of her front teeth by her 1st birthday. She POTTY TRAINED HERSELF at 21 months. She climbed out of her crib and brought the hubby his slippers he had forgotten in her room at 26 months, which is coincidentally the same age she knocked her front teeth loose.
And now, here we are with my darling 2 year and almost 8 month old toddler who's giving me the middle finger in the form of peeing in her pants, on the floor, or really anywhere that might possibly be inconvenient for mommy. Everyday. For no reason. Have I mentioned how much I LOVE to do laundry? Oh, yes. The more laundry I have to do, the happier I am. This of course means a lot of time-outs and if it weren't for my yoga and resolution to not drink during the week (resolutions are made to be broken, right?), I'd be doing a whole lot of drinking. I have zero idea why the little Angel (DEVIL) is putting me through the ringer. Don't give me the whole, "well, this is what toddlers do and she's testing her boundaries and exerting her independence" bull****. I know that's the reason. But it doesn't make day to day life any easier. What does make it easier? New recipes. (and wine) 😉
My little terrorist has also decided to stop taking naps and will scream like someone is Edward Scissor-handing her favorite "blankie" into itsy bitsy pieces for as long as it takes for me to cave in and open her door. Maybe this is what Panic Rooms are really for? Either locking your child in, or locking them out. I can't decide.
Needless to say, it has been a trying week. My patience level is usually at about a zero by lunchtime so I've been cooking like crazy to restore some sanity to my life. But…I digress.
FOOD! I made these tacos a few nights ago (when I needed an epic distraction) and they were different from any taco I've ever had, but in a really good way. Using a bit of Indian spices and some Sriracha, it was sweet and spicy all at once. When the hubs and I lived in Sherman Oaks, he used to have acting class a few times a week and I would make him a lunch. I would make these little turkey pita sandwiches for him and put some spicy mango chutney and olive tapenade in them and every week he would come home with a super happy tummy. For some reason we forgot about chutney. Maybe it was our move to the 'burbs, or our dive headlong into parenthood. I don't know. But alas! Seven years later I remembered that delicious little jar full of goodness and decided to make tacos out of them.
Hubby's Note: These things are fantastic. Like she said, sweet and spicy at the same time. I don't use Sriracha. Just some salsa. But WOW! It's everything that I love in Mexican food, with an Indian flavor. Great take, on a classic dish. As for the screaming little girl…we can't let this get out. The terrorists could learn quite a bit from a 2 year old.
Ingredients:
3 boneless skinless chicken breasts
2 cups chicken broth
1 beer (I used an amber beer)
2 cloves garlic, minced
1/2 teaspoon cayenne pepper
1/2 cup corn (canned or fresh)
1/2 cup black beans
1/4 cup diced onion
1/4 cup diced cilantro
1 avocado, thinly sliced
Shredded cheese (whatever you like!)
1 jar Patak's hot mango chutney
Mini flour tortillas
1 tablespoon butter
Sriracha (optional)
Directions:
Pour chicken broth and beer into a crockpot. Add garlic and cayenne. Cook on low for 4-6 hours. Pan fry tortillas, fold in half and set aside. Remove chicken from pot and shred using two forks. Assemble your tacos! Holding your tortilla, place a teaspoon or so of chutney inside. Then add chicken, then beans, cheese, corn, onions, cilantro, avocado and sriracha (only if you want some heat!)
We paired our tacos with Gnarly Head Chardonnay and it was the perfect compliment!
Comments