Jamaican Jerk Chicken Sandwiches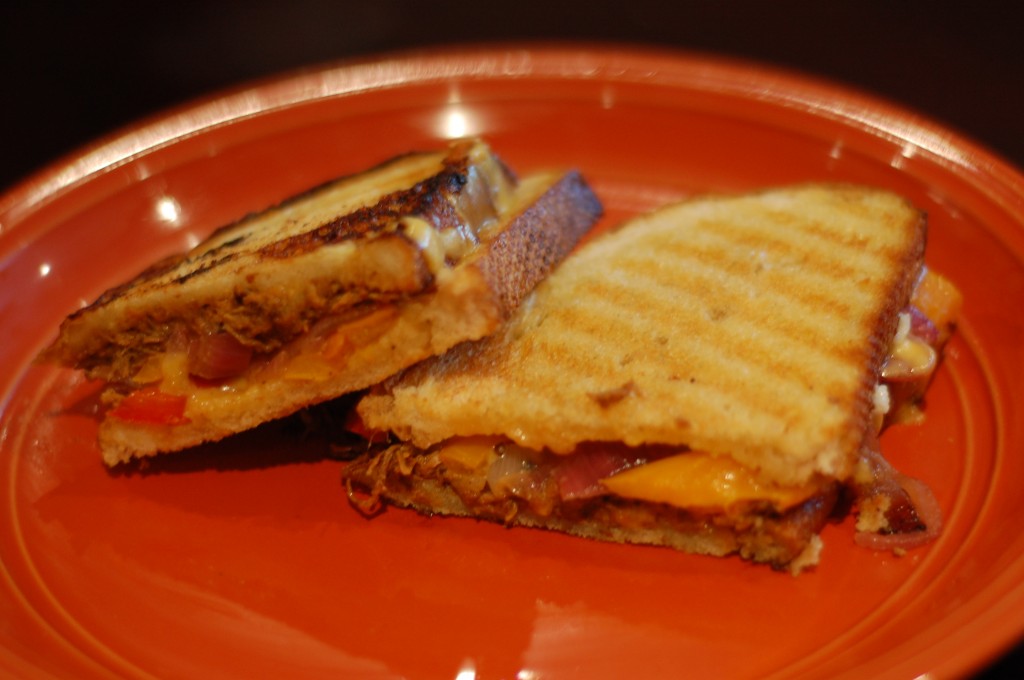 Yep. I must be sentimental this week. NO – I am most certainly NOT pregnant. But a lot of people around me are so maybe that's it? It's also Pixie's FOURTH BIRTHDAY in a few weeks so maybe that's got me all mushy. Regardless, fifteen years ago (yes, you read that correctly. FIFTEEN YEARS AGO) I worked as a hostess at Doc's Brewpub in Simi Valley. They served pub food, kicked up a notch. And they brewed their own beers. Not that I was drinking the beers. I was only 17. Okay maybe I had a few. But don't tell my kids. Repeat after me, "Do as I say, not as I do!" Right?
Anyway, the Jamaican Jerk Chicken Sandwich was one of my absolute favorites at Doc's. If I knew what the chefs name was and how to hunt him down, I would – because I want this recipe! I've been trying to recreate it for years and after much trial and error, I think I've finally gotten close. It's a lot of ingredients and stuff you may not use all of the time but I think it is well worth it. This is comfort food at it's finest.
Hubby's Note: I've said it before, and I'll say it again…The Panini Press is the single greatest invention of the 20th century. Not the Internal Combustion Engine. Not the Internet. Not the Refrigerator or the Electric Light. Heck, not even the Contraceptive Pill—wait. Scratch that. The Contraceptive Pill is the single greatest invention of the 20th century. A close second would be the Panini Press. And this chicken recipe makes an amazing Panini. I highly recommend adding Avocado and dipping the sandwich in the Caribbean Sauce. Hubby Recommended!
Caribbean Sauce
1/2 cup light brown sugar
1/4 cup water
1/4 cup ketchup
1/4 cup light corn syrup
1/2 cup minced white onion
4 tablespoons red wine vinegar
3 teaspoons minced garlic
1 teaspoon lemon juice
1/2 Teaspoon salt
1/2 Teaspoon crushed red pepper flakes
1/4 Teaspoon ground black pepper
1/8 Teaspoon dried thyme
1/8 Teaspoon ground allspice
Jerk Seasoning
3 tablespoons light brown sugar
1-1/2 Teaspoons salt
1/2 teaspoon ground black pepper
1/2 teaspoon ground paprika (Szeged brand!)
1/2 teaspoon ground allspice
1/2 teaspoon garlic powder
1/4 teaspoon onion powder
1/8 teaspoon ground cayenne pepper
1/8 teaspoon ground cinnamon
4 chicken breasts
olive oil
1 red bell pepper
1 yellow bell pepper
Sliced Jack Cheese
1/2 Cup sliced white onion
12 slices sourdough bread
Directions
Caribbean Sauce:
Combine all ingredients for sauce in a medium saucepan. Simmer over low heat for about 10 minutes. Puree cooled sauce in a blender, then cover it and let it chill out in the refrigerator.
Jerk Seasoning:
Combine all of the ingredients for the jerk seasoning.
The Chicken:
Season the chicken breasts liberally with jerk seasoning. Then pan fry in some butter for 3-4 minutes per side. Place chicken into a slow cooker and cover with 3/4 caribbean sauce. Cook on low for 6 hours. After the 6 hours are up, shred the chicken with 2 forks.
Roasting Peppers and Onions:
Roast bell peppers and onion by placing them on a baking sheet in a 450 degree F preheated oven for 45 minutes or until skin is charred, then peel the skin off in cold water. Cut peppers and onions into strips.
Assemble the sandwiches
Heat your panini grill. Place an even layer of chicken, peppers and onions and top with 2 slices of cheese on a slice of sourdough. You can drizzle the reserved Caribbean sauce on your sandwich before placing the cheese on or you can serve it on the side as a dipping sauce for your sandwich. Place the other piece of bread on top and drizzle with olive oil. Place on panini grill and cook till golden brown. Cut in half and enjoy!
Comments