Thai Lettuce Wraps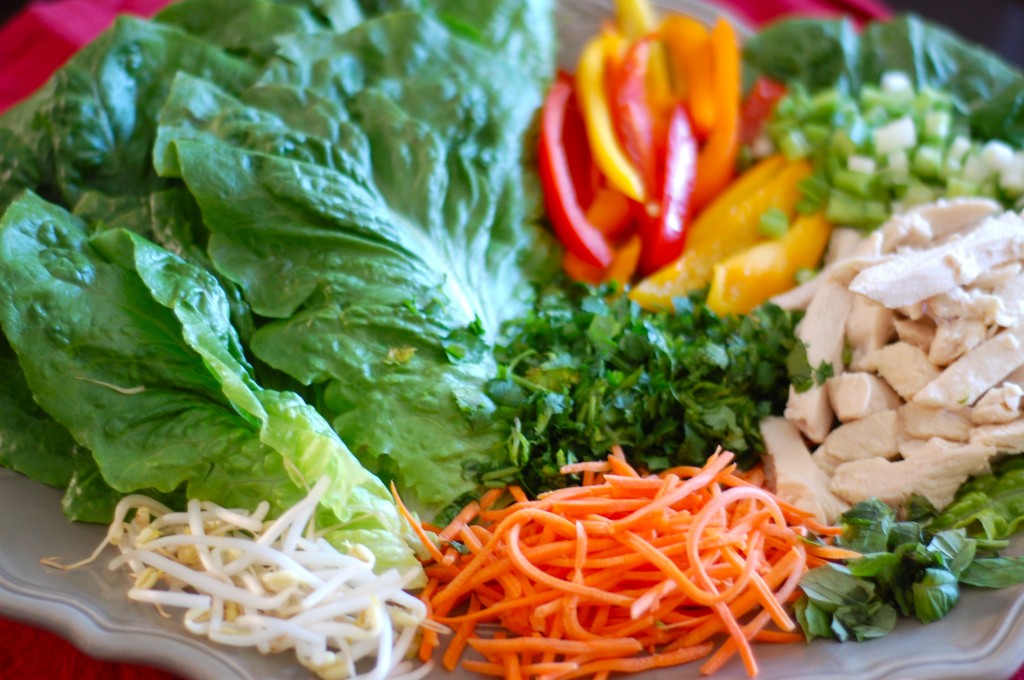 I honestly think I could be vegetarian. All day long, I pretty much eat vegetarian. That is, until dinner when Ryan gets home and spoils everything. I can already see his hubby's note on this one.
Him: "Well, if you didn't cook ridiculously amazing things every night I wouldn't weigh one hundred and ……"
Me: "Well honey, if you weren't such a protein junkie we could eat simpler, less savory and delicious items. This blog is all your fault. So there."
Breakdown of my meals everyday:

Breakfast: Fibercake and yogurt (and coffee please!!)
Lunch: Some version of some salad (aka – what's the crisper have in store for me today??)
Mid-afternoon snack: Fruit and probably some coffee again.
Dinner: This is where my calorie intake comes in people. This is where I lose control of my day and end up pulling things like heavy cream, white wine and bacon out of my fridge. This is the part of my day where Ryan walks in from work and groans from the smells oozing out of his house. I've had my neighbors call over our fence wondering what I'm up to now…I've had neighbors across the street ask where their ration of cookies are. No joke.
I will say this. About twice a week, I can make salads or in this case, Thai Lettuce Wraps, and pass them off as culinary comfort foods so that the hubby is happy. In this case, it works because I put chicken (protein) in them and smother them in thick delicious sauce. So he gets his protein and unbeknownst to him, he's eating veggies too. These are a great weeknight meal. They are quick, delicious and filling.
Hubby's Note: Where do I start? Dear wife, long before you started this blog you were using me as your Guinea Pig. Now, I've simply dropped the Guinea. And it's your fault. Incidentally, I know i'm eating veggies in this meal. I'm now even more concious of it after reading this. And I'm ok with that. Because as you mentioned, they are covered in protein and peanut sauce. PEANUT SAUCE! I'm a simple man. And you've discovered the way to tricking me into eating healthy things. Now if you really love me, you will figure out a way to fill these wraps up with Peanut Sauce, Beer Batter them, deep fry them, and then Panini them. Do that, and I'll eat just about any veggie you put in front of me. The Hubby rests his case.
Ingredients
6-8 Butter Lettuce or Romaine Leaves
2 chicken breasts (cooked, cooled and sliced into strips.) Or if you're in a pinch which I am almost all of the time – Trader Joe's Just Chicken.
Julienne carrots
Bean Sprouts
Julienne peppers (red and yellow preferably)
Diced green onions
Cilantro, mint and basil – minced
Marinated Cucumbers (recipe below)
Cashew Dipping Sauce (recipe from avocado eggrolls recipe)
Thai Peanut Sauce (recipe below)
Directions
Remove the hard stems from the bottom of each leaf of lettuce. Wash and dry the leaves and arrange in a group on a larger platter.
Arrange on the other side of the serving platter the fillings…Then in separate little bowls, place the cucumbers and two sauces.
Create your own lettuce wraps by choosing a filling or fillings and placing it on a leaf along with a choice of sauce.
Fold the leaf in half and enjoy!
Thai Marinated Cucumbers
Ingredients
1/3 cup rice vinegar
1/4 cup sugar
1/4 cup water
1/4 tsp salt
1/4 tsp ground black pepper
1 large cucumber -peeled and sliced crazy thin (I use a mandoline)
Directions
Combine the vinegar, sugar, water and salt in a small pan. Cook over a medium heat, stirring until it boils and the sugar is dissolved. Remove from heat and let it cool to room temperature. Peel the cucumber and cut into thin slices. Place in a serving bowl and pour marinade over cucumbers, stirring to blend.
Cover and refrigerate for at least an hour.
Peanut Sauce
Ingredients
1/4 cup creamy peanut butter
2 tbsp water
4 tbsp sugar
1 tbsp soy sauce
1 tsp rice vinegar
1 tsp lime juice
1/2 tsp chili oil
Directions
Combine peanut butter, water, sugar, soy sauce, rice vinegar, lime juice, and chili oil in a small saucepan. Stir mixture over a medium heat until it begins to bubble. Cover the pan and remove from the heat.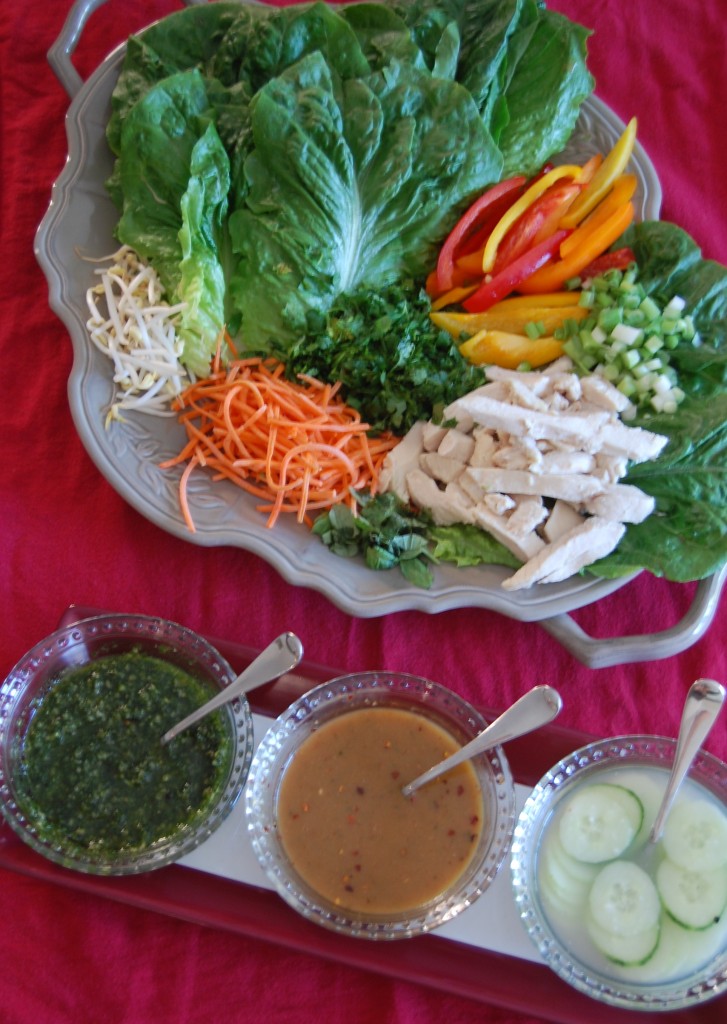 Comments