Killer Shrimp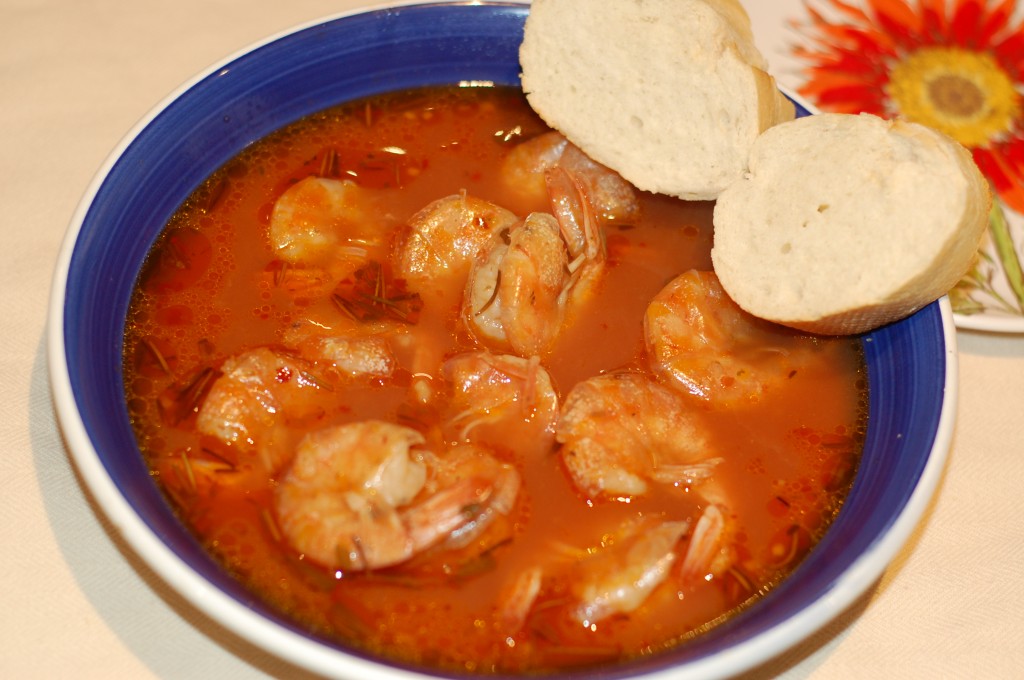 I must be feeling nostalgic for some reason. Because this is another recipe from back in the day. From 1999-2004, I lived in Sherman Oaks with my pretty fabulous roommate/sister from another mother/best friend, Molly. The day we moved in, we had tons of friends and family helping us out. Molly insisted that at the end of moving day we went to a restaurant waaayyy tooo close for the comfort of my jeans called Killer Shrimp. It's essentially a broth based soup with about 12-14 pieces of shrimp in it. It's full of flavor and sometimes spicy. It was served with the largest basket of french bread you have ever seen. Which you of course use to mop up the broth and then after eating all of the shrimp, the bread is used to wipe your bowl clean. It was probably a once a week indulgence. And sometimes a, "school sucked today, and I have to work tonight and I just want shrimp and coronas kind of day." Anyway, Molly was the Maid of Honor in my wedding and the week before I got married I treated her to Burke Williams and dinner at Killer Shrimp (I was a pretty great bride, right!?!?!). I think that was the last time I had Killer Shrimp because shortly thereafter, I moved to the "burbs" and they closed their doors. I'm convinced that we must have been keeping them in business. Which makes no sense, because this shrimp is TO DIE FOR. Thus the name, Killer Shrimp! I am happy to announce that they just reopened their doors a few weeks ago in Marina del Rey and have expanded their menu.
What's that you say? You a) don't know where the heck Marina Del Rey is, and b) there's no way you can make it there but you still want shrimp?? Well, fear not fellow foodies, I promise this recipe tastes EXACTLY like theirs! Go forth and MAKE IT, people!
Hubby's Note: Nike! (just do it)
Ingredients
2 quarts chicken broth
4 tablespoons rosemary
6 cloves garlic, minced
1 teaspoon ground black pepper
1 teaspoon celery seed
1/2 teaspoon fennel seed
1 cup clam juice
1 (6 ounce) can tomato paste
1 cup butter
1 cup white wine
2 pounds uncooked shrimp, with tails
1 (1 pound) loaf French bread
Directions
Pour broth into a crockpot, and mix in rosemary, garlic, pepper, celery seed, fennel seed, clam juice, tomato paste, and butter. Simmer for 1 hour, stirring occasionally. Stir wine into the soup, and continue to simmer and occasionally stir for another 2 hours. Just before serving, stir in shrimp. Continue cooking 5-6 minutes, or until shrimp are opaque. Serve with bread.
Comments